Donald Trump Made Mitch McConnell Eat a 'Manure Sandwich' with National Emergency Declaration: Former Rep Says
A former Republican congressman said President Donald Trump's national emergency declaration left Senate Majority Leader Mitch McConnell eating a "manure sandwich."
"You're watching Mitch McConnell eat a manure sandwich in this whole process," Mike Rogers, who previously served as the chairman of the House Intelligence Committee, said Friday while speaking on CNN.
"You can tell, in the mannerisms, in the body language, in the language itself, of Mitch McConnell.... He's where he is because he thought it would be expedient to make sure the government didn't shut down."
McConnell said on Thursday that Trump would sign a bipartisan $1.375 billion border security spending bill but would also declare a national emergency.
The Senate Majority Leader previously cautioned Trump about declaring a national emergency to access funds for constructing a border wall, according to The Washington Post. On Thursday, the Kentucky legislator said he would support the national emergency declaration.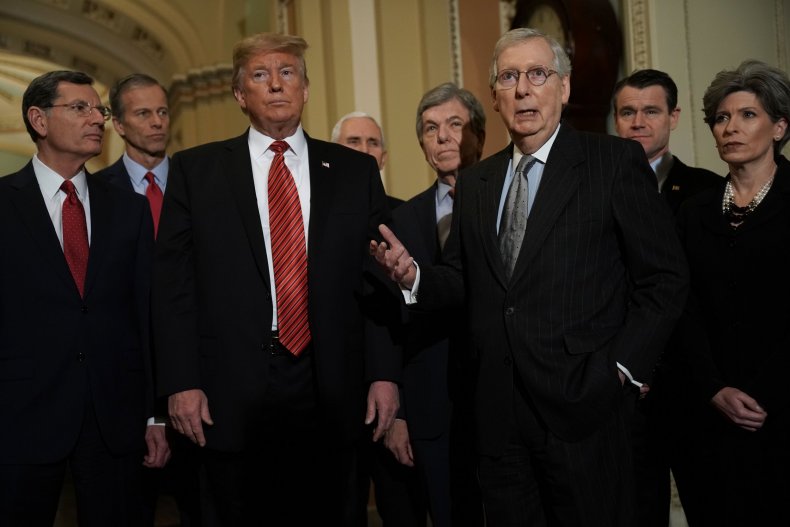 Trump announced the national emergency in a long-winded speech filled with false claims on Friday. The president challenged governmental evidence that the majority of drugs reach the country through ports of entry and falsely said that drug dealers only "get a thing called how about a fine."
He said he had stopped the "slaughter" of 3 million people in Syria and promoted himself for a Nobel Peace Prize.
The president will take $600 million from the Treasury Department and more than $6 billion from the Department of Defense, according to acting White House Chief of Staff Mick Mulvaney, The Atlantic reported.
The declaration has faced fierce backlash from Democrats.
On Thursday, which was the one-year anniversary of the mass shooting in Parkland, Florida, that left 17 people dead, House Speaker Nancy Pelosi suggested that a Democratic president could declare a national emergency over gun violence in the future.
"Want to talk about a national emergency? Let's talk about today, the one-year anniversary of another manifestation of the epidemic of gun violence in America," Pelosi said at a press conference. "A Democratic president can declare a national emergencies as well. The precedent that the president is setting here is something that should be met with great unease and dismay by the Republicans."
House Democrats, who have called the declaration an abuse of constitutional authority, have said that they will introduce legislation to block Trump's declaration.
The measure could pass in the Senate if Republicans who have opposed Trump's declaration decide to vote with Democrats.