Republicans Suggest They're Ready to Challenge Donald Trump if He Declares a National Emergency. Here's How
With just 11 days remaining for Congress to strike a spending deal over border security to avoid another government shutdown, President Donald Trump has continued to signal he's moving toward declaring a national emergency ahead of his Tuesday night State of the Union address. Such a unilateral move would be met with congressional action, and the number of Republicans who suggest they'd support a rebuke of the president's executive authority continues to grow.
Trump has said that a declaration would allow him to divert funds from other departments and projects in order to obtain the $5.7 billion he's requested for a border wall along the U.S.-Mexico border.
"I think there's a good chance we'll have to do that," Trump said Friday, but failed to say when. Over the weekend in an interview with CBS News, he reiterated he did not "take anything off the table." Kellyanne Conway, counselor to the president, told reporters Monday that an emergency declaration would be "the last resort, after Congress has completed its work. Let's see what they come up with before February 15."
However, such a declaration would almost certainly result in legislation to curtail the president's powers, in addition to legal challenges from Democrats and those with properties along the southern border who would be faced with government land seizures through eminent domain. And Republicans are faced with a tough choice: There is little appetite from many of Trump's GOP allies on the Hill for an emergency declaration or another shutdown, despite Democrats' readiness to pounce with legislative action and the rift it would likely cause among Senate Republicans.
"I hope Republicans will get behind the president if he makes that decision to go it alone if Congress won't work with him," Lindsey Graham, a GOP Senator and Trump confidant, told reporters in his home state of South Carolina on Monday. "To any Republican who denies the president the ability to act as commander in chief, you're going to create a real problem within the party."
Other Republican senators indicated Monday evening they would be open to supporting—or at least considering—House-led measures to terminate Trump's declaration under the National Emergencies Act of 1976, which would take the form of a joint resolution. To override the president's veto power, Congress would need to muster a two-thirds majority in both chambers. It's unlikely, considering the makeup of Congress, but such a vote would force Senate Republicans to either side with Trump or Democrats.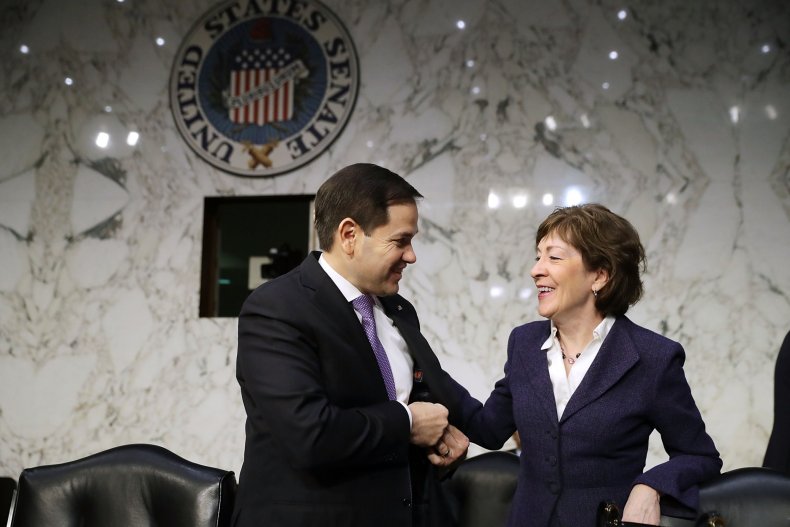 "Barring truly existential circumstances, it sets a precedent which I think in the future could lead to further executive action that raises significant constitutional questions," GOP Senator Marco Rubio of Florida told Newsweek Monday evening.
Rubio wouldn't speculate what his stance would be on a joint resolution. "[A declaration] would immediately trigger a House vote to overturn it, and then the debate around here becomes the emergency order and not about border security, which is the central issue we should be focused on."
Republican Senator Susan Collins of Maine, who is no stranger when it comes to opposing Trump, said it would be "constitutionally dubious, and for him to repurpose large amounts of funding that have been designated by Congress for other purposes is very problematic. I'm opposed to it."
Mitt Romney, the former presidential candidate turned GOP senator, is no friend of Trump's. Although he would not definitively say what his stance is regarding a joint resolution against Trump, he urged caution. "The key question, of course, is the precedent it would set and also the constitutional division of power that is such a key to our government," Romney said.
Although the GOP-controlled Senate, led by Mitch McConnell, has refused to vote on various measures passed by the Democratic-controlled House, it would be forced to vote whether to override Trump's national emergency within 18 days of the House passing it, thanks to a provision under the National Emergencies Act.
"The [Senate] majority leader has no authority to bottle it up," Bruce Ackerman, professor of law and political science at Yale University, told Newsweek. "This is a very special provision placed into the emergency act which was basically reacting in response to President Nixon."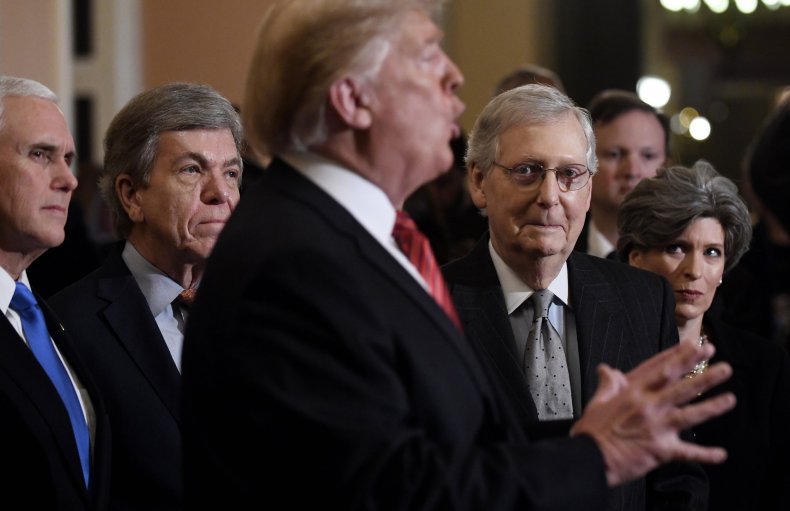 In addition to the congressional challenges, a court would likely be forced to determine whether Trump's claim of a border security "crisis" amounts to a national emergency.
"The court would need to decide the deeper question: Can the president do this solo and in face of a congressional rebuke?" Toni Massaro, a law professor at the University of Arizona, told Newsweek. "The border controversy is long-standing and the factual predicate for the claim that we need a wall at once is hard to credit as an 'emergency' in the same way that an outbreak of disease or the bombing of Pearl Harbor might be."
Indeed, even some of the most conservative Trump GOP allies said they prefer the president not take unilateral action on the wall. But at the end of the day, they would choose to back him.
"I'm not recommending it," Senator John Kennedy told Newsweek on Thursday. "It's not my preferred choice."
However, the Louisiana senator showed no signs of supporting legislation to halt him. "But unlike some of my colleagues, I don't think if he does it, it will be the end of Western civilization."
"If we can't reach this [deal]," GOP Senator Richard Shelby told Newsweek, who sits on the bipartisan conference committee tasked with securing a border security package, "I think the president's got the authority to do it." He added that he'd prefer to "work toward a legislative solution. That's what I'm trying to do."
GOP Senator Tom Cotton wavered on the question, saying that he, as other Republicans have mentioned, would have to see the language of such a declaration.
"One cannot evaluate that question in the abstract," Cotton said.