Trump's National Security Adviser Pick Once Said He's 'Glad' He's Not National Security Adviser
The man who President Donald Trump has tapped to replace John Bolton as his national security adviser once had no interest in the job—but that appears to have changed.
Trump announced via Twitter on Wednesday that the "very successful" Robert O'Brien, the State Department's special presidential envoy for hostage affairs, would be appointed to replace Bolton, who last week was ousted by the president amid major foreign policy disagreements.
In December 2016, however, O'Brien said he was "glad" then-president elect Trump had named Michael Flynn to be his national security adviser, who now awaits sentencing for lying to the FBI about contacts with Russia's ambassador to the U.S.
"If I was going to the new national security adviser—and I won't be, I'm glad it's General Flynn who has that job and not me—but serving the whole world, the most immediate threat is ISIS and Islamic terrorism," O'Brien told Larry King.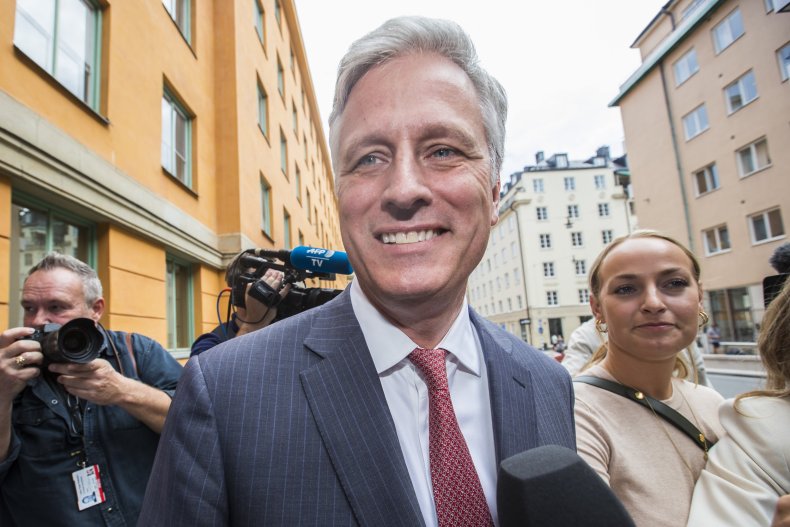 The now top hostage negotiator to the president, he further said he did not support Trump during the 2016 primary but did support him after he won the nomination. O'Brien ridiculed former President Barack Obama's foreign policies and world events that occurred under his watch, such as prematurely withdrawing from Iraq and aiding the rise of ISIS, allowing Bashar al-Assad's regime in Syria to cross his "red line" by using chemical weapons against its own citizens and the annexation of Crimea from Ukraine by Russia, as having "made the world a more dangerous place."
Earlier this year, O'Brien reportedly offered praise to Trump as being the "greatest hostage negotiator" in American history.
"'President Donald Trump is the greatest hostage negotiator that I know of in the history of the United States. 20 hostages, many in impossible circumstances, have been released in last two years. No money was paid,'" Trump wrote in an April 26 tweet without attribution. "Chief Hostage Negotiator, USA!" he labeled himself.
Questioned about the source of the quote, which had not been publicly reported and its origins remained a mystery, then-White House press secretary Sarah Sanders attributed it to O'Brien. New York Times reporter Katie Rogers said Wednesday that a few weeks ago, the State Department confirmed O'Brien made the comments.
O'Brien was nominated and confirmed in 2005 to serve as the George W. Bush administration's U.S. representative to the United Nations General Assembly. As Trump's top hostage negotiator, he's helped secure the releases of American rapper A$AP Rocky from Swedish jail and Danny Burch, a U.S. citizen imprisoned in Yemen.
"I have worked long & hard with Robert," Trump added in his tweet announcing O'Brien's appointment. "He will do a great job!"