Donald Trump Speaks Out After Losing Nebraska Primary: 'Came Very Close'
Donald Trump has acknowledged that his run of endorsing GOP candidates who go on to win their primaries has come to an end, following Charles Herbster's defeat in the Nebraska gubernatorial race on Tuesday.
With 95 percent of the votes reported, Jim Pillen, a University of Nebraska regent who had the endorsement of outgoing Nebraska Governor Pete Ricketts, won the race with 33.3 percent, with Herbster second on 30.4 percent.
The loss for Herbster, who was accused of sexual assault by eight women just weeks before the polls opened, claims the agricultural businessman denies, meant that Trump's streak of endorsing candidates who went on to win their respective primaries ended on Tuesday night.
Before Tuesday, Trump had backed 55 winners or candidates who advanced into a runoff, with no outright losers.
On Wednesday, more than 12 hours after the Nebraska primary results were declared, Trump discussed the defeat for Herbster.
"58-1. Charles W. Herbster came VERY close despite tremendous headwinds!" Trump wrote on Truth Social, the social media account that the former president began using more than two months after it launched: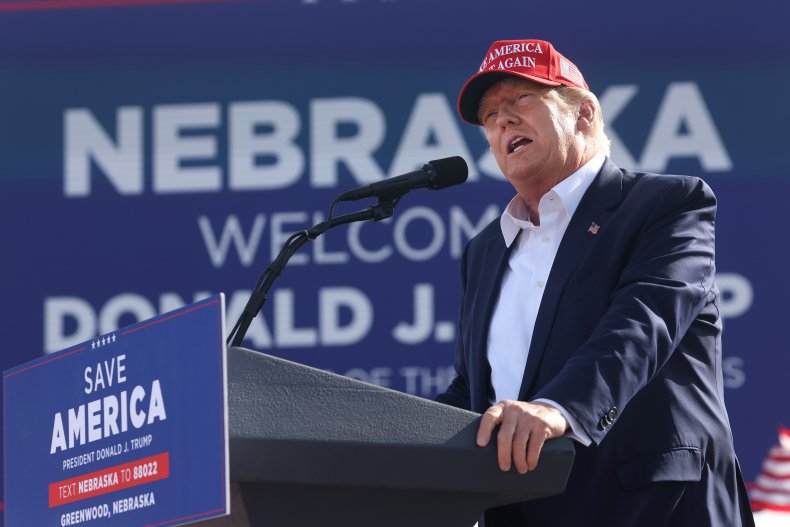 Trump continued to rally for his longtime ally even after the allegations were published by the Nebraska Examiner, urging his supporters to vote for the candidate on the day of the primary.
On the morning of the vote, Trump wrote on Truth Social: "Nebraska, go out and vote today for Charles W. Herbster. He will be a great Governor!"
In his concession speech, Herbster appeared to address the assault allegations against him, which he previously suggested was a political hit piece orchestrated by Ricketts and Pillen, which both men denied.
"This is one of the nastiest campaigns for governor in the history of Nebraska," Herbster said.
Trump had immediately posted about Rep. Alex Mooney's GOP primary victory in West Virginia's newly-formed 2nd Congressional District, which will be seen as another sign of the former president's influence on voters.
Posting on Truth Social after Mooney was declared the winner, Trump wrote: "I Love West Virginia. Congratulations to Alex Mooney on his BIG WIN!!!"
Mooney, who Trump endorsed in November, was up against fellow Republican Congressman David McKinley, who had the support of West Virginia Governor Jim Justice.
Mooney ended up comprehensively beating McKinley with 54.2 percent of voters backing the Trump-endorsed candidate compared to 35.6 percent who supported McKinley, with almost all of the ballots reported.
In a statement posted on Facebook after his victory, Mooney said: "I am honored the voters of West Virginia's new second congressional district have chosen me to carry the conservative banner as we begin the sprint to November.
"Tonight is a monumental night for West Virginians and I look forward to being their trusted conservative voice in Congress."