Donald Trump May Need 2020 Election Victory to Avoid Prison Time, Legal Scholar Writes
Trump could need the 2020 election to avoid criminal prosecution for his alleged involvement in the illegal hush payments made to Karen McDougal and Stormy Daniels, a Vermont Law School professor wrote in CNN.
Friday Legal filings from federal prosecutors said that Trump had directed the payment of $150,000 to McDougal and $130,000 to Daniels. Both have said they had affairs with Trump.
"Whether indicted as a direct violator of the Federal Election Campaign Act, aiding and abetting it, or conspiring to violate it, Trump could face a prison sentence," Jennifer Taub wrote on Tuesday. "For the campaign finance law, the statute of limitations is five years from the date of the offense, so that would be fall 2021. However, for conspiracy, the clock starts running when the last overt act in furtherance of the conspiracy takes place. This could allow for a potentially later indictment."
Taub added that Trump did not list his debts to Cohen, related to the Daniels' payoff, in June 2017 financial disclosure forms. This could constitute a felony if it is determined he did so intentionally.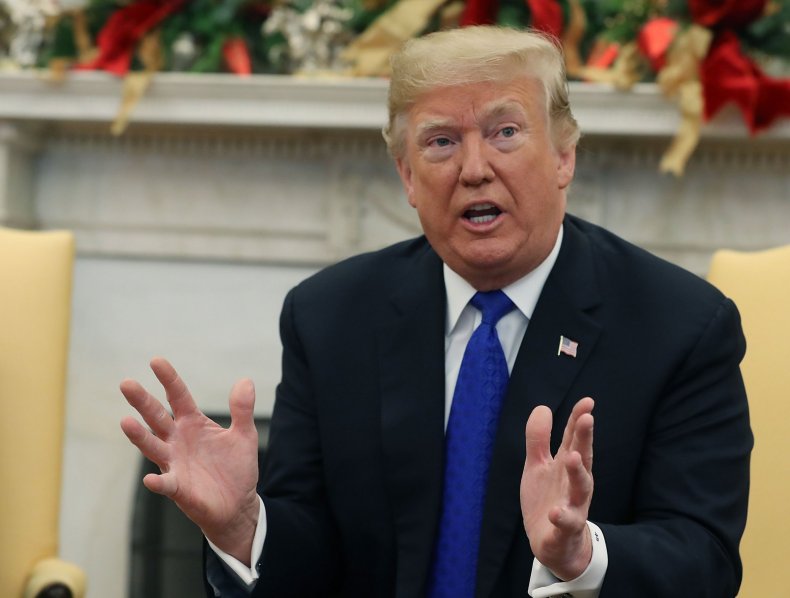 While the legal expert said that Trump might be able to cut a deal, she also wrote "his stubborn refusal to show weakness and cut his losses might result in a criminal trial and future prison sentence." She said that he could step down and hope for a pardon from Pence or attempt to pardon himself. But neither situation would guarantee he would avoid prosecution.
On Sunday, conservative columnist Jennifer Rubin predicted that the president would resign his position 10 minutes before Mike Pence leaves office, so that the vice president could issue a pardon for Trump.
Trump's lawyers have argued that Department of Justice precedent says a sitting president can't be indicted. But some legal scholars are now questioning whether this is true.
"If Trump shot someone, he'd be indicted in a New York minute. Nothing in the Constitution prevents his indictment for directing a criminal conspiracy to steal the presidency. Certainly not a DOJ 'policy,'" Harvard Law professor Laurence Tribe tweeted.
The Friday court filings have led many analysts to offer dire predictions about Trump's fate. Fox News's senior judicial analyst Andrew Napolitano said that the president could be charged with three different crimes.
"This is the Southern District of New York. This is the oldest and most prestigious federal prosecutors' office in the country," he said, according to The Hill. "They would not make an allegation like that if they did not have corroborated evidence to support it."
The president has maintained his innocence in tweets that have drawn mockery. After the court filings, he inaccurately posted "Totally clears the President."
On Monday morning, he wrote that "Democrats can't find a Smocking Gun tying the Trump campaign to Russia after James Comey's testimony. No Smocking Gun...No Collusion." @FoxNews That's because there was NO COLLUSION. So now the Dems go to a simple private transaction, wrongly call it a campaign contribution."
Trump, his lawyer Rudy Giuliani and their supporters have repeatedly tried to discredit special counsel Robert Mueller's investigation into Russian involvement in the 2016 election by calling it a "witch hunt" and saying it has continued for too long.