Who Is Neomi Rao? Trump Nominee to Replace Brett Kavanaugh Wrote Controversial Date Rape Column in College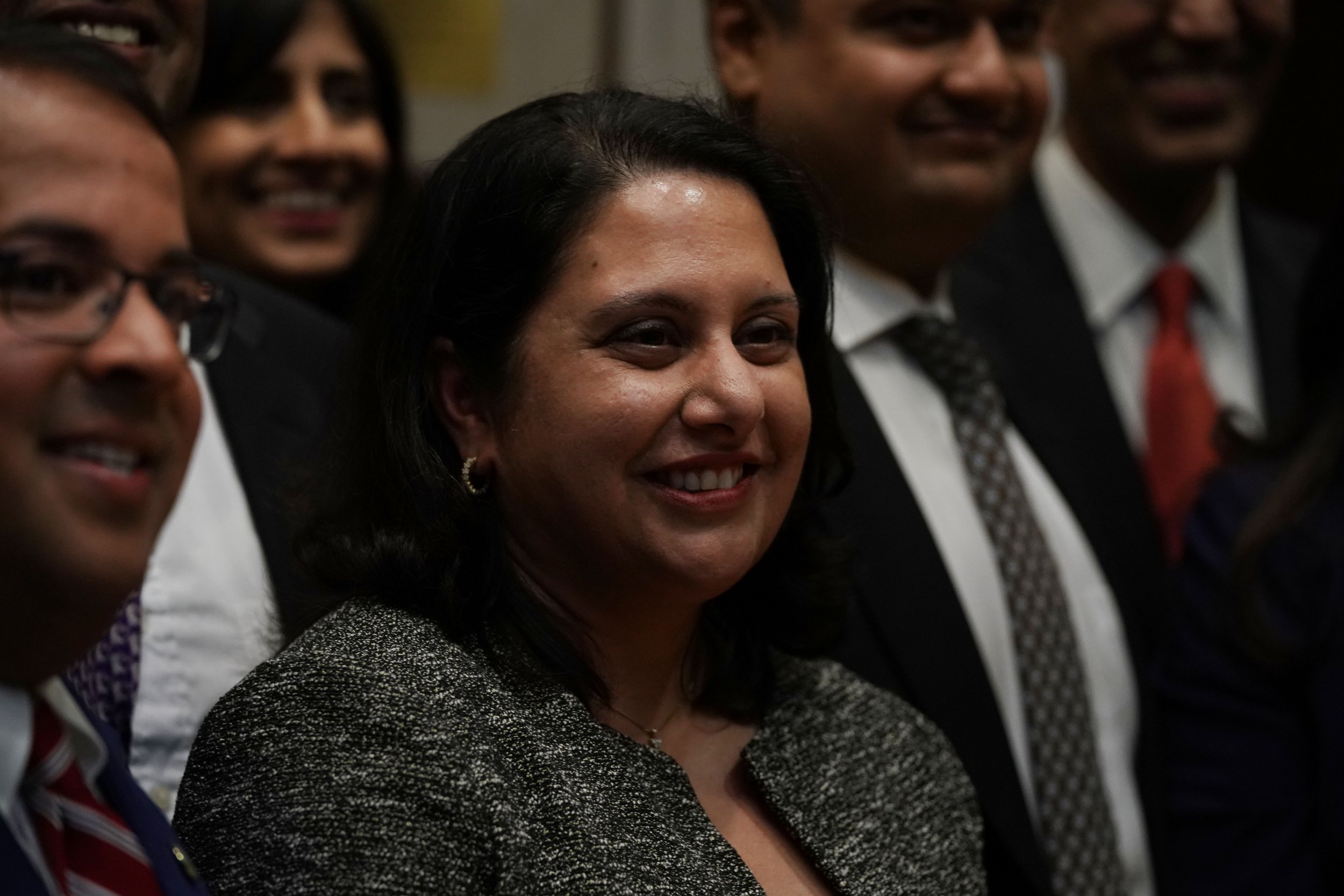 The controversial college writings of Neomi Rao, President Donald Trump's nominee to replace Supreme Court Justice Brett Kavanaugh in his old seat on the U.S. Court of Appeals for the D.C. Circuit, have resurfaced in a report by BuzzFeed.
In one column on date rape, Rao wrote that women who consumed alcohol and were then raped carried some of the "moral responsibility" for the sexual assault.
Read more—AOC slams "disgusting" conservative media after fake nude photo published: "No wonder they defended Kavanaugh"
Rao, 45, is currently the administrator for the Office of Information and Regulatory Affairs, which sits within the Office of Management and Budget. In November, Trump nominated her to replace Kavanaugh on the U.S. Court of Appeals for the D.C. Circuit.
Kavanaugh faced a fierce battle in his confirmation to the Supreme Court after sexual assault allegations emerged while he was in high school and college, allegations that he denied.
Alliance for Justice, a progressive judicial advocacy group, shared with BuzzFeed a collection of Rao's writing from her college years at Yale, from which she graduated in 1995 with a degree. in ethics, politics, economics, and philosophy. Rao received her J.D. from the University of Chicago Law School in 1999.
While a student, she wrote columns for college newspapers and other publications. Among her writings was a derisive reference to LGBT movements as "trendy," that "a good way to avoid a potential date rape was to stay reasonably sober" and welfare was "for the indigent and lazy."
In the date rape column, Rao expounded: "If she drinks to the point where she can no longer choose, well, getting to that point was part of her choice... Implying that a drunk woman has no control of her actions, but that a drunk man does, strips women of all moral responsibility."
She also called affirmative action "the anointed dragon of liberal excess" and wrote that race was "a hot, money-making issue."
Rao has worked as a clerk for Supreme Court Justice Clarence Thomas, counsel to the U.S. Senate Committee on the Judiciary and associate counsel for former President George W. Bush, among other roles, according to her LinkedIn profile.
Moreover, she is an associate professor at the Antonin Scalia Law School at George Mason University. But she has yet to serve as a judge. According to Politico, she is also under consideration by the White House as a future nominee to the Supreme Court.
The Justice Department did not respond immediately to Newsweek 's request for comment.
But Justice Department spokesperson Kerri Kupec told BuzzFeed that Rao is a renowned constitutional and administrative law expert. "That is why the president nominated her to the D.C. Circuit.
"The views she expressed a quarter century ago as a college student writing for her student newspaper were intentionally provocative, designed to raise questions and push back against liberal elitism that dominated her campus at the time," Kupec continued.
"More than two decades later, her views can be found in her numerous academic articles and speeches. We are confident Ms. Rao will make an exemplary judge on the D.C Circuit."
Rao's nomination was still pending before the last Congress could hold a confirmation hearing, so it was returned to the White House, which must now renominate her if it wishes to go forward with Rao's nomination.