President Donald Trump announced on Twitter Thursday that he would recognize and support Israel's control over the disputed Golan Heights territory on the border of Syria.
The decision immediately followed Secretary of State Mike Pompeo's meeting with Israeli prime minister Benjamin Netanyahu Thursday, nearly a year after Trump officially recognized Jerusalem as the sole capital of Israel and announced that he would move the U.S. Embassy from Tel Aviv.
"After 52 years it is time for the United States to fully recognize Israel's Sovereignty over the Golan Heights, which is of critical strategic and security importance to the State of Israel and Regional Stability!" Trump tweeted early Thursday afternoon.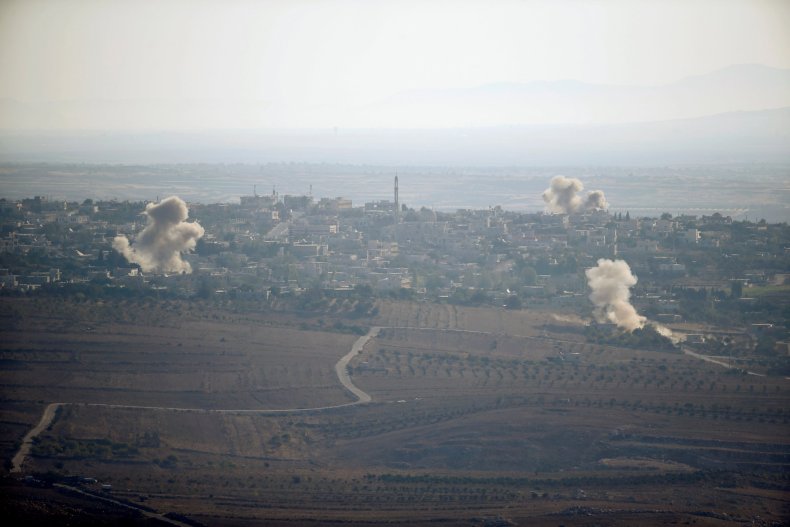 Netanyahu, a conservative leader who is currently facing the threat of indictment for bribery and three counts of breach of trust, has a tough election coming up in early April. The president's announcement, followed by a planned trip to the White House, will surely bolster the Israeli leader's chances of retaining his seat.
In fact, in 2015, President Barack Obama refused to meet with Netanyahu close to his election date, saying, "He needs to be far away enough from the election that it doesn't look like in some ways we're meddling or putting our thumbs on the scale."
But President Trump has signaled that he doesn't mind putting his thumb on the scale for his political ally, even when it involves the controversial and much-disputed Golan Heights territory.
"At a time when Iran seeks to use Syria as a platform to destroy Israel, President Trump boldly recognizes Israeli sovereignty over the Golan Heights," Netanyahu tweeted on Thursday. "Thank you President Trump!"
The Golan Heights, a strategically situated 400-plus square mile area that overlooks Damascus, was first captured by Israel from Syria in the 1967 Arab war. In 1973, Syria attempted to take the land back during the Yom Kippur War and during a surprise attack, Egyptian and Syrian troops managed to kill 2,688 Israeli soldiers. Israel, however, prevailed and retained control. They annexed the Golan Heights in 1981, but the move was never officially recognized by the international community, including the United States. Syria and Israel are still technically in a state of war over the land, but the area is now a demilitarized zone occupied by U.N. observers.
The Golan Heights are an atypically fertile land in the desert that holds key water sources: About one-third of Israel's water supply currently comes from Golan. The territory also provides Israel with a high vantage point to monitor the Syrian military and ward off attacks.
There are currently about 30 Israeli settlements on the land, which are home to 20,000 citizens. Experts estimate that there are likely about 20,000 Syrians living in Golan, as well. They are mostly part of the Druze sect. The Druze, however, are typically at odds with the Syrian government.
There are also military concerns about Trump's move. Israel is currently in the middle of a precarious situation with its neighbors: It has been striking Iranian targets in Syria and this latest development, created by the Trump, could provoke Syria, Russia and Iran to further isolate and perhaps attack Israel, complicating matters immensely.
The situation also hurts America's standing on Russia's annexation of the Crimean Peninsula. "It makes it quite hard for the US to continue to contest Russia's annexation of Crimea under the principle that taking territory by force is illegal," wrote Ilan Goldenberg, Middle East security director at the Center for a New American Security, on Twitter. "We now have no leg to stand on and the Russians will use it."
The president's tweet does not signal any definitive action or official state recognition, but it does do much to boost Netanyahu's profile with possible voters.