Trump's Nevada Rally Crowd Chants 'All Lives Matter' at BLM Protesters
President Donald Trump's supporters at a rally in Nevada on Sunday chanted "all lives matter" at Black Lives Matter protesters who were attempting to disrupt the campaign event by holding up a flag.
The rally crowd booed the protesters and chanted "USA" as the commander-in-chief's speech was briefly interrupted at his first solely indoor campaign event in three months.
Footage from inside the Xtreme Manufacturing facility in Henderson, Nevada, appeared to show at least two demonstrators holding up a flag reading "Black Lives Matter" while raising their fists.
As the protesters tried to disrupt his campaign event, Trump said: "Yeah, get him out of here would you, please?"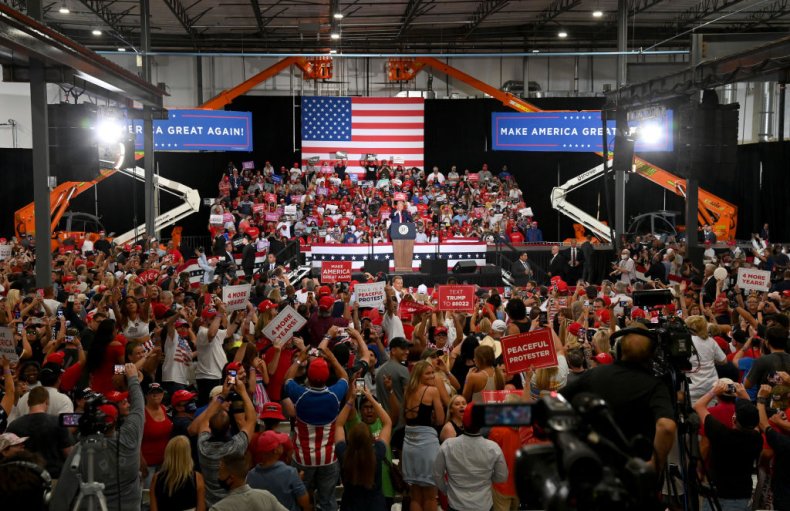 The president's supporters then began to chant "all lives matter" as the protesters continued to demonstrate against racial injustice while Trump remained silent at his podium.
A clip from a livestream of the commander-in-chief's stump speech showed Trump eventually pointing toward the protesters and saying: "He's going home to mom."
Newsweek has contacted the Trump 2020 campaign for further details and comment. This article will be updated with any response.
President Trump's rally in Nevada yesterday was reportedly attended by thousands of his supporters, contravening state rules against gatherings of more than 50 people aimed at curbing the spread of COVID-19.
Pictures and footage from the rally also showed many inside the manufacturing facility were not wearing face masks, in spite of the Centers for Disease Control and Prevention guidelines on social distancing and face coverings.
Reacting to the president's decision to go ahead with his rally last night, Democrat Nevada Governor Steve Sisolak said Trump was taking "reckless and self actions" putting locals at risk amid the ongoing pandemic.
"The President appears to have forgotten that this country is still in the middle of a global pandemic," he tweeted.
"At a time when Nevada is focused on getting our economy back on track and protecting public health, the President's actions this weekend are shameful, dangerous and irresponsible."
According to the Nevada Department of Health and Human Services, more than 73,000 confirmed cases had been recorded in the state as of Sunday morning. A little over 1,400 of those had resulted in deaths.