Democrats Will 'Never' See Trump Tax Returns: Mick Mulvaney, Mitt Romney Lead IRS Records Pushback
Several Republicans and close aides to President Donald Trump spent Sunday morning ridiculing House Democrats' repeated requests to see the president's tax returns, with one senator dubbing the demand "moronic" and White House Chief of Staff Mick Mulvaney saying lawmakers will "never" see these sought-after tax records.
Utah Republican Sen. Mitt Romney, Trump attorney Jay Sekulow and Mulvaney all made the Sunday morning talk show rounds, where each dismissed Democratic demands to see the president's tax returns, saying the opposing party is "playing right into" Trump's winning handbook.
Romney said he thinks the president should release his taxes, but he doesn't think it will happen and that House Democrats are "moronic" for pressing for hearings and possibly subpoenas to obtain the returns.
"I'd like the president to follow through and show his tax returns, he said he would, I think it was on The Today Show where he said he would be happy to release his tax returns," Romney told Meet the Press host Chuck Todd Sunday morning. "But I also have to tell you, I think the Democrats are just playing along in his handbook, which is that going after his tax returns through a legislative action is moronic. That's not going to happen. The courts are not going to say you can compel a person running for office to release their tax returns. So he's going to win this victory, he wins them time after time."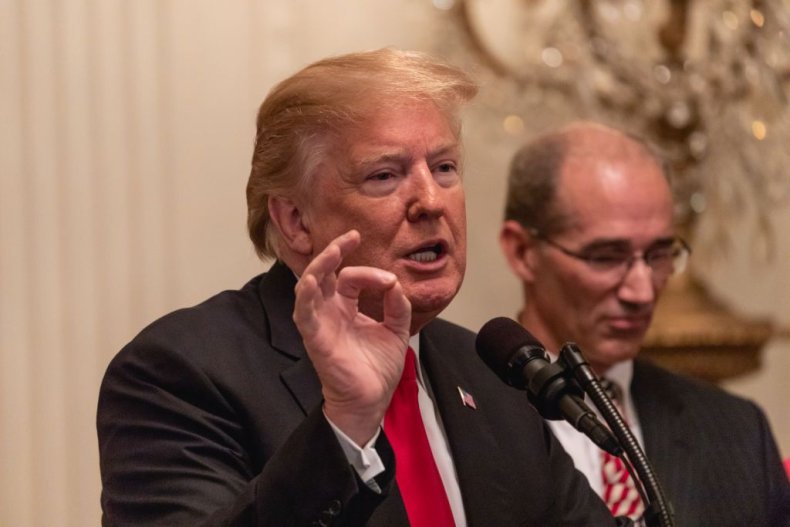 House Minority Leader, Republican Rep. Kevin McCarthy has led criticism against House Democrats' ongoing efforts to delve into Trump's highly guarded personal financial information, saying they set a dangerous partisan precedent. Mulvaney and Sekulow's Sunday TV appearances echoed McCarthy's claim Democrats are "weaponizing" the IRS to demand Trump's personal and business tax returns.
Mulvaney, who also serves as Director of the Office of Management and Budget, said Democrats are "always asking for something" on Fox News Sunday. The former congressman from South Carolina said because Democrats "did not get what they want" from Special Counsel Robert Mueller's report they are now demanding Trump's tax returns.
"They know they are not going to get his taxes, they know what the law is, they know that one of the fundamental principles of the IRS is to protect the confidentiality of you and me and everybody else that files taxes," Mulvaney said. "They know the rules...and a 'political hit job' is not one of those reasons. So they know they're not going to get it."
"So to be clear, you believe Democrats will never see the president's tax returns?" asked the Fox News host.
"Oh no, never. Nor should they, keep in mind that's an issue that was already litigated during the [2016] election. Voters knew they couldn't have given his tax returns and they elected him anyway. Which, of course, is what drives the Democrats crazy. But they know they're not going to get this, they just want attention on this issue because they don't want to talk to us about policy."
Trump attorney Sekulow told ABC News' This Week host George Stephanopoulos that Democrats are trying to "use the IRS as a political weapon...the president has not asked for Nancy Pelosi's tax returns...which is not a requirement that they do by the way."
Sekulow lambasted the Democrats using a Ways and Means Committee hearing about IRS enforcement as a way to get to the president's private, individual and business tax returns. It "makes no sense both constitutionally and statutorily," said Sekulow. "If necessary, we're not at that point yet, but if it has to be litigated, it will be litigated."
Democrats Will 'Never' See Trump Tax Returns: Mick Mulvaney, Mitt Romney Lead IRS Records Pushback | U.S.