The Protester Trump Fat-shamed at the New Hampshire Rally Was Actually a Trump-supporting Police Officer: 'I Love the Guy'
The man whom Donald Trump mocked at his rally in New Hampshire because of his weight was in fact a supporter of the president, it has been reported.
About 30 minutes into the rally in Manchester on Thursday night, there was a disturbance by a small group of protesters who were carrying banners with the words "Jews against the occupation" according to The Washington Post.
A man next to the group, later identified as Frank Dawson, grabbed one banner and threw it into a nearby entryway. He then grabbed a second and threw it over the edge of the balcony and it landed in the crowd below.
But it seemed that Trump only saw Dawson and not the actual protesters, The Post reported.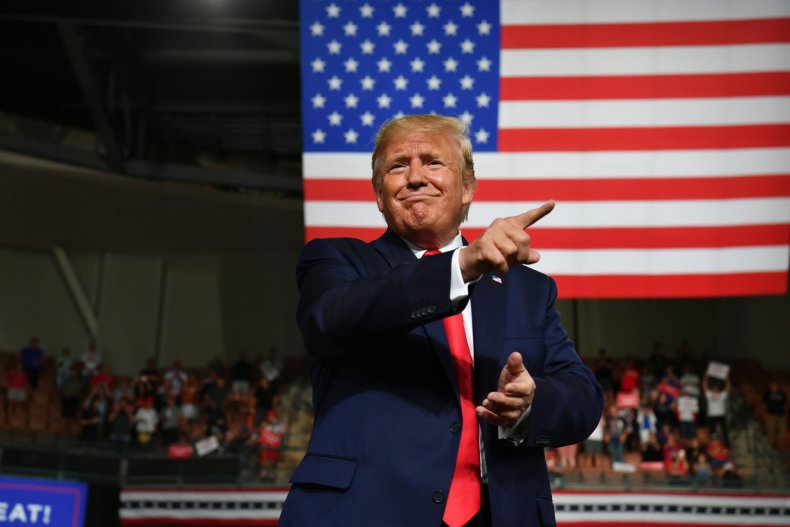 The president said to the cheering audience, "That guy has a serious weight problem. Go home, start exercising! Get him out of here please," Trump said, to laughter and more cheers.
The comment sparked accusations that Trump had fat-shamed a protester, but as journalists at the event noted, most of the protesters were thin, according to Mediaite.
In any case, it turned out that the man Trump had made fun of was in fact a fan of his. After the rally, Fox News' Griff Jenkins said that he managed to catch up with the man who was the target of the president's remarks.
Jenkins started the interview by telling Dawson that "it turns out, he was talking to you."
Dawson replied: "He was, because he didn't see me rip the signs away from those three people that were sitting near us, and they were trying to cause a ruckus. It wasn't going to happen beside me because I'm trying to listen to my president. But I think he thought I was part of it, but I wasn't, I was the good part of it."
Dawson said he is a retired Navy veteran who had 31 years in law enforcement. When asked about what he thought about his weight being so publicly commented on, Dawson replied: "Everything's good, I love the guy, he's the best thing that ever happened to this country."