Trump's New Tariff Won't Protect American Workers. It Will Kill Their Jobs.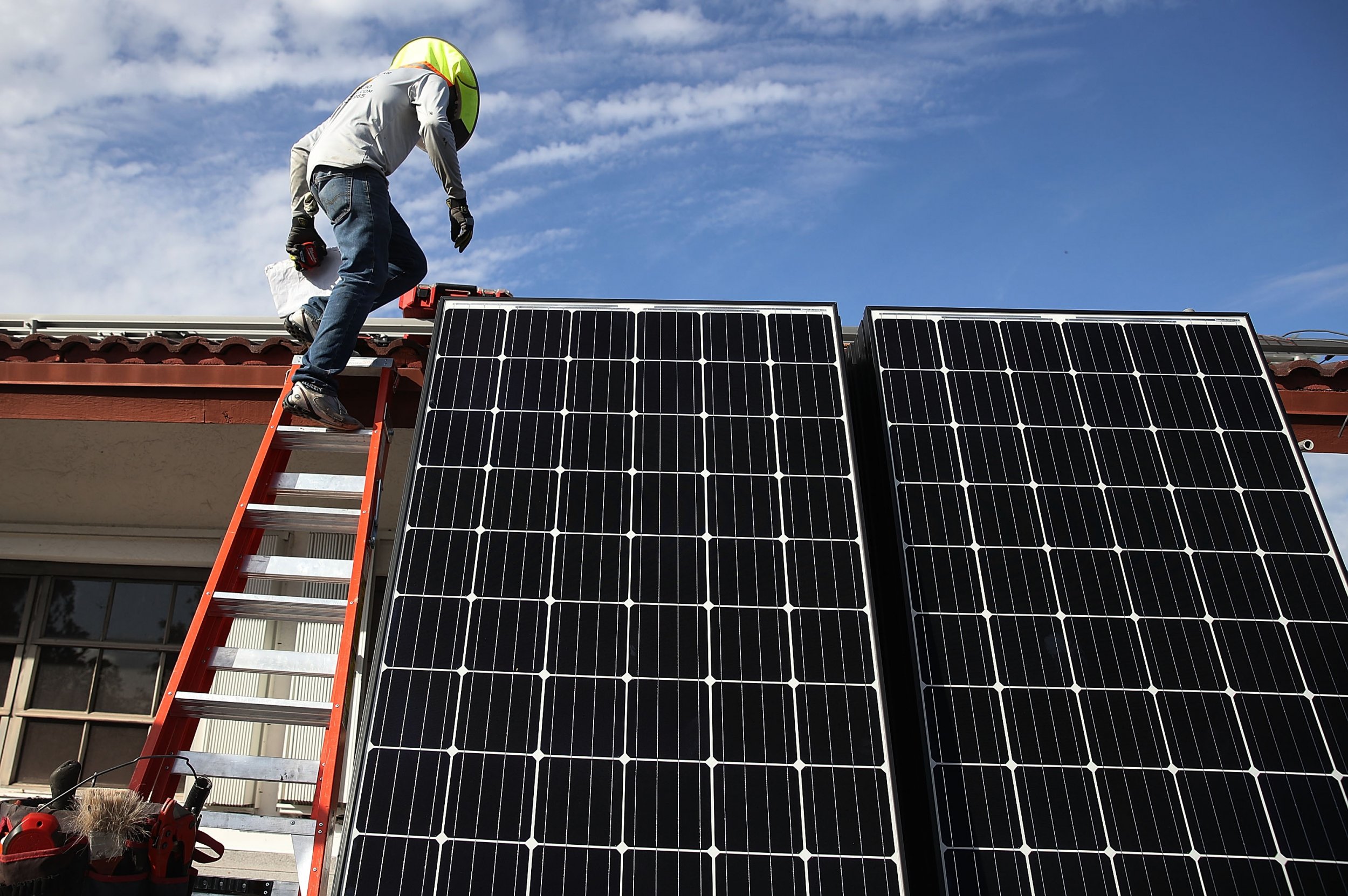 It's one of the weirdest, most counterproductive acts of protectionism in modern American history. Last week, President Donald Trump slapped a 30 percent tariff on solar panels imported from China and Taiwan.
Trump claimed the hefty fee would protect American solar panel manufacturing, but the decision faced huge backlash from the U.S. solar industry itself. And for good reason: The move won't accomplish Trump's claimed protectionist goals. In fact, it will actually stifle the entire industry. Initial estimates predict that the tariffs will cut projected solar installations by 11 percent through 2022.
Here are the five worst things about Trump's solar tariffs:
The tariffs will cost thousands of American jobs. One of Trump's biggest campaign promises was that he would bring back good jobs, and he claims the tariffs will help accomplish that. But most solar industry jobs originate in the installation of solar systems, not in solar panel manufacturing, which is heavily automated.
Adding fees to imported solar technology will increase the price of going solar. That's expected to significantly curb solar installations, driving industry-wide unemployment. The Solar Energy Industries Association (SEIA) estimates that these tariffs could threaten 23,000 American jobs this year alone.
They won't prompt a domestic surge in solar panel manufacturing. Trump wants these tariffs to spur growth in solar panel manufacturing domestically. But in fact, the opposite is expected.
These tariffs will drive down the demand for solar as the cost is artificially driven up by taxing imports. Larger utility-scale solar projects will get shelved as investment dries up in the face of much higher costs. This will prevent 1.2 million homes from being powered by solar, according to SEIA. Less demand will also mean a smaller market for domestic solar manufacturing from the very companies who asked for the tariffs. At the same time, given the enormous investment necessary to start a new manufacturing company, there have been no reliable predictions that these tariffs will spur new domestic manufacturing investment.
They'll worsen trade relationships and open the U.S. to claims of international legal violations. Argue as he might that this move won't start a trade war, Trump's tariffs will likely increase tensions with other countries, especially China. Tit-for-tat retaliatory measures against U.S. trade could further hurt American industries—and our international relationships overall. Further, tariffs like these open the U.S. to trade challenges at the World Trade Organization.
From a climate perspective, such conflict is especially troubling at a time when the world's two largest carbon polluters—the U.S. and China—should be working together to bring down emissions.
The tariffs will disrupt one of America's most successful efforts to curb carbon pollution. Clean energy is one of our most effective weapons in the fight against climate change. In the past decade, America's solar industry has boomed, with an average growth rate of 68 percent per year. Last March, for the first time ever, wind and solar produced over 10 percent of America's electricity.
By slapping on tariffs, Trump is upping the cost of going solar and slowing the transition from polluting fossil fuels to clean energy. That's an outcome we simply can't afford.
They'll hit Trump's own voters hard. Like most of Trump's decisions, these tariffs were pitched as a way to put America first. But, in reality, they will hurt many Americans—particularly those who voted for Trump. According to research, states with burgeoning solar markets, such as Texas, Florida, Georgia and South Carolina, will be disproportionately harmed by the tariffs.
Across the country, a higher price tag on solar will cost jobs and likely reduce our opportunity to cut energy system costs overall. And most important, slowing the transition to a just, clean energy system exposes Americans to more threats and costs from climate change, including the unprecedented 200 billion dollars spent on the trio of devastating hurricanes ripping through Puerto Rico and the South this year.
Howard Crystal is senior attorney in the Climate Law Institute of the Center for Biological Diversity.