President Trump Claims 'A Lot of People In the NFL Have Been Calling and Thanking Me' For Criminal Justice Reform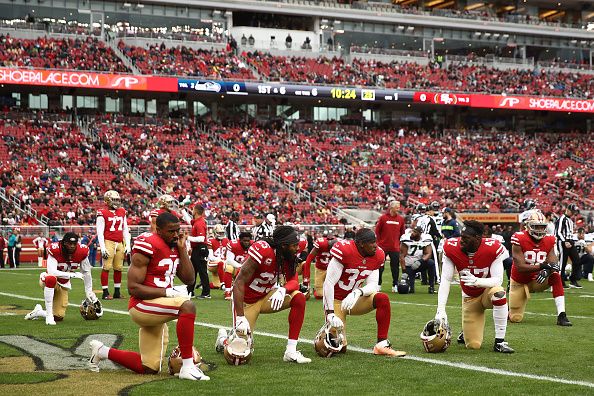 President Donald Trump claims that "a lot of people in the NFL" have called him to thank him for passing criminal justice reform.
During an interview with Margaret Brennan on CBS' "Face the Nation" on Sunday, Trump was asked about the kneeling protests on the field that was started by former San Fransisco 49ers quarterback Colin Kaepernick and the controversy surrounding the protest. Brennan asked if he and commissioner of the NFL, Roger Goodell, were on good terms following their discussion of the protests.
"I mean I was just one that felt very important, you can't be kneeling for the national anthem. You have to respect our flag and our country. I want that as president and I'd want that as a citizen. And I have a very good relationship," Trump said.
Trump was asked if he was sensitive to the NFL players who want to point out that the majority of people facing police brutality are black. In response, Trump bragged about passing criminal justice reform and claimed that many players from the NFL have called him to thank him for doing so.
"Everybody wanted to do it," Trump said. "And I got it done and I've been, you know, really, a lot of people in the NFL have been calling and thanking me for it."
The First Step Act was passed in December and changed the criminal justice system by reducing mandatory minimum sentences for crimes that are drug-related and will create more opportunities for rehabilitation for federal prisoners, among other changes.
Trump explained that he does understand why the NFL players were kneeling but said they should not disrespect the flag.
"They have been calling and thanking, you know, that people have been trying to get that taken care of and it's now signed into law and affects tremendous numbers of people, and very good people. I think that when you want to protest I think that's great," Trump said. "But I don't think you do it at the sake of our flag, at the sake of our national anthem."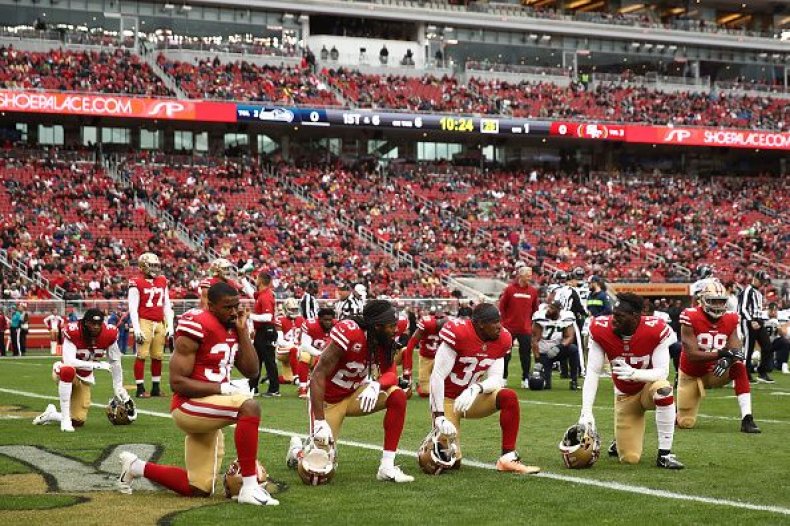 Trump was also asked if he would allow his youngest son, Barron, play football, in which he said no and called the sport "dangerous."
"I think the NFL is a great product, but I really think that as far as my son- well I've heard NFL players saying they wouldn't let their sons play football. It's not totally unique, but I would have a hard time with it," he said.
Newsweek has reached out to the NFL for comment on Trump's statements but did not hear back in time for publication. Trump's comments about the NFL come the day of Super Bowl LIII, where the New England Patriots and the Los Angeles Rams will face off for the title of Super Bowl champions at Mercedes-Benz stadium in Atlanta, Georgia.