Trump No Longer 'Shedding' Infectious Virus, Fauci, NIH Official Conclude Ahead of Town Hall
Two officials at the National Institutes of Health (NIH) independently reviewed President Donald Trump's medical data and corroborated what his physician has been saying: The president is no longer at risk of spreading the coronavirus.
Dr. Clifford Lane, clinical director of the NIH, told NBC's the Today show that he and Dr. Anthony Fauci, director of the National Institute of Allergy and Infectious Diseases, reviewed Trump's medical data and found with "a high degree of confidence" that the president was not "shedding infectious virus." The conclusion falls in line with what Trump's personal physician, Dr. Sean Conley, has said since last Saturday.
Just over a week after Trump tested positive, Conley informed press secretary Kayleigh McEnany, who tested positive on October 5, that the president was "no longer considered a transmission risk to others." However, Conley didn't specifically say the president had tested negative, raising skepticism among some that Trump wasn't taking proper precautions.
In a subsequent memo on Monday, Conley confirmed that Trump had consecutive days of negative test results. That, in conjunction with clinical and laboratory data and an ongoing assessment of viral culture data, indicated to Conley that the president had a lack of "detectable viral replication."
"This comprehensive data, in concert with the [Centers for Disease Control and Prevention's] guidelines for removal of transmission-based precautions, have informed our medical team's assessment that the president is not infectious to others," the doctor wrote.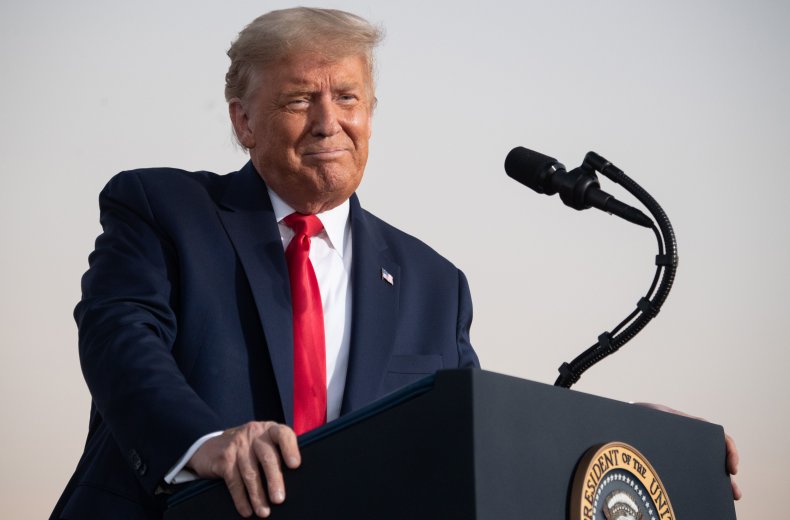 Conley was in charge of briefing the press on Trump's condition following his diagnosis and gave daily press briefings from Walter Reed National Military Medical Center, where the president was being treated. But he evaded questions and withheld information. He also said that releasing certain information might alter the president's course of illness, which hurt the physician's credibility and the White House's commitment to transparency.
The NIH officials are the first to independently confirm that Trump is no longer a risk to others, and with one of them being Fauci, who's highly regarded and seen as a person not beholden to the president, this may help alleviate concerns.
Newsweek reached out to the White House and Lane for comment but did not hear back in time for publication.
The timeline is also in line with the Centers for Disease Control and Prevention's guidelines. After testing positive for the virus, a person can resume interactions with other people 10 days after symptoms first appear, 24 hours with no fever and improvement of other symptoms. The 10-day mark is because data shows that people with moderate to mild COVID-19 are not infectious after 10 days, according to the CDC. Sunday was the 10-day mark since Trump tested positive, although it's unclear on what day he began experiencing symptoms.
Still, precautions will be taken at Thursday's NBC Town Hall. Instead of the regularly scheduled debate, which Trump refused to participate in because it was to be virtual, the president will participate in a live town hall moderated by Today's Savannah Guthrie. Taking place in Miami, it will be outside, and the two parties will be placed at least 12 feet apart. The audience must wear face masks.