Trump Nominates Conway and 25 Supporters for High-Level Government Appointments
President Donald Trump on Tuesday announced the nomination of 26 supporters to prestigious government appointments.
Among the nominees are his former senior adviser Kellyanne Conway, current Transportation Secretary Elaine Chao, campaign surrogate Matt Schlapp, several conservative Trump donors and Douglas Manchester, a failed Trump ambassadorial nominee who was accused in 2019 of colluding with the Republican National Committee (RNC) in a suspected pay-to-play scheme.
The president's nominations comes less than two months before President-elect Joe Biden's inauguration.
Conway will be nominated to be a Member of the Board of Visitors to the U.S. Military Academy, Chao will be nominated alongside four others to be a Member of the Board of Trustees of the John F. Kennedy Center for the Performing Arts and Schlapp will be nominated to be a Member of the Library of Congress Trust Fund Board.
Schlapp is chairman of the American Conservative Union, a right-wing group that organizes the annual Conservative Political Action Conference. In a June 11 tweet, Schlapp called the Black Lives Matter movement "hostile to families, capitalism, cops, unborn life and gender," and claimed without proof that 9,000 votes were improperly cast in Nevada during the 2020 presidential election, according to PolitiFact.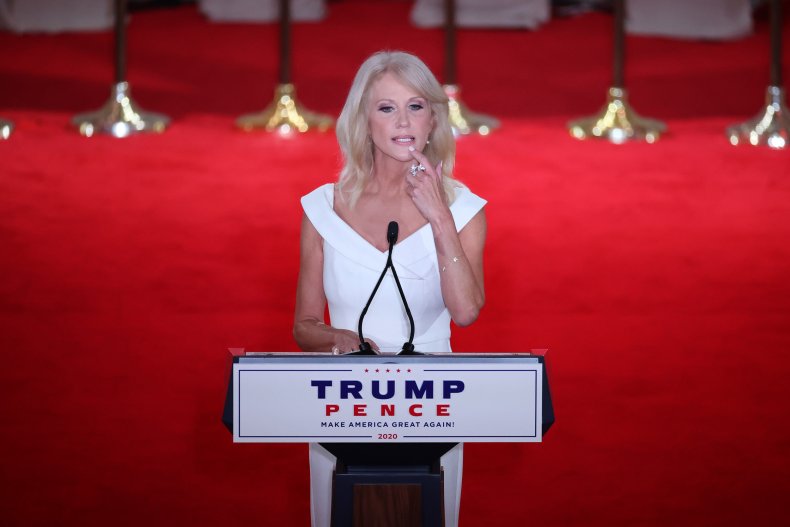 Other notable nominees include Douglas Manchester, a billionaire real estate developer and failed ambassadorial nominee, who Trump will nominate for the Kennedy Center's Board of Trustees.
In November 2019, CBS News alleged that the Republican National Committee (RNC) had asked Manchester to donate $500,000 to the RNC while his nomination by Trump to become Ambassador to the Bahamas was under Senate consideration, which led to the publication alleging a possible "pay-to-pay" scheme. Manchester and the RNC denied any wrongdoing, stating that neither felt his senate approval hinged on the donation.
Manchester had previously donated $1 million to Trump's inauguration fund and was offered the Bahamas ambassadorship one day after Trump was sworn in. Ultimately, Manchester withdrew his nomination, citing threats against his family.
Philanthropist Christopher Papagianis was also listed as a nominee to become a member of the Community Development Advisory Board which advises the Treasury on how to spend funds intended for community development financial institutions for economically revitalizing distressed communities throughout the nation.
Also nominated is Marina DeWit, wife of Republican Arizona politician Jeff DeWit who served as chief operating officer of Trump's 2020 presidential campaign. Trump will nominate her to be a Member of the Board of Directors of the National Board for Education Sciences.
Joining DeWit as a nominee to the same organization is Larry Schweikart, author of the books A Patriot's History of the United States and 48 Liberal Lies About American History.
History professor David Hoogland Noon said Schweikart's Patriot's History demonstrated an "ignorance of the basic parameters of actual historical scholarship", was written for conservatives and concluded that was "hardly worth anyone else's time" in a 2007 review Noon wrote for the quarterly academic journal, The History Teacher.
During the 2018 midterm elections, Schweikart falsely claimed that then-Congressman Beto O'Rourke had sent busloads of undocumented immigrants to polling booths and paid them $100 to vote, according to Buzzfeed News.
Newsweek contacted Conway and Chao for comment.
Correction (12/9/2020 11:44 am) - A previous version of this story incorrectly stated that Christopher Papagianis donated $500,000 to the Trump campaign in 2016. He did not. We regret this error.