Trump Nominates Elaine Chao and Mitch McConnell's Brother-In-Law to Lead Pension Agency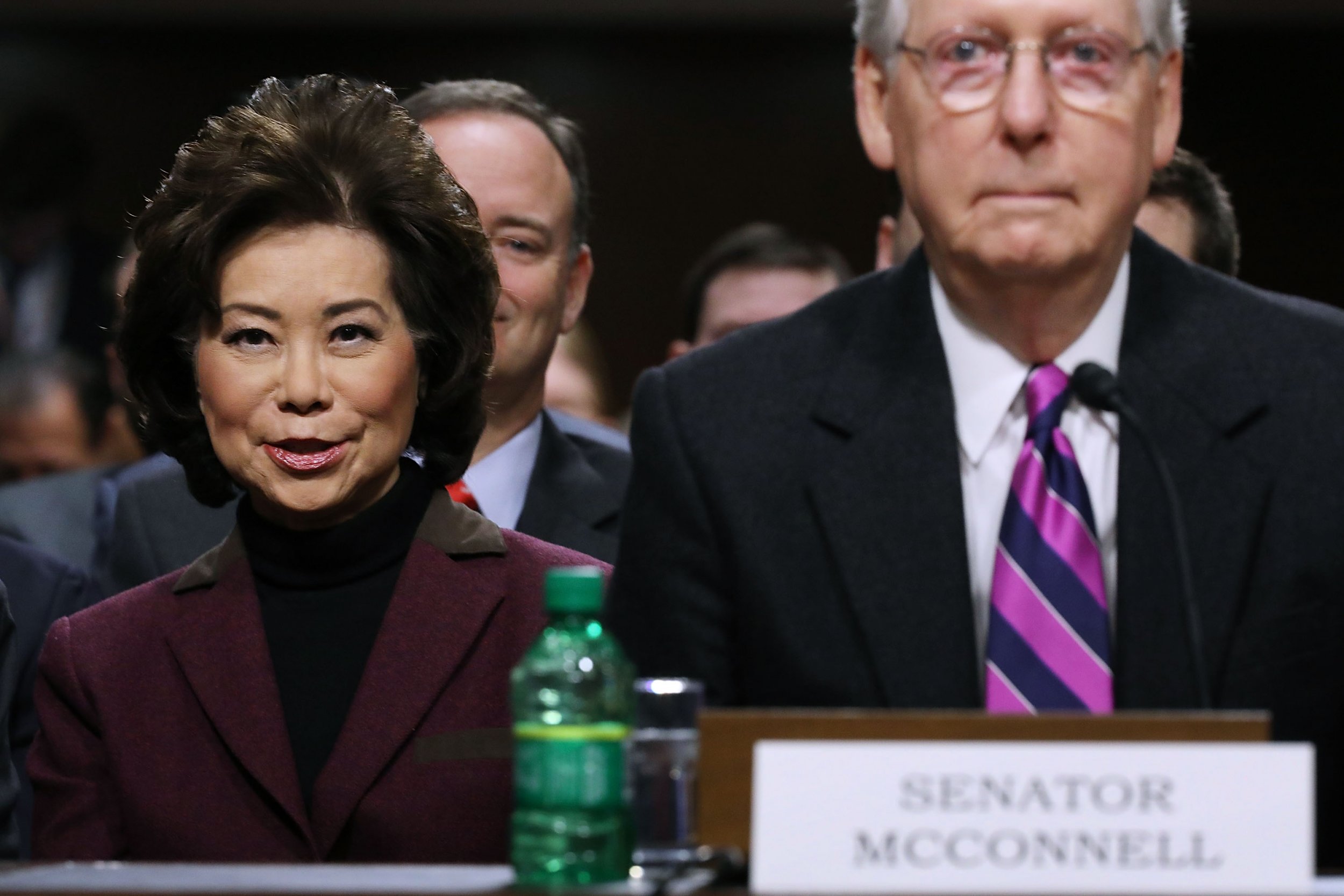 President Donald Trump has tapped the brother-in-law of Senate Majority Leader Mitch McConnell and Transportation Secretary Elaine Chao to lead the federal agency tasked with making sure workers get the benefits they are owed from private pension funds.
Gordon Hartogensis is Trump's nominee to lead the Pension Benefit Guaranty Corporation (PBGC), the independent agency created by Congress in 1974 to essentially pay out pension benefits to workers if their private pension funds fail. Hartogensis is married to Grace Chao, the younger sister of Elaine Chao, the current U.S. Transportation Secretary. The elder Chao is married to McConnell, a Republican from Kentucky.
The White House issued a press release on Tuesday announcing the nomination, but it didn't mention Hartogensis's family connections or list his previous positions. Instead, it described him simply as an "investor and technology sector leader" and mentioned his degrees from Stanford and Columbia. Bloomberg first pointed out Hartogensis's connections to the administration and congressional leadership on Wednesday.
According to his LinkedIn profile, Hartogensis has been a trustee at the Hartogensis Family Trust since 2011, where he manages "a portfolio of assets that include private equity, venture capital, and real estate." Before he helped manage his family trust, he was the co-founder and CEO of Auric Technology, a privately held company that develops and manages customer relationship management software.
If confirmed by the Senate to lead the PBGC, Hartogensis would take over the position previously held by Tom Reeder, whom President Barack Obama nominated to lead the agency in 2015. Reeder worked as an attorney and long-time Treasury Department staff member, as well as serving as the senior benefits counsel to the Senate Finance Committee before taking over the agency, which is in dire fiscal straights.
The PBGC runs two insurance programs—one that insures single-employer pension plans, and one that insures multi-employer plans. Both owe more money than they have, according to Bloomberg, but while the single-employer plan is projected to balance its books by 2022, the multi-employer plan is expected to be insolvent by 2025.
In total, the PBGC pays benefits to more than 900,000 participants in 4,900 failed plans, according to a 2017 report.