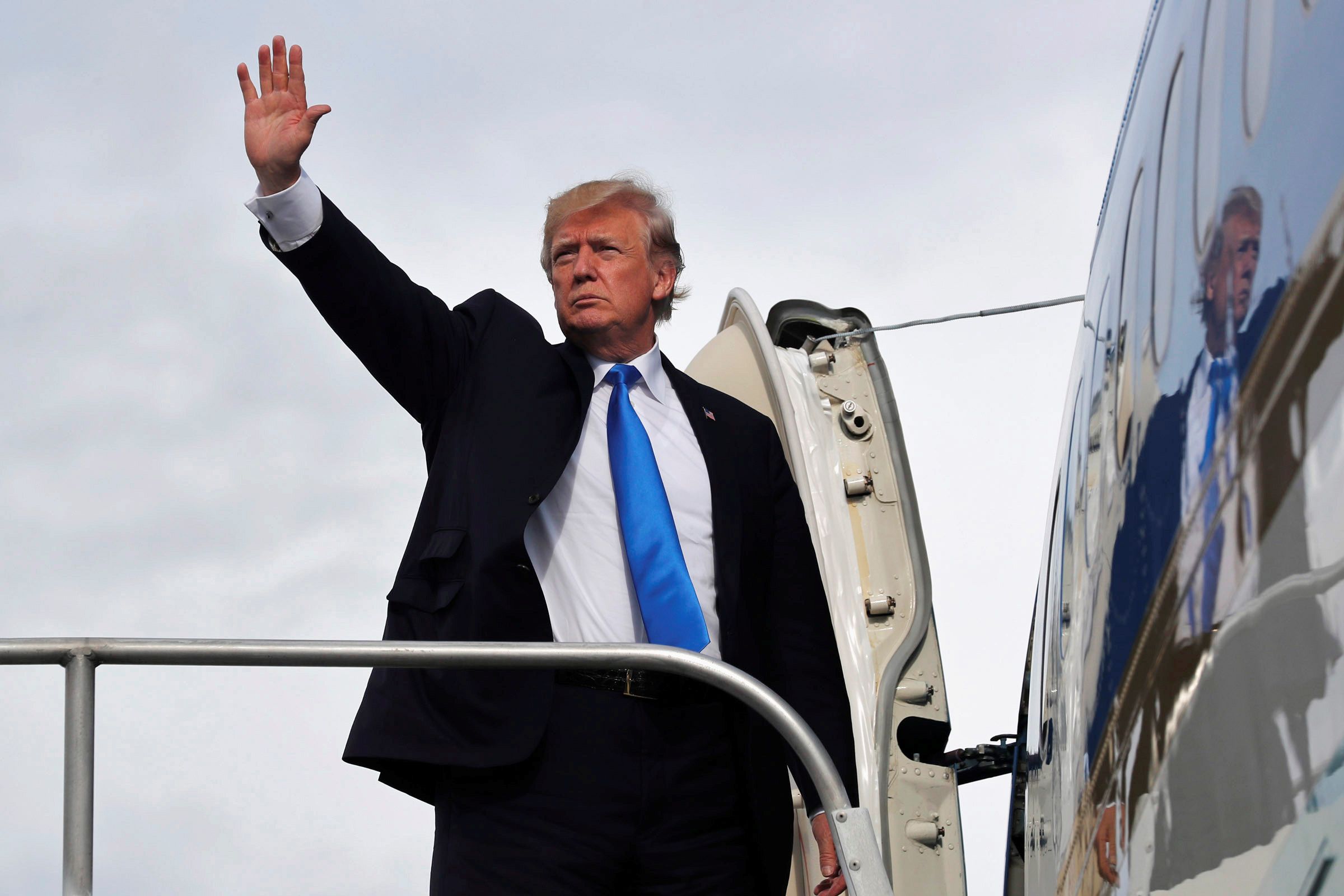 Updated | President Donald Trump has nominated more unqualified judicial appointees than any other president so quickly into his first term, a whopping four out of 58, according to the nation's preeminent legal group.
The American Bar Association's Standing Committee of the Federal Judiciary, which has been evaluating judicial appointments since the 1950s, has assessed 53 of Trump's 58 nominees and found four "not qualified."
"It's certainly unprecedented," said Carl Tobias, a professor at the University of Richmond law school and expert in judicial nominations.
The Republican-led Senate Judiciary Committee has already approved three of the four unqualified judges, who are awaiting a simple majority confirmation vote in the Senate. Majority Leader Mitch McConnell has indicated he will push through the Trump nominees.
Experts worry that if Trump succeeds in getting his unqualified nominees to the bench, the core of the federal judicial process will be hollowed out.
"I hope he won't have any more unqualified nominees. It's bad practice," Tobias said. "If the Senate approves these nominees it could undermine justice in federal courts."
Breaking with Tradition
The ABA's 15-member Standing Committee on the Federal Judiciary evaluates would-be judges on three qualifications: integrity, professional competence and judicial temperament. Its stated objective is to "assist the White House in assessing whether such individuals should be nominated to the federal judiciary."
Committee members then rank nominees as either "Well Qualified," "Qualified," and "Not Qualified." A nominee is "not qualified" if he or she "does not meet the Committee's standards with respect to one or more of its evaluation criteria."
Since the Eisenhower administration, the ABA Standing Committee has ranked prospective judicial candidates before they are officially nominated for the position. The presiding administration then nominates candidates deemed qualified by the group. Since President Dwight Eisenhower, only George W. Bush and Trump opted for a different approach—nominating judges regardless of the ABA rating.
"We admire the ABA's goal of providing a non-politicized review of judicial nominees …but we do not intend to give any professional organizations special access to our nominees," White House Counsel Donald McGahn said in March.
In response, ABA President Linda Klein said that the ABA rankings are a public good that should not be relegated to a footnote in a candidate's nomination.
"Over the years, the standing committee's work has done much to instill public confidence and trust in the judiciary," she wrote.
'Unqualified Judges'
The last time the ABA's Standing Committee doled out its lowest ranking before Trump was in 2006 when the Bush administration put forth Michael Wallace for the Fifth Circuit Court of Appeals. Wallace was Bush's seventh and last judicial nominee deemed unqualified by the group.
In the next 10 years, the committee reviewed more than 600 candidates for federal judicial posts, all of whom were deemed qualified for the bench.
But that streak was broken in October when the ABA ranked Trump nominee Charles Goodwin unqualified. A month later, three more of Trump's nominees—Leonard Grasz, Holly Teeter, and Brett Talley—received the same ranking.
To put that in perspective, there were only seven nominees deemed unqualified during President George W. Bush's eight years in office. Trump is more than halfway there 11 months into his term.
Teeter, and Talley were recently approved by the Senate Judiciary Committee, marking the first time in nearly 20 years that the committee has approved the nomination of someone declared unqualified by the ABA. (Goodwin and Grasz are waiting to be confirmed.)
Talley's nominations was particularly striking. Better known as a right-wing blogger, Talley is just 10 years out of law school and has never tried a case. It's also been reported that Talley "has a fervent interest in investigating and writing about paranormal activities" and appears to have defended the Ku Klux Klan in online forum.
It has also been recently revealed that Talley is married to the White House council's chief of staff, a potential conflict of interest he did not disclose during his Senate Judiciary hearing.
Grasz, senior counsel at Husch Blackwell LLP, was nominated to become a judge in the Eighth Circuit in August. Two months later, the ABA Standing Committee unanimously ranked Grasz as unqualified, with one abstention.
In a statement to the Senate Judiciary Committee, Pam Bresnahan, head of the ABA Standing Committee, said that many of Grasz's colleagues in Nebraska worried about his ability to preside without bias.
"Specifically," the statement reads, "they expressed the view that [Grasz] would be unable to separate his role as an advocate from that of a judge."
Republicans on the Judiciary Committee didn't heed the ABA's concerns. Instead, they charged the group as being biased against conservative judges.
At a Senate Judiciary Hearing on Wednesday, Senator Ted Cruz charged the group with being aligned with Democratic causes.
"The ABA today is an openly liberal advocacy group," Cruz said, citing public positions the group has taken on abortion rights and gun control.
In response, Senator Dianne Feinstein, the committee's ranking member, defended the group.
"I've been on this committee for 25 years now and candidly, I have valued these opinions. If I disagree with them that's fine, but I know I'm not a layer and I know it is a group of lawyers from the most prominent association of lawyers who are doing some evaluation," she said. "What are we afraid of?"
It should be noted that Teeter was approved on a bipartisan 19-1 vote. That's probably because Teeter received positive reviews from other federal judges she has worked with in the past. The ABA Standing Committee rated her as unqualified on a technicality: He was a month shy of the group's minimum standard of 12 years of professional experience.
"The ABA might not get it right all the time," Tobias said. "But it still provides a service that is helpful."
The ABA's Standing Committee is in the process of reviewing eight more nominees, four of whom are vying for chairs in the powerful Fifth Circuit Court of Appeals. Because the review is done behind closed doors, there is no way of knowing what the committee thinks until their rankings are released to the public.
What Now?
As the Senate readies to bring these nominations to a vote, it's believed most of the unqualified nominees will pass along a party vote in quick succession.
As reported by the New York Times, Trump instructed McGahn and his team to fill judicial seats as fast as they could and to "avoid clogging the Senate with too many nominees for district courts, where legal philosophy is less crucial."
So far, the plan has worked: Trump has appointed eight appellate judges and has a slew of more floor confirmations coming up—and Democrats can do little about it.
But in an interview with Newsweek, Bresnahan, head of the ABA Standing Committee said that no one should assume anything.
"One of the things you can never predict is whether people will be passed or not," she said. "Sometimes the nominee withdraws, sometimes the nominee that they don't want to go through the process, sometimes that the full Senate will vote against them."
Bresnahan also highlighted that upcoming political battles will have a huge influence on how the rate at which Trump is nominating judicial candidates, especially if Democrats cut down on the Republican majority in the Senate.
"If the Senate flips in 2018, a Democrat will assume the chair of the Judicial Committee, and Trump's nominees [rated as unqualified] go to the Dumpster," she said.
Corrections: An earlier version of this article misstated Holly Teeter's gender. She is a woman. The ABA's Standing Committee of the Judiciary has assessed 53 of President Trump's judicial nominees, not 50, as was previously written. Steve Grasz has not been approved by the Senate Judiciary Committee; he is waiting to be confirmed.