Trump Nominee Confirmed as Federal Judge in Florida Despite No Trials Since Passing the Bar
The U.S. Senate confirmed the lifetime federal judgeship of Kathryn Kimball Mizelle on Wednesday despite the fact that she has not tried a case—civil or criminal—as lead or co-counsel since passing the bar.
Mizelle, a Washington, D.C.-based lawyer, will be one of the youngest federal judges in the nation at the age of 33. She was only admitted to the bar eight year ago.
After being nominated by President Donald Trump for a vacancy on the Tampa-based U.S. District Court for the Middle District of Florida, every Republican member on the Senate Judiciary Committee voted to send her nomination to the full Senate.
Prior to her confirmation hearing in September, the ABA sent a letter to the committee raising concerns over Mizelle's qualifications and lack of experience. A "substantial majority" of the ABA's standing committee determined her "not qualified" to fill the position.
The letter said failed to meet the committee's criteria which requires "a nominee to the federal bench ordinarily should have at least 12 years' experience in the practice of law."
Mizelle has been an attorney for eight years since her admission to the bar in 2012.
"This represents a rather marked departure from the 12 year minimum," Randall Noel, chairman of the association's standing committee, wrote.
Noel said that the ABA sometimes makes exceptions for those with less experience if the nominee has "substantial trial or courtroom experience and/or
compensating accomplishments in the field of law," but argued that Mizelle did not have these qualifications.
Noel noted that the association took into account her clerkship in trial court and experience in federal grand jury proceedings, but decided her accomplishments were not enough for her to meet the ABA's "minimum standard" necessary for the role of a federal trial judge.
"Her integrity and demeanor are not in question. These attributes however simply do not compensate for the short time she has actually practiced law and her lack of meaningful trial experience," he concluded.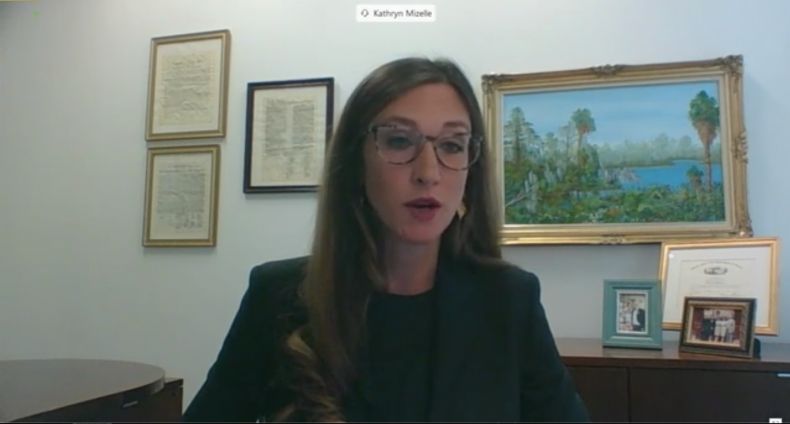 During the confirmation hearing, Senator Diane Feinstein asked Mizelle about the ABA's rating, to which she instead referred to her year-long position as counsel to the associate U.S. attorney general.
"I think it's my experience as a career federal prosecutor that does make me equipped to do this job effectively," Mizelle said.
Before Mizelle's nomination was presented on the Senate Floor, The Leadership Conference on Civil and Human Rights penned an open letter calling on senators to oppose her confirmation.
"It is deeply disturbing that someone like Ms. Mizelle – who was involved in many of the Trump administration's most egregious civil rights rollbacks – would be rewarded for these actions with a lifetime appointment to the federal bench," president of the Leadership Conference, Vanita Gupta, wrote.
Gupta also noted that Mizelle is a member of the conservative Federalist Society, a common theme among Trump's judicial picks. All three of his Supreme Court nominees—Neil Gorsuch, Brett Kavanaugh and Amy Coney Barrett—are members of the Federalist Society.
Mizelle also has a personal connection to the society. All three of her law school clerkships were with Federalist Society members, including Supreme Court Justice Clarence Thomas, who she has previously praised as "the greatest living American."
"The fact that Ms. Mizelle believes Justice Thomas to be 'the greatest living American,' and pointedly emphasized that she offered this tribute 'with
all sincerity,' paints a highly disturbing picture of her own legal views and judicial philosophy," Gupta argued.
Newsweek reached out to Mizelle for comment but did not hear back before publication.
Senate Majority Leader Mitch McConnell has rushed to confirm a number of Trump's judicial picks since President-elect Joe Biden's November 3 win.
Mizelle is among four other lifetime judges the Senate has confirmed in the last two days.