Under Obama, Christians Were Treated Like People in Nazi Germany, Claims Trump Judicial Nominee
A lawyer whom President Donald Trump nominated to be a federal judge once likened the treatment of Christians during the Obama administration to that of people in Nazi Germany and under communist regimes. Jeff Mateer made the comments in radio interviews in 2013 and 2014, according to audio clips that CNN retrieved.
Mateer is the first assistant attorney general of Texas. In September, Trump nominated him to serve as a United States District Court judge in the Eastern District of Texas. The Senate Judiciary Committee has not yet announced when it will hold his confirmation hearing.
Related: A Trump nominee advised White House on Russia investigation
As CNN reported, Mateer made the comments during three interviews with Greg Young on the pastor's radio show. At the time, Trump's nominee was general counsel at the First Liberty Institute, a nonprofit legal organization that focuses on cases involving religious issues. He left the organization for the state attorney general's office in 2016.
In a November 2013 segment of Young's radio show, Chosen Generation with Pastor Greg, Mateer spoke about a Supreme Court case involving public prayer in a New York town's council meetings, according to CNN. Young said, "You can find old black and white film footage of Hitler's organizations and of the communist regime going in and doing exactly what you're talking about, which is ripping up and destroying all Christian symbolism within the country. It's a pretty serious situation."
Mateer responded, "No, you're right, and I truly believe, because history teaches this, totalitarian governments, what they first attack is freedom of religion, freedom of beliefs. Because they know that strikes at the core of freedom. If they can destroy freedom of conscience, then every other liberty is at stake. And so we see that in history, whether that be Nazi Germany, or communist Russia or communist China. That's what they strike at first. And it's just a steppingstone to taking away all freedom."
Later in 2013, Mateer and Young discussed on the air the Supreme Court case involving the Hobby Lobby company and insurance coverage for contraception under Barack Obama's Affordable Care Act, according to CNN. The pastor likened what he believed the administration was doing to the treatment of Jews by the Nazis in 1930s Germany. "Essentially, you cannot hold to your religious beliefs and have business," he said.
Mateer agreed, saying, "We've seen this in history before. When totalitarian governments want to suppress, they go after people of faith, they go after religious beliefs, because if you take away religious beliefs, all the other freedoms are hinged off of religious beliefs and your freedom of religion."
Moments later, he said, "Of course, there's that great quote that comes out of Nazi Germany, that first they came for the communists, and then they came for the Jews, and then eventually they came for me—the [Martin] Niemöller quote. Well, I think when people start realizing, 'Oh they are coming after me,' they wake up."
Mateer added, "It's time for people of faith to realize, yes, this administration, this government, is coming after you."
Then, in October 2014, the pair discussed how Houston city attorneys had issued subpoenas to pastors over sermons they had given after the city passed an anti-discrimination ordinance. Mateer told the radio host, "It happened in the 1930s and 1940s in Nazi Germany. It happened in Stalinist Russia, and it happened in Maoist China. Totalitarian governments often want to censor and silence pastors, and that's exactly what the mayor of Houston [did]. She's in that company when she makes this type of affront on religious liberty."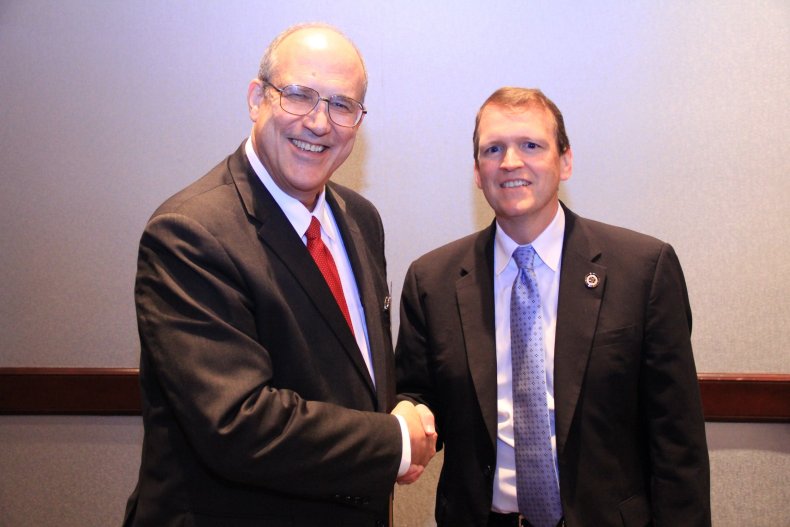 'Satan's Plan'
Mateer has previously come under fire for some of his past remarks. In 2015, he reportedly said in a speech that transgender children show evidence of "Satan's plan." He also reportedly said, in reference to the Supreme Court's decision legalizing same-sex marriage, "What is the limiting? Why couldn't four people want to get married? Why not one man and three women? Or three women and one man?... It's disgusting…. Somebody wanted to marry a tree. People marrying their pets."
Through his current employer, the Texas attorney general's office, Mateer declined to comment. A spokesperson for the office also declined to comment. (Texas Attorney General Ken Paxton has called Mateer "a principled leader, a man of character, who has done an outstanding job.") But the First Liberty Institute, where Mateer worked when he made the radio show comments, and Young both defended the remarks.
In a statement, Hiram Sasser, the current general counsel for the First Liberty Institute, supported the remarks, though the statement seemed to refer only to those about the Houston subpoenas. "The government in that case was using thug-style totalitarian tactics against pastors. It was shocking and abhorrent government overreach and abuse," he said.
Young, who is recovering from a July car accident that resulted in severe injuries and at least 17 surgeries, according to his family, told Newsweek he that recalls the conversations with Mateer and that Trump's nominee appeared regularly on his program over about three years in his capacity as general counsel at the First Liberty Institute.
"Mr. Mateer is a constitutionalist and holds dear the values of the United States Constitution," Young said. "And so in each one of these instances, if you take the conversations in total, not just cherry-picking out one particular quotation but the entire context of the conversation, what we are speaking of specifically is religious freedom and also freedom of speech."
Mateer's comments should make him a better nominee for judge, not a worse one, according to Young. "If anything, in the total context, they simply validate that Mr. Mateer is a constitutional jurist," he said. The pastor added that people on the political left also compare contemporary times to the Nazi era, yet the media do not criticize them for doing so.
"You've got people that are out on the streets today, on the left, your antifa groups, your Black Lives Matter groups and so on, and others, who are running around claiming that anyone who's on the right is somehow connected to Nazism," he said.
Mateer isn't the only Trump judicial nominee with a past whom some say is controversial. Gregory Katsas, whom Trump nominated to be a U.S. Court of Appeals judge in the District of Columbia Circuit, faced questions at his confirmation hearing in mid-October about his work as a White House lawyer, which involved advising the administration on the Russia investigation and controversial executive orders.
The White House did not respond to a request for comment about Mateer.