President Trump Is Rewarding A Lawyer Who Has Fought To Block The Black Vote With A Plum Federal Judgeship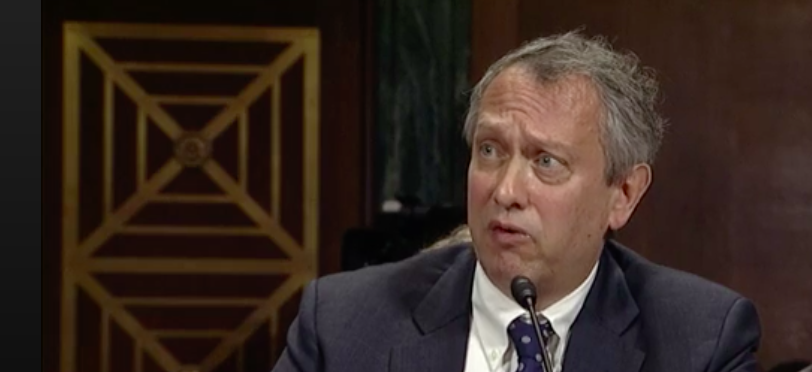 Donald J. Trump won North Carolina by 3.6 percentage points, despite many projections pointing to Hillary Clinton taking the state. But if Thomas A. Farr had had his way, Trump margin of victory would have certainly been bigger. Now, the lawyer with a history of working on voter suppression efforts is set receive a reward for his diligent if ultimately unsuccessful efforts with a plum federal judgeship.
Farr has helped defend restrictive voting laws in North Carolina, part of a wider Republican effort that critics say disenfranchises African-Americans and the poor (supporters say that stricter laws will protect against election tampering, though they have not be able to point to widescale ballot-box abuses). Trump, who has repeatedly made unfounded accusations of voter fraud, nominated Farr in July to the Eastern District in North Carolina, the longest judicial vacancy in the nation.
On Wednesday morning, Farr was one of several nominees to receive a hearing at the Senate Judiciary Committee. Thom Tillis, the Republican Senator of North Carolina, presided over the hearing. The hearing consisted of two panels, the first of which was devoted entirely to Allison H. Eid, a nominee to the 10th U.S. Circuit Court of Appeals in Denver. Farr was on the second panel, on which there were three other nominees. Looking somewhat like a rumpled law professor, he spoke for about 12 minutes of the 160-minute hearing.
Tillis had the first question: "What type of advice would you give other attorneys?"
Senator Amy Klobuchar, a Democrat from Minnesota, asked Farr about his work on behalf of legislation that would restrict voting access, particularly to people of color. Farr disagreed, answering her question calmly and articulately, without any evidence of ideological fervor.
"People see things differently," he said.
Since the GOP has solid control of Capitol Hill, Farr's nomination will withstand the vociferous opposition of liberal groups.
Farr did not respond to a Newsweek request for comment. Nor did Tillis. But a former associate, Carter Wrenn, disagrees with assessments of Farr as a partisan. "Tom Farr is a responsible lawyer," says Wrenn, a Republican operative who has known Farr for many years. "The law is gonna be Tom Farr's guide, not politics." Wrenn adds that Farr is "broadly respected" by his peers.
But not by detractors of the current administration. "Trump's nomination of Farr is the latest example of this administration's contempt for voting rights and judicial independence," says Vanita Gupta, who headed the civil rights division of the Department of Justice under President Obama and now heads the Leadership Conference on Civil and Human Rights, an advocacy group. Indeed, Farr's ascent is a sign of how mainstream—and successful—voter suppression efforts have become, little more than 50 years after the Voting Rights Act prevented the kind of restrictive practices that became common throughout the South after Reconstruction.
The Voting Rights Act suffered a severe curtailment in the summer of 2013, when the U.S. Supreme Court struck down key provisions in the law. "While any racial discrimination in voting is too much, Congress must ensure that the legislation it passes to remedy that problem speaks to current conditions," said Chief Justice John G. Roberts, Jr. That effectively allowed for states to enact more restrictive voter laws without having to a fear a rap on the knuckles from the federal government.
But by then, North Carolina—which wasn't one of the nine states that had sued the federal government to lift Voting Rights Act-related oversight—was already on its way to passing what would later be called by election expert Richard L. Hasen "the most sweeping anti-voter law in at least decades." The legislation was introduced by the Speaker of North Carolina's House of Representatives. "We are here to announce that after a deliberate and transparent process, we will be filing a voter ID bill today that protects the integrity of the ballot box and respects the sanctity of the right to vote," said the legislator, whose name was Thom Tillis, now a North Carolina senator, the very one who just months ago praised Farr as "one of the best legal minds in America."
Like other "election integrity" laws, North Carolina's seemed to violate the 14th Amendment, which declares it unconstitutional to "impose an undue burden on a fundamental right. The New York Times described the legislation at the time of its passage: "It shortens the early voting window, bans same-day registration during early voting and prohibits paid voter registration drives. Counties will not be able to extend voting hours in cases of long lines, or allow provisional voting if someone arrives at the wrong precinct."
The Department of Justice sued, backed by the NAACP and the League of Women Voters. To defend itself, Tillis and his fellow legislators hired a prominent Raleigh lawyer with the firm Ogletree, Deakins, Nash, Smoak & Stewart, which specializes in labor and employment law. The lawyer who would fight for North Carolina's voter suppression law was Tom Farr.
When North Carolina's voter suppression law finally went to court in 2015, Farr said that race simply didn't figure into the legislation: "How can there be unequal opportunity when all voters have the right to register 25 days before the election? The statute itself is facially neutral?" he told NPR. But the Fourth Circuit disagreed, striking down the law in the summer of 2016, just months before the presidential election. In a strongly-worded decision, the court decreed that the law's "provisions target African Americans with almost surgical precision." In the spring of 2017, the U.S. Supreme Court declined to hear an appeal.
This was not Farr's first experience with voter suppression. In 1990, North Carolina Senator Jesse Helms—a conservative to friends, a racist to foes—was facing a re-election challenge when he and state Republicans tried an unconventional tactic. They mailed 150,000 postcards to residents of heavily African-American districts. "The postcards warned that residency requirements were strict and vote fraud was punishable by imprisonment," The New York Times reported at the time. The DOJ sued Helms. For his defense, he selected Farr. The case ended two years later with a consent decree.
"The so-called civil rights bureaucrats left us no choice but to accept this agreement," said Wrenn at the time (he has since renounced the work he did for Helms during that time.)
It is unclear how long Farr has been with Ogletree, Deakins, Nash, Smoak & Stewart, but he is currently listed there as a "shareholder," suggesting extended service to the large firm. His work in private practice has come under scrutiny, too, since the nomination to a federal judgeship. A letter from the Black Congressional Caucus to the Senate Judiciary Committee opposing the nomination charges that Farr "championed eliminating legal protections for employment discrimination." It also points to his representation of Avis, the rental car company, which was defended by Farr against charges of racial discrimination.
Farr has also been involved in North Carolina's gerrymandering efforts, which again favor Republicans.
Kristine Lucius, a vice president for policy at the Leadership Conference, says that the Farr appointment to the Eastern District is "beyond cruel irony." That seat was vacated in 2005 and remained unfilled throughout the presidency of Barack Obama, who attempted to nominate two African-American women to the district, which is about 27 percent African-American.
The nominations were blocked by Senator Richard M. Burr, the North Carolina Republican. In 2016, for example, Burr accused Obama of making a "making a brazenly political nomination" with the selection of Patricia Timmons-Goodson. Burr, however, does not think the Farr nomination is political. "His wealth of experience will serve North Carolina well," Burr said of that nomination.
Lucius notes that nominations like that of Farr pose one of the greatest dangers from the Trump administration. She says 108 judgeships remain open for Trump to fill; that is exactly double the number of nominations Obama had when he took office in 2009. And since Trump is largely uninterested in details, he is likely to outsource nominations to conservative groups like the Heritage Foundation.
At the same time, she points to several recent court rulings that have found that racial discrimination at the ballot box remains a reality of the American political system.
"It still happens," she says. "It's still going on." In fact, it may only get worse in the coming years.