Trump Says Nothing While North Korea Gets Fuel From Russian Companies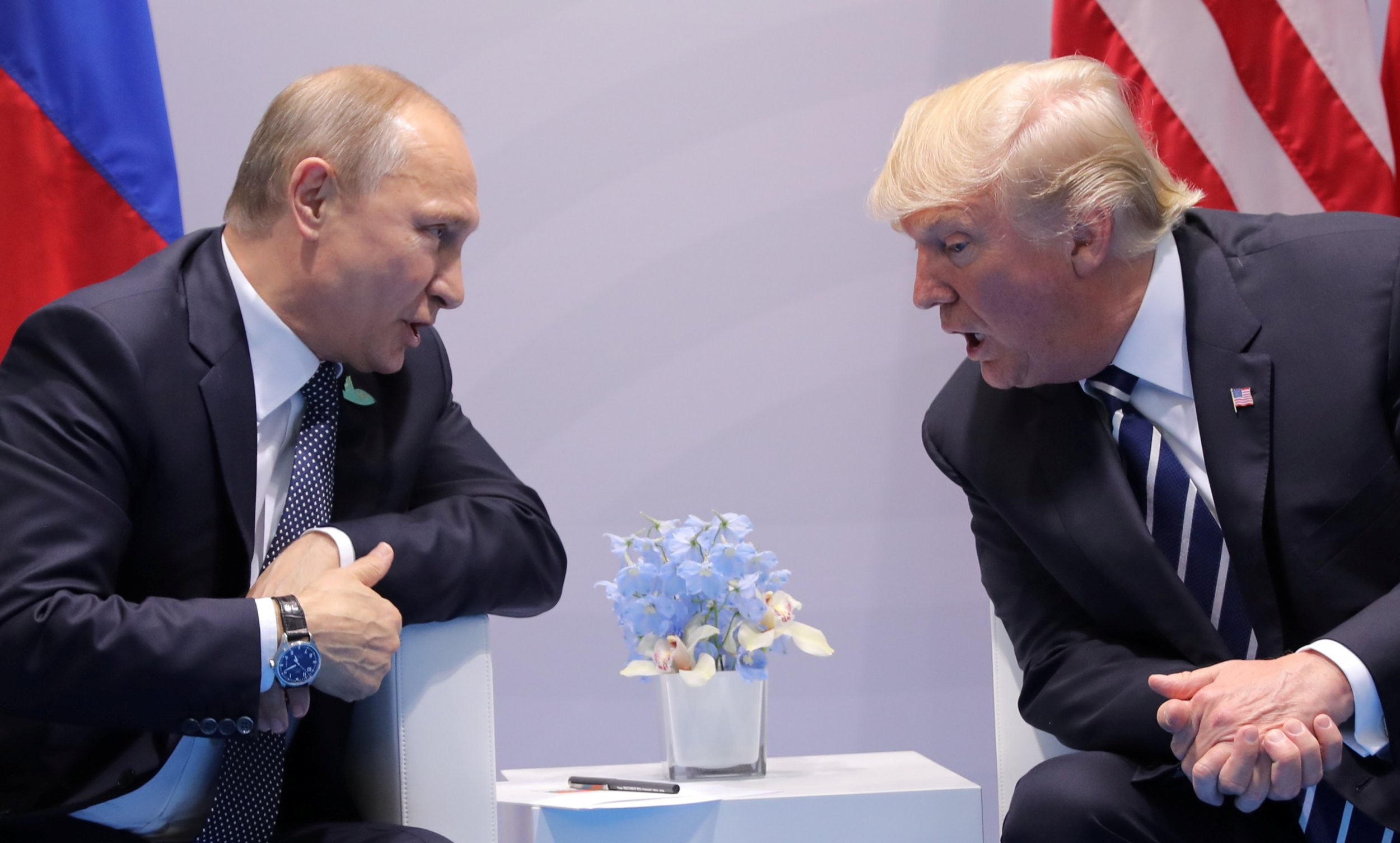 President Donald Trump has yet to directly condemn Russia for interfering in last year's election, and his silence appears to extend to Russian companies linked to North Korea.
Trump has long singled out China for "doing nothing" when it comes to North Korea's nuclear and missile tests, most recently expressing disappointment, via Twitter, that China "just talks" and could "easily solve this problem."
But some of Trump's wrath over the handling of the North and the leader he's taken to calling "rocket man," Kim Jong Un, could also be pointed at Russia.
Despite U.N. sanctions meant to cripple the North Korean economy, ships from the rogue nation earlier this year reportedly left Russian ports carrying fuel as cargo and headed back to their home country instead of to their listed destinations, China and South Korea, according to a Reuters analysis of ship data.
The data showed at least eight North Korean ships traveled to the Russian port of Vladivostok and claimed they were then heading to their two closest neighbors. Instead, those vessels went off to one of four North Korean ports: Chongjin, Hungnam, Kimchaek or Najin.
The ships, including one named the Ma Du San, were carrying between 545 and 2,000 metric tonnes of cargo. That vessel is owned by Korean Kyongun Shipping Co., a North Korea company, and in May it took on fuel from a refinery owned by a Russian company, Independent Petroleum, Khabarovksiy NPZ, according to the report. The Ma Du San claimed it was heading to China, but eventually wound up a North Korean port. Reuters reported that there were Treasury Department sanctions orders and a United States government legal complaint regarding such shipments, but the ship was not named.
Indeed, Treasury placed Independent Petroleum on its sanctions blacklist in June, while two Singapore-based companies were listed in the legal complaint and accused of laundering money for sanctioned North Korean banks trying to purchase oil, according to Reuters.
The practice is quite common for the North, and the report said no wrongdoing was found.
However, it does show the North is using alternate means to acquire fuel and oil in the face of United Nations sanctions.
Trump seemingly alluded to sanctions placed on the North when he tweeted Sunday about "long gas lines" forming there, though it remains unclear if the newest sanctions issued by the U.N. have led to a significant shortage. Reports indicate that fuel costs have risen, but the Associated Press reported in April that a shortage could have started then, and one expert said it is possible Beijing had cut off supplies to its close trading partner.
Based on that report, China may already be exerting pressure on the North. Trump praised both Beijing and Moscow during his speech at the U.N. General Assembly Tuesday for their votes on adding sanctions on Kim's regime earlier this month.
Meanwhile, Putin condemned the North's recent nuclear and missile tests but essentially said that sanctions would do nothing and that the totalitarian government would allow its people to "eat grass" rather than give up its defense programs.
Still, Trump has yet to call out fellow nuclear superpower Russia in reference to the North. Putin even wrote in a letter released earlier this month that said pressuring the North was "misguided and futile," after Trump had said "all options" were on the table.
Trump's lack of criticism toward Russia and President Vladimir Putin has gained attention since he's been in office. When the pair of presidents met at the Group of 20 summit in Germany this summer, Trump claimed he directly asked Putin twice if Russia meddled in the election—the longstanding assertion of the U.S. intelligence community—and said Putin denied it. Trump later said he believed Putin.