President Donald Trump vowed that the United States will issue a robust response to North Korea's latest missile test.
Speaking at a press conference in Warsaw alongside Polish President Andrzej Duda, Trump addressed the "threat" from the country: "It is a critical time, frankly, for the world because you see what's going on.
"We must confront the threat from North Korea—that is what it is, it's a threat— and we will confront it very strongly," he told reporters, adding "President Duda and I call on all nations to confront this global threat and publicly demonstrate to North Korea that there are consequences for their very very bad behavior."
When pressed on the kind of response he is considering, Trump responded that he did not want to discuss specific plans. "But I have some pretty severe things that we're thinking about, that doesn't mean we are going to do them. I don't draw red lines," he said. "It is a shame that they are behaving this way, but they are behaving in a very very dangerous manner and something will have to be done about it."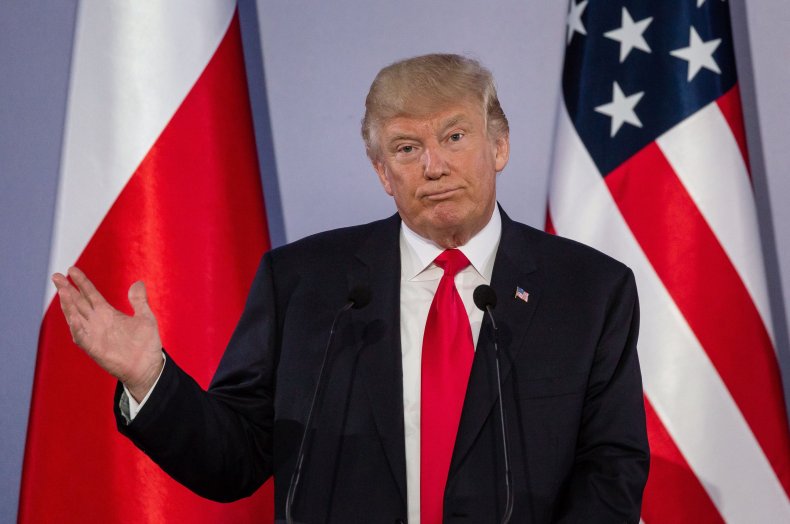 Trump's remarks follow those of the U.S. ambassador to the UN Nikki Haley, who told a meeting of the Security Council on Wednesday that North Korea's actions were "quickly closing off the possibility of a diplomatic solution".
She said the U.S. was prepared to defend itself and its allies. "One of our capabilities lies with our considerable military forces. We will use them if we must, but we prefer not to have to go in that direction."
In the latest display of the country's nuclear programme development, North Korea conducted a new intercontinental ballistic missile (ICBM) test launch on Tuesday, the 11th this year, which reached an altitude of 1731 miles before traveling 600 miles and falling into the sea.
Trump reacted to the launch on Twitter Tuesday morning: "Does this man have anything better to do with his life?" he wrote, referring to Pyongyang's leader Kim Jong Un. He then urged China to "end this nonsense once and for all."
China responded with call for calm. Foreign ministry spokesman Geng Shuang invited all parties to exercise restraint at a daily press briefing Thursday, quoted in Reuters.