Trump's North Korea Threat Is Eerily Similar To Harry Truman's Hiroshima Bombing Announcement In 1945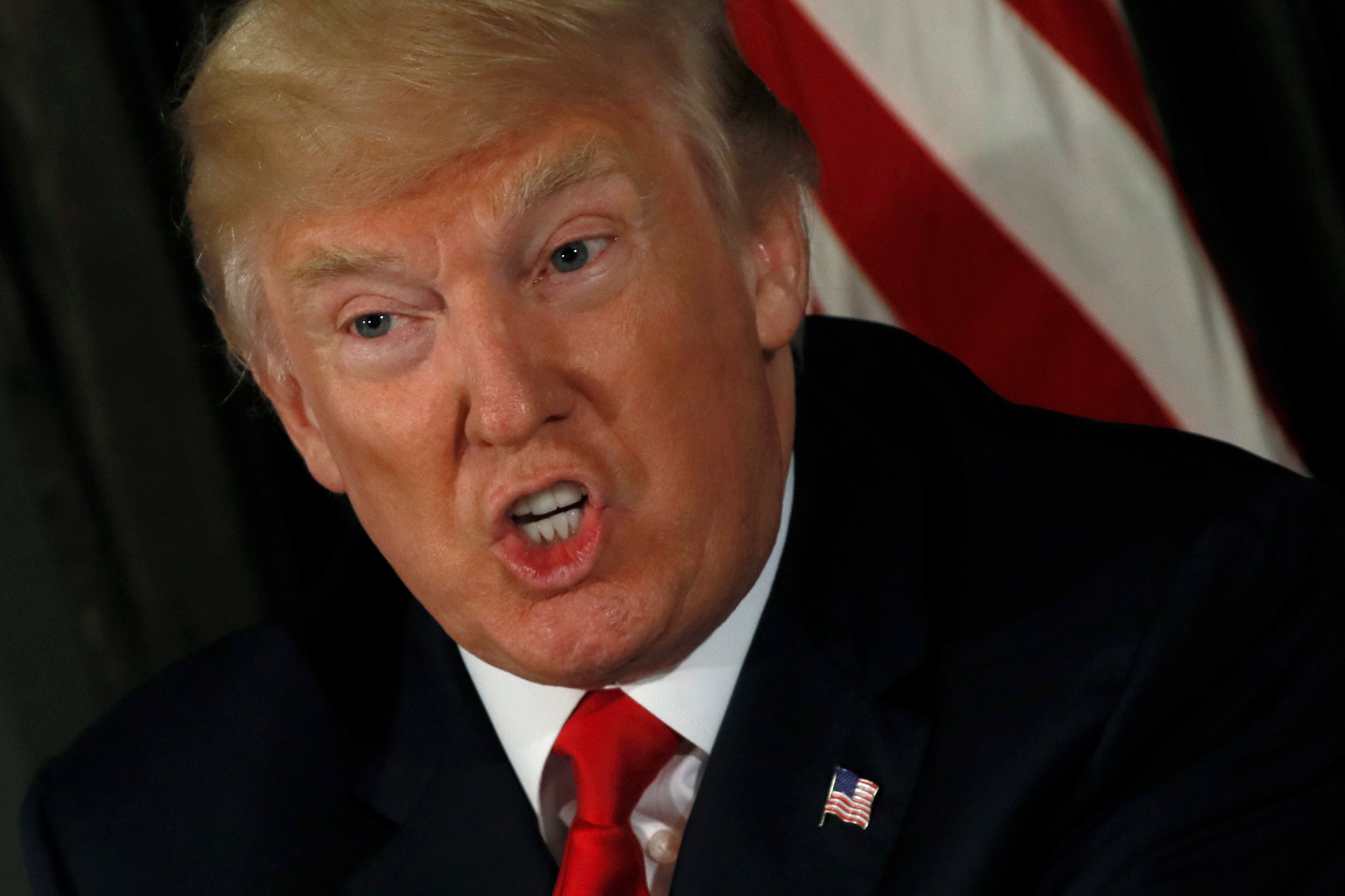 President Donald Trump gave his most direct and poignant warning toward North Korea and Kim Jon Un's regime Tuesday amid the authoritarian government's ongoing missile and nuclear tests and its equally ominous rhetoric.
And Trump's words, while they did not mention a specific type of attack or a nuclear bomb, did appear eerily similar to the phrasing used by former President Harry Truman after he announced to the country and the world that the U.S. had dropped an atomic bomb on Japan's Hiroshima army base in August 1945.
"North Korea best not make any more threats to the United States," Trump told reporters at his golf club in Bedminster, New Jersey. "They will be met with fire and fury like the world has never seen. He has been very threatening beyond a normal state and as I said they will be met with fire and fury and frankly power the likes of which this world has never seen before."
Earlier Tuesday, Trump took to Twitter to praise this past weekend's U.N. Security Council unanimous vote, including Russia and China, to place stricter economic sanctions on North Korea. He stated: "After many years of failure, countries are coming together to finally address the dangers posed by North Korea. We must be tough & decisive! "
Trump then doubled down, likely a result of North Korea's latest threat toward the U.S. earlier on Tuesday.
"Packs of wolves are coming in attack to strangle a nation," the statement from North Korea's state-run Korean Central News Agency read in reference to the Security Council's vote. "They should be mindful that the D.P.R.K.'s strategic steps accompanied by physical action will be taken mercilessly with the mobilization of all its national strength."
The heightened tensions also came the same day The Washington Post reported on a confidential U.S. intelligence assessment that North Korea is now capable of making smaller or miniaturized nuclear weapons that could be placed inside its missiles.
Trump has repeatedly derided the North, while also blasting China, the North's sole ally, for not taking a larger role in hindering Kim's aggressive nuclear and missile tests, including two such tests of the latter last month.
But never before has Trump's own language been quite so aggressive, and it echoed Truman's words after the U.S. dropped the first atomic bomb on Japan.
"Sixteen hours ago an American airplane dropped one bomb on Hiroshima, an important Japanese Army base. That bomb had more power than 20,000 tons of T.N.T. It had more than two thousand times the blast," Truman's announcement on August 6. 1945 began, according to The American Presidency Project.
While citing how the Japanese had first drawn the U.S. into World War II by attacking Pearl Harbor in December 1941, Truman fully explained the known power of the weapon he had just unleashed.
"It is an atomic bomb," the 33rd commander-in-chief said. "It is a harnessing of the basic power of the universe. The force from which the sun draws its power has been loosed against those who brought war to the Far East. "
Truman stated further down that because the Japanese had failed to accept the terms of an ultimatum to end the war, it could see another attack.
"It was to spare the Japanese people from utter destruction that the ultimatum of July 26 was issued at Potsdam," Truman said. "Their leaders promptly rejected that ultimatum. If they do not now accept our terms they may expect a rain of ruin from the air, the like of which has never been seen on this earth. Behind this air attack will follow sea and land forces in such numbers and power as they have not yet seen and with the fighting skill of which they are already well aware. "
The attack on Hiroshima killed 140,000 people and the subsequent bomb dropped on Nagasaki resulted in the death of more than 70,000 people three days later.