U.S. Would Have 'Totally' Gone to War with North Korea, Says Nikki Haley in First Post-Trump Interview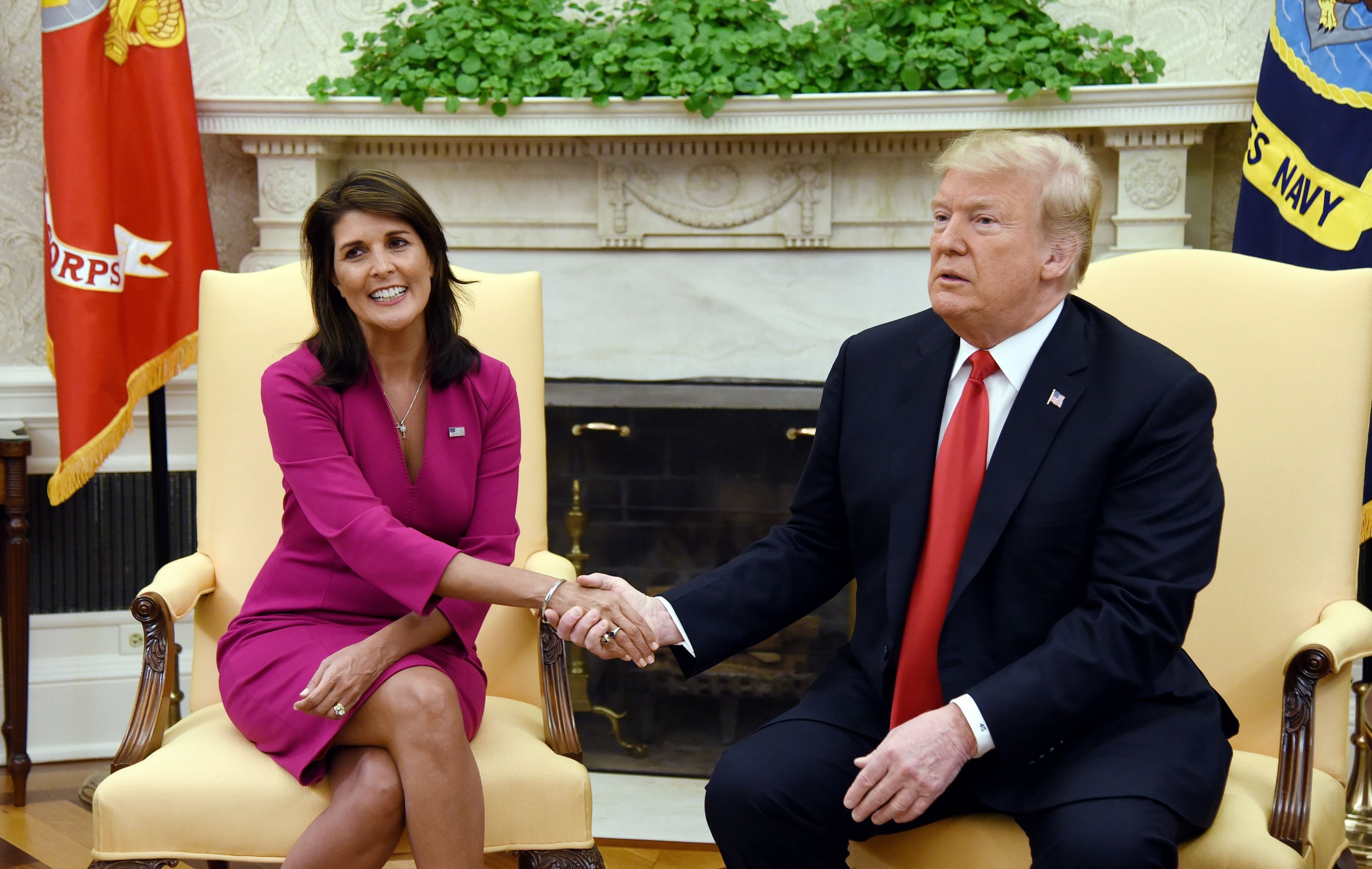 The U.S. would have "totally" gone to war with North Korea if it had "launched something" when tensions between the two countries reached the boiling point last year, former United Nations Ambassador Nikki Haley has revealed.
In her first interview since resigning as the U.S. representative at the U.N. in October, Haley addressed the heated war of words between the two nations in the summer and fall of 2017.
Related: Nikki Haley's resignation adds to record number of Trump administration departures: Full list of cabinet exits
During an address to the U.N. General Assembly in September last year, President Donald Trump called North Korean leader Kim Jong Un "Rocket Man," and previously warned he would unleash "fire, fury and power the likes of which this world has never seen before" on the regime if provoked.
The North Korean in turn labeled Trump a "mentally deranged U.S. dotard."
Asked whether the U.S. was ever truly poised to attack North Korea, Haley told The Atlantic: "No."
"Having said that, if they had launched something, if it had come near the U.S., the president totally would have. But at the time were we gonna instigate something? No."
At the time, the tensions sparked fears the back-and-forth could trigger a war with North Korea after it tested missiles and nuclear weapons that it claimed could hit the U.S. However, Haley claimed Trump's rhetoric boosted her negotiating power at the U.N. and enabled her to pass three Security Council strict sanctions against North Korea. In turn, these played a role in weakening North Korea's weapons program, and persuading Kim Jong Un to take part in negotiations, she said.
Haley warned other U.N. Security Council members that Trump was unpredictable, and an agreement on sanctions needed to be urgently struck to prevent a conflict.
She told counterparts: "'I can't stop [President Trump], I'm not gonna be able to control him, we've gotta get this done.'… I would say, you know, 'I don't know what he's gonna do.'"
In reality, Haley was always aware of Trump's next move, she told The Atlantic.
However, Haley admitted she and the president "agree on most things," but "there are certainly things that we don't agree on."
Without elaborating on the topics, she added, "For the most part he's been very willing to listen and very willing to come around."
In the wide-ranging interview, Haley also addressed the killing of journalist Saudi Arabian journalist Jamal Khashoggi for the first time.
Haley said the U.S. did not need to choose between its interests and values in balancing its close ties to Saudi Arabia—which is accused of murdering the writer—while helping to seek justice for Khashoggi. The Saudi government has repeatedly denied its involvement in the incident.
"We can't condone [the Khashoggi murder], we can't ever say it's OK, we can't ever support thuggish behavior, and we have to say that," Haley said.
The interview was published as rumors swirl that the 46-year-old Republican plans to run for the White House in 2020 or 2024.
But Haley, who was regarded as a moderate voice in the president's ear, cut down such suggestions.
"Truly no one believes me. I am not even thinking about it," she said.
The interview also provided no new insight into why she resigned, in a move that reportedly "shocked" the administration's top officials.
At the time, Trump, alongside Haley, said in a meeting with reporters,"She's done a fantastic job, and we've done a fantastic job together."