​Donald Trump's Refusal to Fire Kellyanne Conway is 'Dangerous' and She Should Resign: Ethics Experts​
President Donald Trump's statement on Fox News Friday morning that he will not fire Counselor to the President Kellyanne Conway for Hatch Act violations is "not just wrong, it's dangerous," a watchdog said.
Trump was asked on Fox & Friends about the Office of Special Counsel's (OSC) recommendation Thursday that Conway "be removed from federal service" for repeatedly violating the Hatch Act, which prohibits executive branch employees from using their official positions to influence the result of an election.
"I'm not going to fire her," Trump said. "It looks to me like they're trying to take away her right to free speech and that's just not fair."
Trump continued: "I think you're entitled to free speech in this country."
Jordan Libowitz, spokesman for the watchdog Citizens for Responsibility and Ethics in Washington (CREW) which flagged Conway's violations to the OSC, told Newsweek on Friday that Trump's reaction was "dangerous" to government ethics.
"This is tantamount to the president announcing that laws don't apply to his administration," Libowitz said. "It's not just wrong, it's dangerous."
CREW also tw​eeted about the president announcing on national television that he will not punish people for violating ethics laws.
​"​This is a dangerous day for our democracy," the watchdog tweeted. "It's open season ethics laws."
Former White House ethics chief in the George W. Bush administration, Richard Painter, rejected Trump's claim that Conway's speech was protected by the First Amendment.
"Free speech—that's not at all a valid argument because these are official position interviews," he told Newsweek. "She has the free speech right in her personal capacity to endorse, so she can go on her own front lawn and trash [Alabama Senator] Doug Jones, she can do that if she's not talking to reporters hanging out outside the White House in official interviews. Now she's trashing on Joe Biden, there have been so many of these."
Painter, a frequent critic of the Trump, said the president had "complete disregard for the law."
"He doesn't get the point," Painter added. "He's defending her for doing this. His whole attitude toward the law, emoluments, obstruction of justice and now the Hatch Act—he has complete disregard for the law across the board.
"He's going to keep doing this until the House of Representatives impeaches him and if they want to not impeach, him they're asking for this," Painter concluded.
CREW's chief ethics counsel Virginia Canter and deputy director Donald Sherman in an opinion piece published on NBC News's website Thursday urged Conway to resign for Trump's sake if he would not fire her.
"In order to protect Americans' right to a government built on law, Conway must do what Trump will not—remove herself from the government.," they wrote.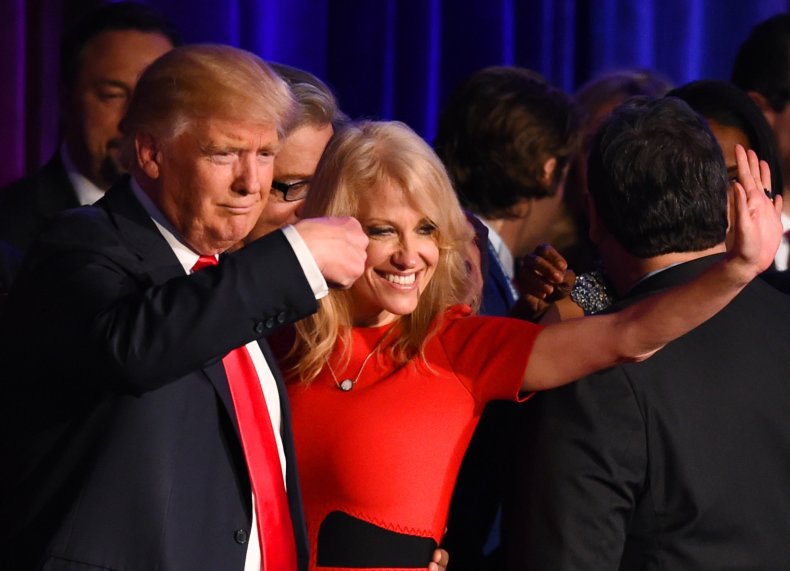 Conway reportedly declined to comment on the OSC's recommendation that she be removed from her job for the violation.
"Can you leave, please?" Conway told CNBC's Washington correspondent Eamon Javers when asked on Thursday. "I have no reaction. Why would I give you a reaction?"
The OSC in its letter to Trump Thursday referenced a May 29 interview in which Conway downplayed the Hatch Act being applied to her.
"If you're trying to silence me through the Hatch Act," she said, "It's not going to work."