So Far, Trump Isn't Hurting the GOP Brand, Despite Democratic Hopes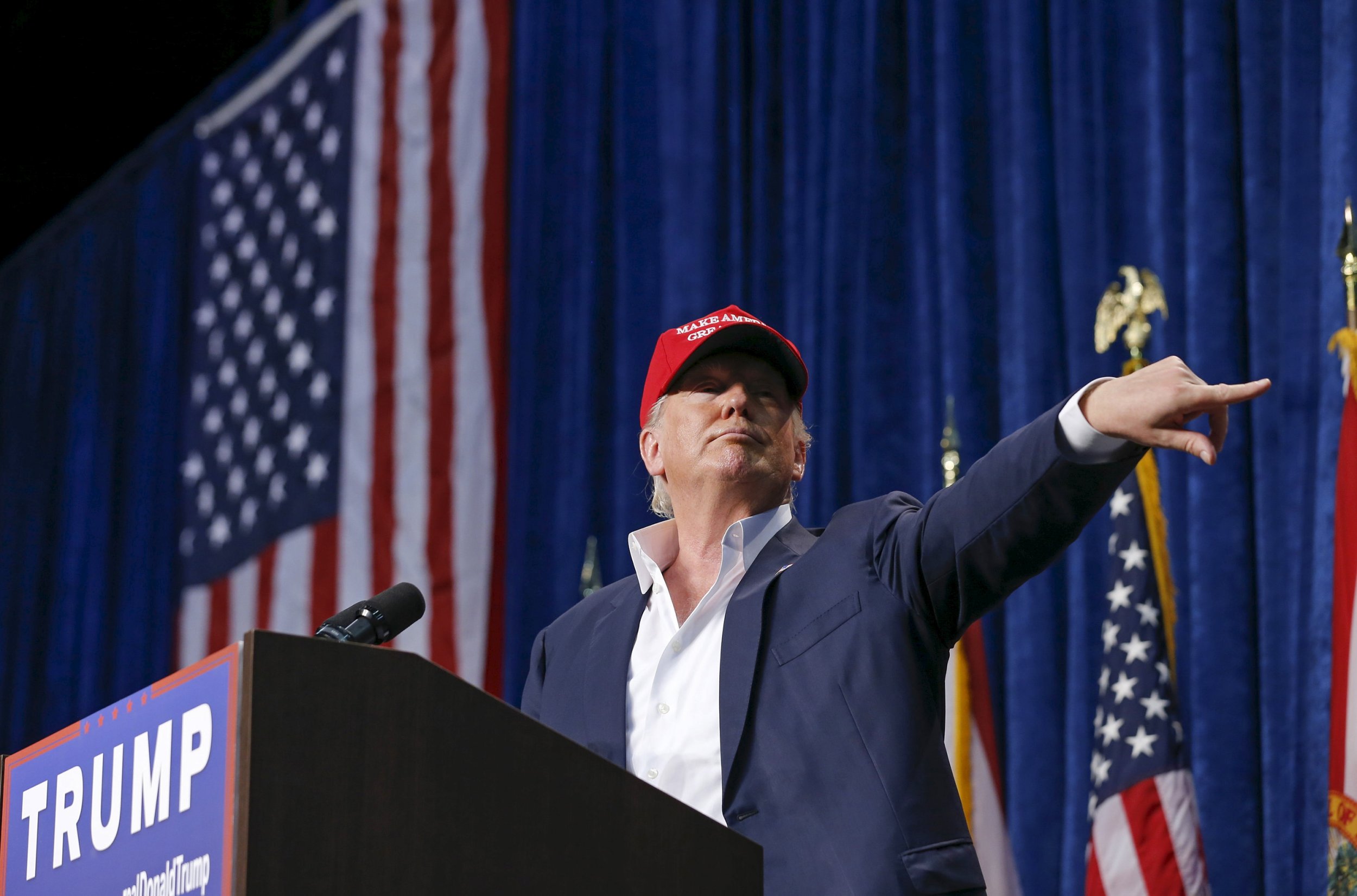 Seven weeks out from the 2016 Iowa caucuses, real estate tycoon Donald Trump remains the man to beat in the Republican race. And Democrats don't want you to forget it.
Democratic leaders and allied groups take every chance they can to tie the GOP to Trump and some of his most outrageous statements, culminating with his proposal to ban Muslims from traveling to the United States. On Capitol Hill, House Republicans facing competitive races next year are under fire from Democratic challengers and their congressional campaign committee and for not denouncing Trump and his anti-Muslim comments more vociferously. In the presidential race, a pro–Hillary Clinton super PAC has been putting out regular statements documenting where the rest of the field stands vis-à-vis Trump and how they are all essentially Trump-lite. The PAC, Correct the Record, went so far as to mail baseball hats emblazoned with Trump's slogan to some of the other Republican candidates Monday, personalized with their own divisive statements. And the Correct the Record team will no doubt be closely watching Tuesday night's debate in Las Vegas for other quotable moments to link the front-runner and his competitors.
Give them points for creativity. But, so far, the Democrats' campaign to designate the GOP the party of Trump is not having the desired effect. In most voters' minds, the two remain distinct. Take the data in the latest MSNBC/Telemundo/Marist Poll, released December 7. A large majority of Latinos—67 percent—hold negative views of Trump, according to the survey, and 68 percent say Trump is not "the kind of leader the country needs now." Yet other Republicans running for president have seen support from Latino voters rise since September, the poll shows. U.S. Senators Ted Cruz and Marco Rubio and former Florida Governor Jeb Bush have all narrowed their gap with Latino voters in their matchup with Democrat Hillary Clinton, the former secretary of state.
Trump's high negative ratings don't seem to be rubbing off on the party either. A Gallup survey released December 1 found that the percent of Americans identifying as Republican has risen since this summer, when Trump joined the race, narrowing the gap with Democrats to a virtual tie.
"We don't see that it's had a major impact" on the Republican Party, Frank Newport, editor-in-chief at Gallup, says of Trump and his political bomb throwing. "I'm not sure at this stage, when you have a bunch of candidates running around who are a little unusual, that that's going to hurt."
Lee Miringoff, director of the Marist Institute for Public Opinion, also points out that Trump's outsider status and lack of political bona fides mean "he's not tainting the others as much as if he was part of the mainstream GOP." Instead, "the problem that he's creating for these other Republicans is their inability to capture the spotlight," Miringoff says, because Trump is dominating the media coverage.
But Miringoff says that doesn't mean Republicans won't face some fallout from Trump, even if they don't ultimately nominate him for president. He acknowledges that when it comes to the Latino vote, "the non-Trumps are actually getting a little bit more than [2012 Republican nominee Mitt] Romney got and [2008 nominee John] McCain got." However, "the hopes of the GOP to attract more Latino voters have not materialized," he says. "I think the tone of the immigration discussion is such that Latino voters who are socially conservative are not being as attracted to the GOP as the GOP had wanted after 2012."
And it could get worse for the party. "Clearly, if [Trump] starts winning some primaries, then it becomes a bigger problem for Republicans," Miringoff says.