Donald Trump Is Not Popular, But Hillary Clinton Is Even Worse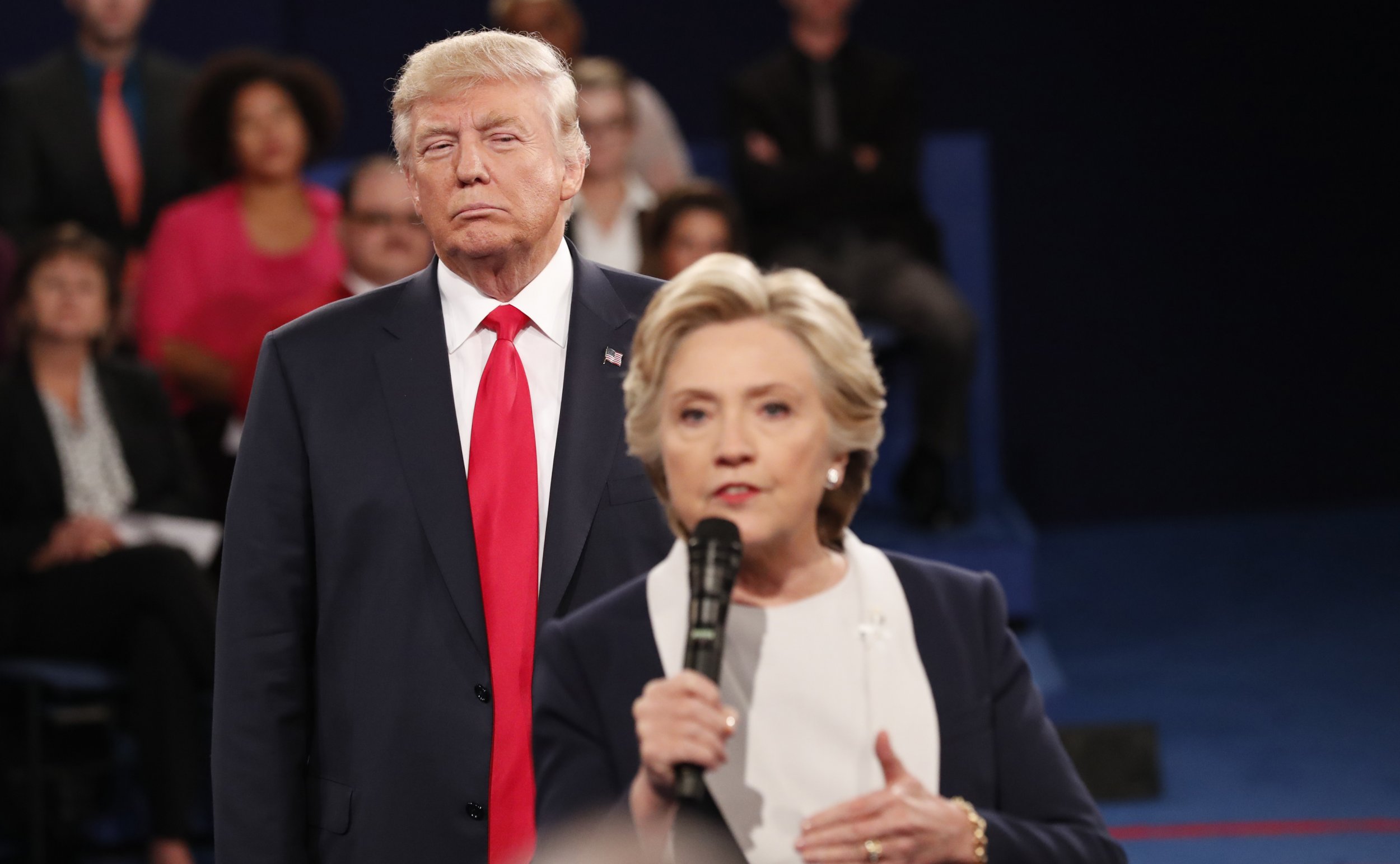 President Donald Trump—despite the fact that he is, you know, the president—loves to talk about the 2016 election and his opponent, former Secretary of State Hillary Clinton. So he might be happy to hear that a poll released this week found Americans feeling more positively about him compared with his former opponent.
Thirty-six percent of respondents in the August NBC News/Wall Street Journal poll, via Mediaite, felt either very (22 percent) or somewhat (14 percent) positive about Trump. That's quite a bit better than Hillary Clinton. Just 30 percent of respondents in total felt very (13 percent) or somewhat (17 percent) positive about the former first lady.
Still, it should be noted that this was a tiny bit of good news for the president in a survey chock-full of bad news. Fifty-two percent of American adults, for instance, had either very (40 percent) or somewhat (12 percent) negative feelings toward Trump. And the president's approval rating stood at just 40 percent, which is not exactly a stellar figure.
The newly released NBC News/Wall Street Journal August social trends poll was conducted from August 5 through August 9—before Trump's much-maligned response to a deadly neo-Nazi march in Charlottesville, Virginia—and interviewed 1,200 U.S. adults. Its margin of error for the full sample was plus or minus 2.8 percentage points.
Trump's popularity has remained in the basement in nearly every poll, to varying degrees. The weighted average from data-centric website FiveThirtyEight pegged his approval rating at 38.2 percent. According to FiveThirtyEight's tracker, former President Gerald Ford is the only commander in chief to have a lower approval rating at the same point in his first term in the history of modern polling.
Consider where Trump stands compared with his predecessor, Barack Obama, who at that same point in his first term had an approval rating in the mid-50s. Obama and Clinton remain regular targets of Trump's ire, despite his becoming the leader of the free world and being able to work against their policies.
Just last Friday, for instance, Trump tweeted, "Wow, looks like James Comey exonerated Hillary Clinton long before the investigation was over...and so much more. A rigged system!" This week Trump seemingly blamed Obama for his decision to rescind the Deferred Action for Childhood Arrivals program that Obama created. "Congress now has 6 months to legalize DACA (something the Obama Administration was unable to do). If they can't, I will revisit this issue!" Trump tweeted Tuesday.
While Obama largely remains popular—51 percent had either very (35 percent) or somewhat (16 percent) positive feelings about him in the NBC News/Wall Street Journal poll—the aftermath of the wild 2016 election has seemingly not been kind to both Trump and Clinton, who just put out a book about the campaign that has ruffled feathers even within her own party. While she does take some blame for the stunning loss, she lashes out at former Vice President Joe Biden, Vermont Senator Bernie Sanders (her primary opponent turned ally) and former FBI Director James Comey, among others.