Trump Now Says He'd Rather Go Bigger Than Nancy Pelosi's Stimulus Bill After Republicans Fought for Smaller Package
After Senate Republicans fought for months for a smaller economic relief package than what the Democrats were proposing, President Donald Trump is now saying he would rather spend even more on a bill than the $2.2 trillion House Speaker Nancy Pelosi and her colleagues have pushed for.
"I would be willing to go more, because I think the government, we get the money back," Trump told Fox News on Tuesday. "It gets the money back anyway, and it's better than unemployment and all the costs associated with the alternative."
He added, "Not every Republican agrees with me, but they will. I would rather go bigger than her number."
The president said Pelosi doesn't want to go along with his generous coronavirus relief bill out of fear that it would help his re-election.
"To just put it very simply, we want to do it, but Nancy Pelosi doesn't want to do it. We'll see whether or not she changes her mind," Trump said. "But we want to do [it] because people need help and they should get help."
Trump and Pelosi have not spoken since a White House meeting over a year ago.
Trump also said that Senate Majority Leader Mitch McConnell, who has led the Republican effort to hold down the amount of federal assistance in a bill, will "come on board if something comes."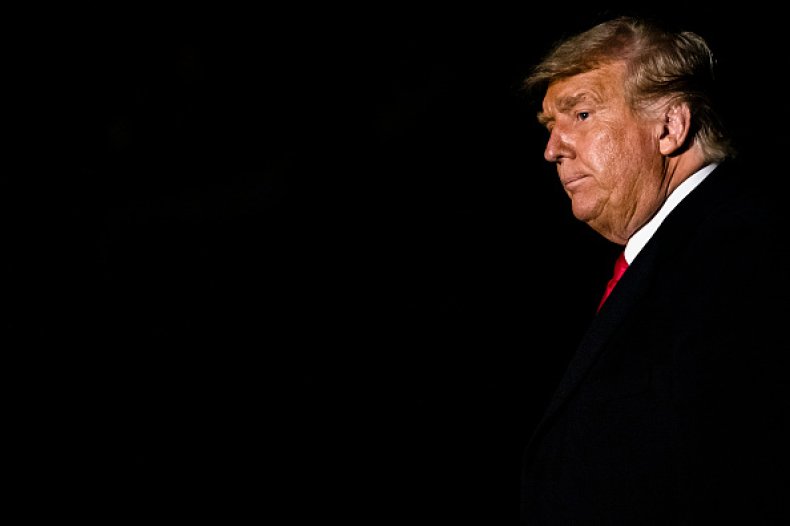 Trump's remarks come after negotiations on a relief package have stalled for months, leaving millions of Americans without any economic aid since the end of July.
House Democrats have remained firm on their $2.2 trillion price tag, while Senate Republicans have refused to support that amount.
The White House has offered a $1.8 trillion proposal—a $400 billion difference from Pelosi's plan—with less in state or local aid and unemployment benefits than what the Democrats want.
"The Senate Republicans have been very vocal in terms of their lack of support of a number that is even close to what the president has already supported in the $1.8 trillion range," White House chief of staff Mark Meadows said.
However, it now seems Trump has no intention of considering his party's wishes. The president's comments have created shaky ground for GOP lawmakers, as negotiators hoped to strike a deal by end of Tuesday in order for a bill to be passed before Election Day.
On Tuesday and Wednesday, McConnell will push ahead with two Senate floor votes on money for relief programs, one for small businesses under the Paycheck Protection Program and a second targeting schools, unemployment and coronavirus testing and tracing. But it seems unlikely he will gather enough votes to advance a final vote.
Newsweek reached out to Pelosi for comment but did not hear back before publication.