Trump's Nuclear Button Tweet Kept North Korea's Kim Jong Un 'On His Toes,' U.N. Ambassador Haley Says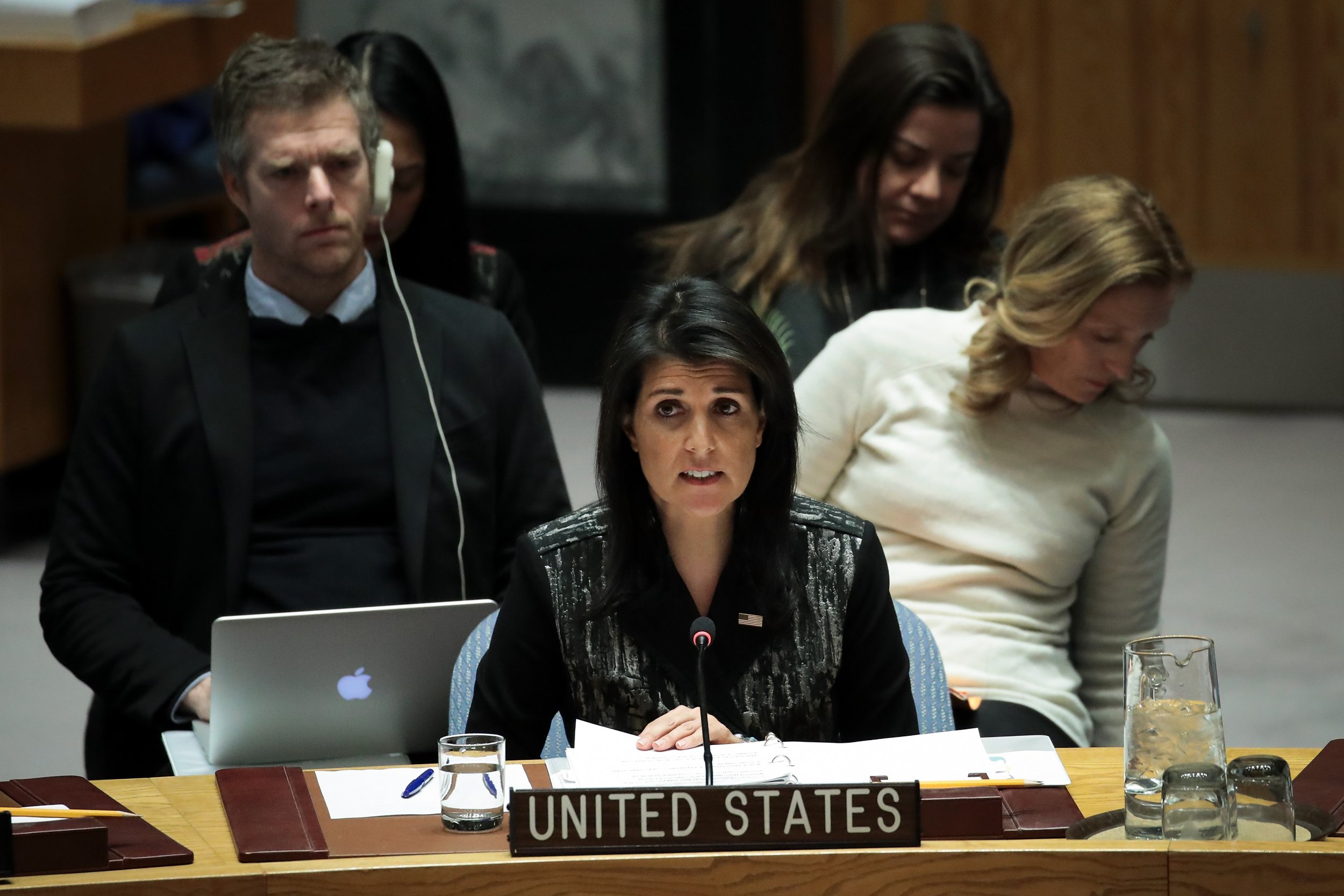 U.S. Ambassador to the United Nations Nikki Haley defended President Donald Trump's inflammatory nuclear button tweet that targeted North Korean Leader Kim Jong Un. The ambassador said on ABC's This Week that Trump always needs to keep Kim "on his toes."
RELATED: Trump's Infamous Nuclear Button Tweet Was 'Entirely Consistent' with Policy, CIA Chief Claims
"I think [Trump] always has to keep Kim on his toes. It's very important that we don't ever let [Kim] get so arrogant that he doesn't realize the reality of what would happen if he started a nuclear war," Haley told host George Stephanopoulos on Sunday. Haley was addressing the January 2 tweet that earned the president widespread backlash on social media, some even claiming that Trump threatened violence and war on the rogue nation with the tweet.
"North Korean Leader Kim Jong Un just stated that the 'Nuclear Button is on his desk at all times.' Will someone from his depleted and food starved regime please inform him that I too have a Nuclear Button, but it is a much bigger & more powerful one than his, and my Button works!" Trump wrote.
During a different Sunday talk show interview, CIA Director Mike Pompeo also came to the president's defense, telling Fox News that the nuclear button tweet was "entirely consistent with what we're trying to communicate" to the North Korean leader.
President Trump said that he was open to direct talks with the North Korea regime, adding "But we have a very firm stance. ... But I absolutely would do that" during a Saturday press conference at Camp David. Haley told Stephanopoulos that the rogue nation has to stop conducting nuclear tests and must be willing to discuss nuclear weapons before any talks can take place.
Hayley stressed during the interview that U.S. tension with North Korea is a "serious situation, and [Kim] can't sit there and imply that he's going to destroy the United States without us reminding him of the facts and the reality that if you go there, it's not us that's going to be detroyed, it's you."
North and South Korea are set to talk for the first time in two years on Tuesday about North Korea's participation in the Winter Olympics in PyeongChang amongst other issues. Trump patted himself on the back for the talk in a Thursday tweet, writing that the discussion was made possible by U.S. "might" against the rogue nation.