Trump, the Hypocritical Imperial President, Is on Pace to Double Obama's Number of Executive Orders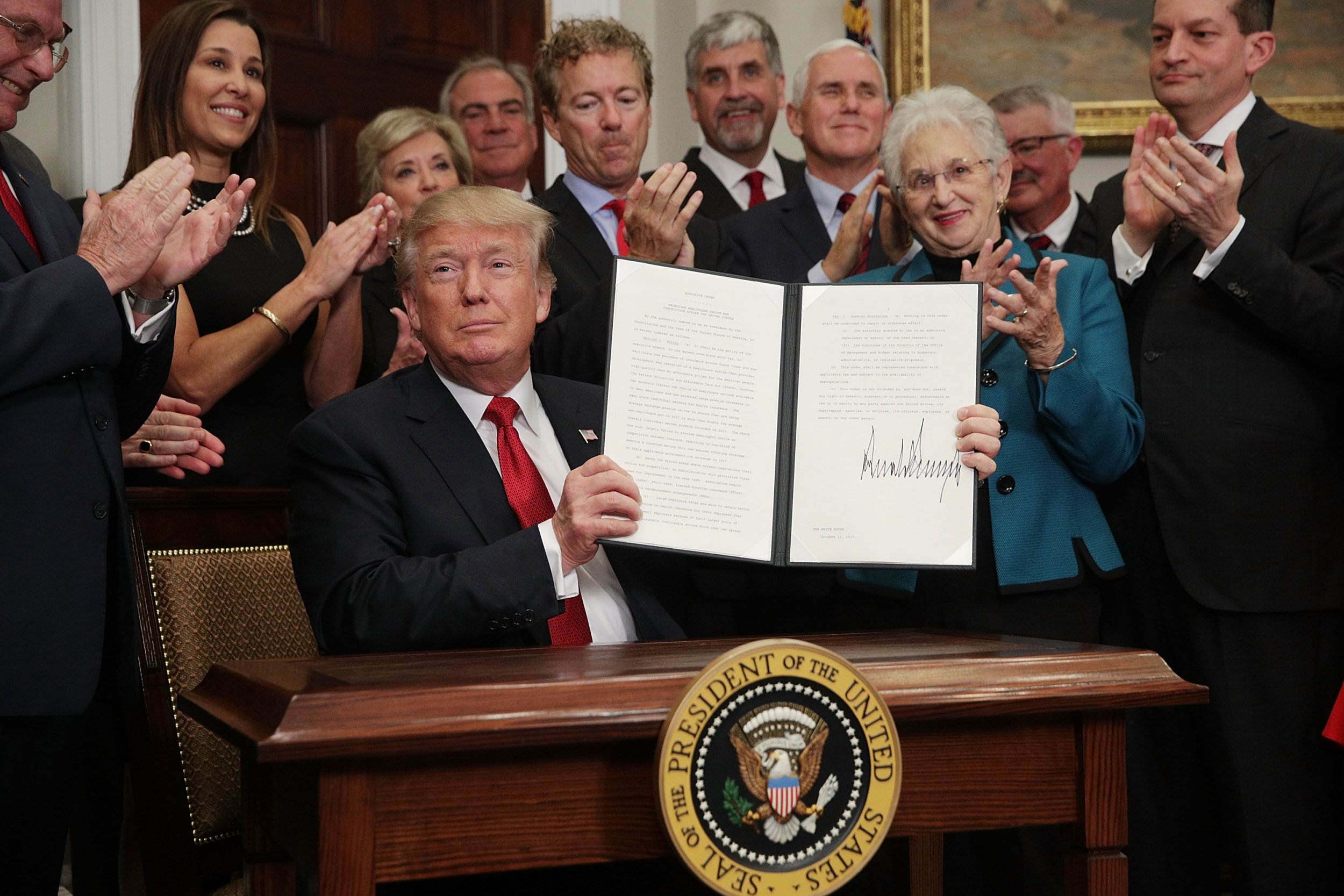 From the comfort of his reality TV-host perch, Donald Trump slammed then-President Barack Obama over his use of executive orders. Once in the White House, though, Trump has done the exact thing for which he criticized his predecessor—on a range of issues, from golfing days to attacking Syria to, yes, signing executive orders. Indeed, not only has he failed to reverse course, he has gone much further than Obama.
Related: Donald Trump signed an executive order on Obamacare, but is it legal?
On Thursday, Trump signed an executive order undoing part of the Obamacare law, which he claimed would expand the availability of affordable health care. Democrats asserted it amounted to sabotaging Americans with pre-existing conditions.
The executive order was significant in another way, too: It was the 50th Trump has signed as president. By comparison, Obama had signed just 26 at this point of his presidency. He would eventually average 35 a year during his eight years in the White House—the fewest of any president for 120 years—en route to a total of 277. Trump is currently on pace to sign 275 executive orders. In one term.
Obama's relatively low figure did not prevent Trump from repeatedly deriding him for what he called "major power grabs of authority." Illustrating that this is a longstanding complaint of Trump's, that tweeted comment was made in July 2012.
It was a message that Trump expanded upon with vigor when on the campaign trail.
"I don't think he even tries anymore. I think he just signs executive actions," Trump said at a campaign event in December 2015 before criticizing what he deemed Obama's failure to adhere to the proper checks and balances. "That's the way the system is supposed to work. And then all of a sudden, I hear he tried, he can't do it, and then, boom, and then another one, boom."
The theme was one Trump returned to many times before he entered the White House.
"Obama goes around signing executive orders," Trump said in February 2016. "He can't even get along with the Democrats. He goes around signing all these executive orders. It's a basic disaster. You can't do it."
The words have come back to haunt the Republican president. A failure to get his own party to act in line with his wishes has directly led to many of his executive orders, including the most recent. Thursday's signing followed the failure of Republicans to repeal and replace Obamacare, something that provoked the president into a very public outpouring of frustration.
With the public sniping between the president and members of his own party only increasing, there is every chance that, should he want to advance his agenda, Trump's accelerated executive-order-signing pace will only continue.