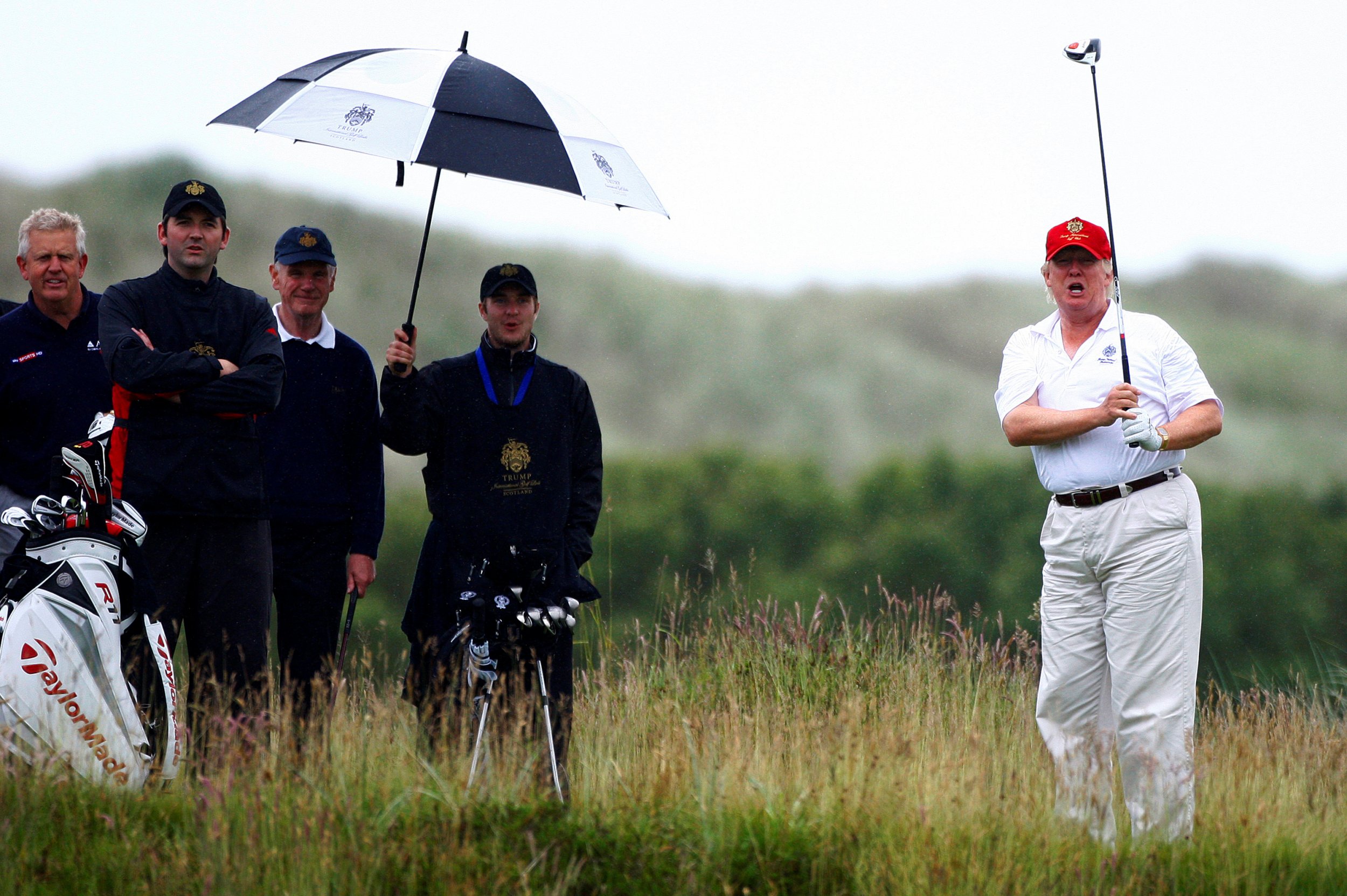 President Donald Trump is set to breeze past the legacy of his predecessor Barack Obama— that is, at least when it comes to golf.
Trump officially hit the six-months-in-office milestone Thursday, and many of his 181 full days in the White House haven't actually been spent in the White House. Quite a few have been spent on the links.
It's tough to calculate exactly how many rounds of golf Trump has played in office. Whereas Obama was up front about when he was golfing—we know he played exactly 333 times during his eight years in office—Trump often goes to one of his golf courses and disappears for about, oh, four hours or so. (Curiously enough, that's about how long it takes to play 18 holes of golf.)
The Trump administration has worked to keep the president's golfing habit under wraps. That might be because Trump used to slam Obama, over and over, about golfing while in office. "Can you believe that, with all of the problems and difficulties facing the U.S., President Obama spent the day playing golf," Trump tweeted in October 2014, for instance.
Later than month, he tweeted about Obama and golf yet again: "President Obama has a major meeting on the N.Y.C. Ebola outbreak, with people flying in from all over the country, but decided to play golf!"
But despite the efforts the White House makes to prevent folks from knowing if Trump is golfing, news of the president hitting the links often gets out. Sometimes the press catches wind that the president might hit a few balls—like when he showed up to one of his Florida courses on Mother's Day wearing golf shoes and a golf glove—while other times he's spotted playing through the trees, like Bigfoot. Sometimes Trump makes himself known at a golf course by driving his golf cart across the green—a nearly unthinkable breach of etiquette—and chatting up other players. But we still don't really have an official count.
It is known, however, that the president has spent 40 of his 181 full days in office at a Trump-branded golf course. That's roughly 22 percent of his days in office. He has been to Trump National Bedminster in New Jersey 14 times, Trump International West Palm in Florida 13 times, Trump National Potomac Falls near Washington, D.C., 12 times and Trump National Jupiter in Florida once, according to NBC News's tracker. The website TrumpGolfCount.com has community-sourced a rough tracker of the president's rounds of golf and estimates he has been spotted playing golf at least 16 times.
Despite Trump's frequent complaints, Obama, comparatively speaking, spent very few days on the golf course in the early days of his presidency. And over eight years he visited a golf course on about 11.4 percent of his days as president. So, at about 22 percent, Trump is well ahead of Obama's pace on the links.