Trump Renews Obama Russia Criticism, Amid Own Russia Scandal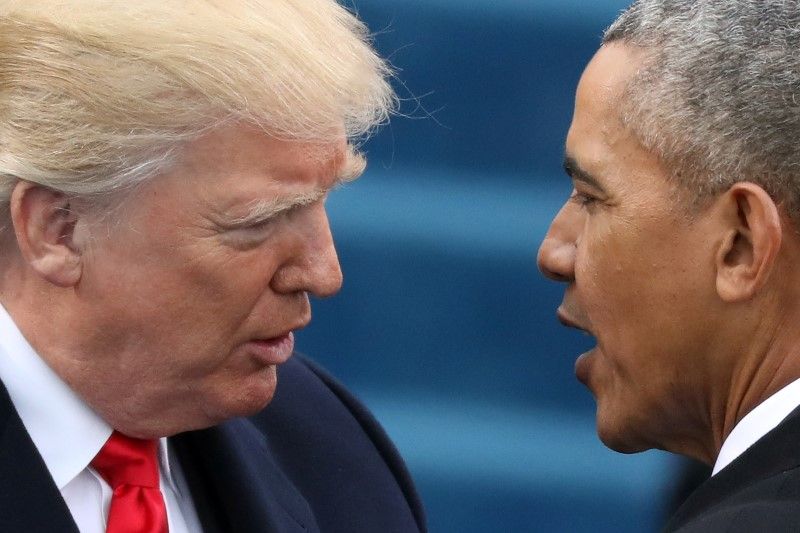 U.S. President Donald Trump has lashed out at his predecessor Barack Obama for being "weak" on Russia, as his own administration is caught in a protracted scandal about links to Moscow.
"For eight years Russia 'ran over' President Obama, got stronger and stronger, picked-off Crimea and added missiles," Trump wrote on Twitter. "Weak!"
The Obama administration's bid to reset relations with Russia, although intending to improve ties between the two countries, derailed when Ukraine's pro-EU protests toppled the country's pro-Russian government in 2014. Russia promptly annexed Crimea and continues to back fighters in Ukraine's east.
The U.S. introduced sanctions on pro-Kremlin enterprises, though so far this has not resulted in a restoration of Crimea to Ukraine or a significant implementation of the ceasefire deal in east Ukraine.
Trump has taken many opportunities to accuse Obama of weakness, sometimes in contrast with Russian President Vladimir Putin, whose leadership he proclaims to "respect". What has been less clear, however, is if Trump plans to introduce any policy to curb Russian ambitions globally—something he has seldom discussed.
His White House spokesman gave a rare hint of dissatisfaction with Russian foreign policy from Trump last month, saying Trump "expects the Russian government to de-escalate violence in the Ukraine and return Crimea," but equally "expects and wants to get along with Russia."
In fact, Trump has entertained dropping Obama's punitive measures on Russia such as sanctions, and said he may capitulate on the U.S.'s widely-held condemnation for Russia's annexation of Crimea and recognize Moscow's authority as legitimate.
Trump previously called Obama "soft on Russia" on Twitter the eve of his national security advisor Mike Flynn's resignation, after admitting he did not fully disclose contacts with Russia prior to his appointment. Currently Trump's Attorney General Jeff Sessions is in a similar situation as he recused himself from the investigation of Russia's influence in the election that Trump won, ironically, for not disclosing contacts with Russian officials himself.
The majority of Americans support a special prosecutor to take over the investigation, after Sessions' recusal, according to a CNN poll.