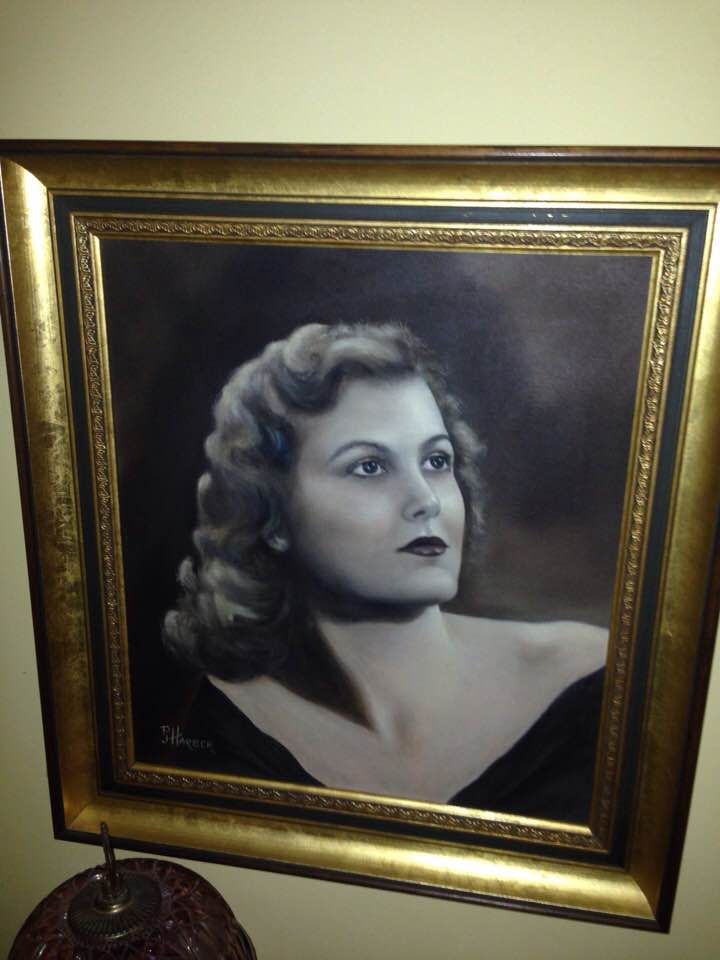 Frances Irene Finley Williams died with grace but her obituary was apparently hijacked.
On Nov. 21, just one day before Thanksgiving, Frances Irene Finley Williams died. She was 87.
Soon after her peaceful passing at her Louisville home, the family furnished a local cremation outfit with "Nana's" obituary.
It memorializes the animal lover as a devout Methodist mother and homemaker who outplayed most comers at bridge, was a bibliophile who consumed a library of books and used her "amazing memory" to "know everything about everything."
Frances was also no-mess, as the obit noted she "did not suffer fools gladly."
It also touched on her political leanings as a "passionate Democrat" who had become wary of Donald Trump's presidency. It claimed that as a result of the duress in the politically fraught times, she was hurried to the grave.
"She was very disheartened by the way Trump conducted himself and the way things were going in the country," he said.
Her son, Art Williams, believes it hiked up her high blood pressure and worsened his mother's congestive heart condition.
"Her passing was hastened by her continued frustration with the Trump administration," the flagged sentence read.
Both Williams's son Art and her daughter Cathy Duff provided two photos of Frances, a check for $1,684.44 along with the obit's copy to the Cremation Society of Kentucky.
They forwarded it along to The Louisville Courier-Journal to run on their pages for three days.
The publication first reported the sentence subtraction in an unflinching column by Joseph Gerth.
As the memorial service was set to take place, the late woman's son Art Williams received a call from the cremation company.
"They told me, 'Mr. Williams, we've got a problem with the obituary,'" the 66-year-old son told Newsweek.
He had a sense as to why.
"I almost instinctively knew it was going be that one sentence," he said.
Then he read an email sent by the Courier-Journal letting him know that the obituary wouldn't run "with the one sentence that refers to Pres. Trump," he said.
Williams said he was told he had the Trump sentence had to go because "this violates our policy against negative content," he said, referring to the verbiage used in the email.
The Trump-less obituary ran on Dec. 26 through Dec. 28 instead.
Today, the Pulitzer winning Courier-Journal farms out its obituaries to its sales office in Wisconsin. And it's from that office where the demand for an omission originated.
Richard Green, Courier Journal's editor, admitted there was a lapse but it was quickly corrected once they learned about it.
"Someone, somewhere up along the line away from Louisville made a mistake and we needed to rectify it," he explained to Newsweek.
Like Williams, Green couldn't answer for why this happened as the obituaries aren't composed by a clerk or staffer, but farmed out to the sales team in Wisconsin.
As to its policy or terms on obituaries barring any negative or offensive content.
"I honestly tried to find it myself on the website when I was told about it," he said. "It's the first time I've heard of a situation like that.
"But we dug into it and we called our sales team in Wisconsin and found out what had happened. And don't necessarily understand the details behind it, but the bottom line this organization made a mistake on the sales front and we fixed stand Joe wrote the column."
He also spoke to the need to maintain the integrity of this obituary and others.
"Those are details of a person's grand life," Green said. "And those were the feelings of the family and they needed to be conveyed."
Williams, an attorney and environmental advocate with a seasoned media background (not to mention his family being subscribers of the Courier-Journal for decades), was "aghast."
But he and his sister decided to resubmit without the politically-charged sentence.
"I was peeved and perturbed about what had happened," said Williams. "I thought I could afford to dwell on it for a few days."
While swimming in grief at the loss of his mother, Williams took a card out of her deck and fought back.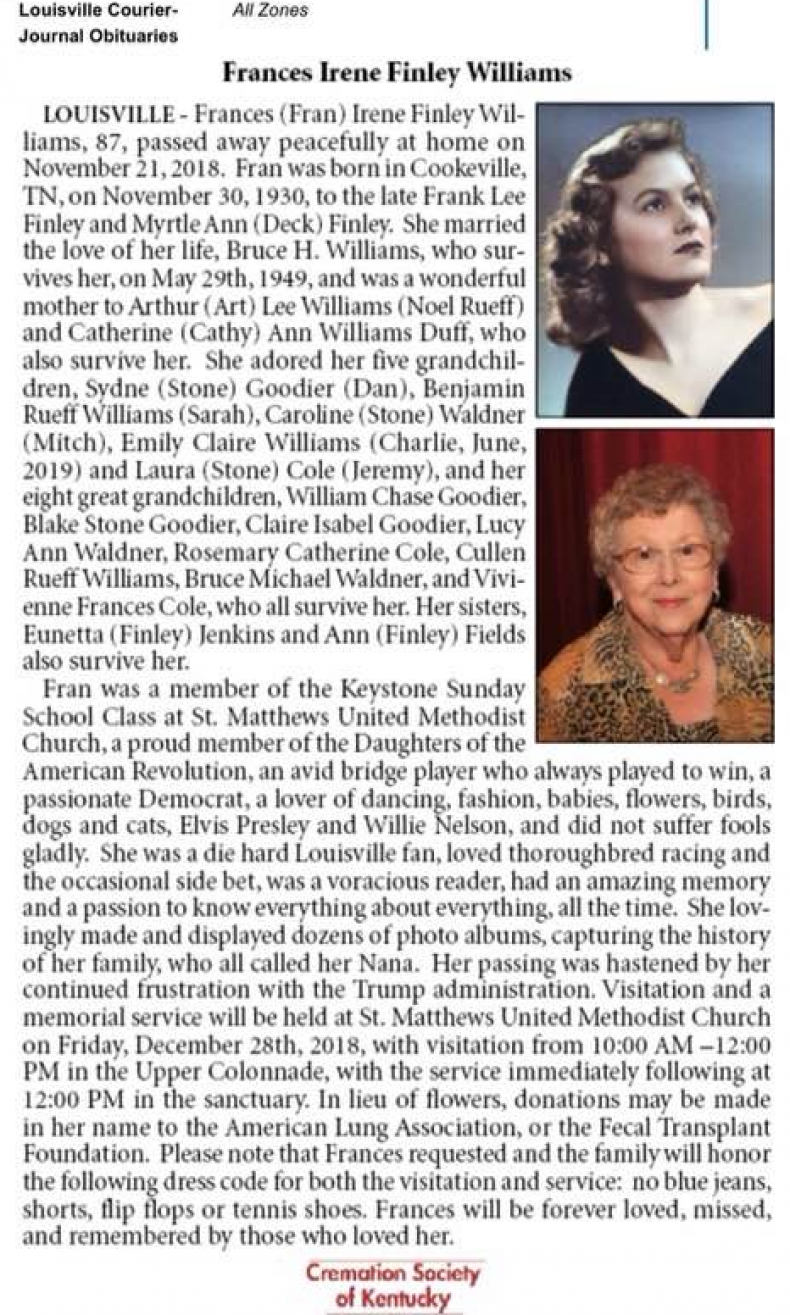 He started with a post on social media.
"I was--and still am, dumbfounded, surprised--but most of all disappointed and aghast that a once historically- courageous American newspaper that exists by reason of freedom of speech would so trivially move to abate the free speech that it seems, when convenient, to hypocritically champion," the Jan. 4 post reads.
There was little agenda other than what Williams called "a cathartic moment."
But he also felt he needed to bestow some honor.
"I kind of felt like I owed it to my mom," he said. "She was feisty and spirited and she would have been that way, too."
What's more, Williams felt for his widowed father. A World War II veteran who was learning to live alone.
With the cavity in the obituary feels like his dad was disrespected.
"My dad was willing to sacrifice his life for his country for freedom of speech," he said. "And it's kind of ironic that a champion of speech would censor an obituary."
Williams wants some kind of contrition.
"I kind of feel like an apology to my dad would be the number one thing would make sense," he said.
The paper's editor wants to make good on this and said he is offering to rerun the obituary, with the Trump dig without charge.
"I will happily call him and offer not only my condolences but also our apology," he said. "If it's the family's wishes and they're paying good money for it, it deserves to be published.
Most of all Green vowed that this kind of overreaching editing of the Frances Williams's obituary cannot be repeated.
"We had a really good conversation with our obituary sales team and that message has been conveyed," he said. "They know that politics should not be any kind of measuring stick for what gets published in an obituary."
While he floated the idea of a refund, Williams mostly wants his dad to be made whole with an apology.
"I will say my mom was a real penny-pincher and she would want the money back," he said. "My dad, though, he wouldn't care about the money."