Trump Official Breaks With President, Says There's Still an 'Inexcusable' Problem With Coronavirus Testing
Mick Mulvaney, who serves as the Trump administration's special envoy for Northern Ireland, appeared to break ranks with the president, describing ongoing problems with new coronavirus testing in the U.S. as "inexcusable."
President Donald Trump has repeatedly bragged about testing in the U.S., suggesting it is superior to that of other countries. Trump tweeted last Thursday that "our TESTING is much bigger and better" compared to other countries. The president has previously said the U.S. has "the highest quality test" as well.
But in an op-ed published by CNBC on Monday morning, Mulvaney, who previously served as Trump's acting chief of staff and the director of the Office of Management and Budget, said that testing was still inadequate within the U.S. However, he noted that saying so was not "popular" within "some Republican circles."
"We still have a testing problem in this country," he wrote. "My son was tested recently; we had to wait five to seven days for results. My daughter wanted to get tested before visiting her grandparents, but was told she didn't qualify. That is simply inexcusable at this point in the pandemic."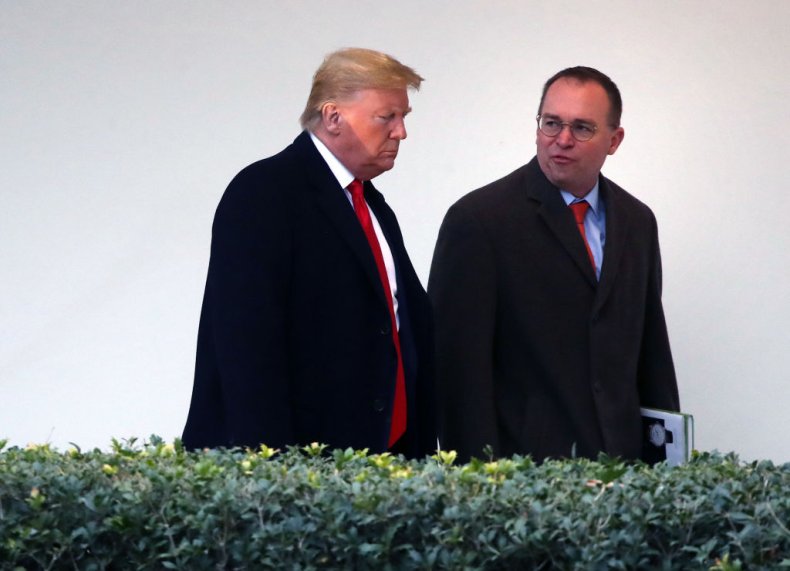 Mulvaney said that a next round of economic stimulus should focus on dealing directly with COVID-19, suggesting that testing needed more funding. He said that more money could be directed by Congress for research, temporary hospital beds or therapeutics to treat the disease caused by the virus. "If we are going to borrow hundreds of billions of dollars, let's do it to treat the cause of our economic illness, not just the symptoms," he wrote.
Newsweek reached out to the White House for comment on Mulvaney's remarks, but it did not respond by the time of publication.
Testing for COVID-19 has been a point of controversy since the early days of the pandemic in the U.S. The Trump administration initially decided against using tests approved by the World Health Organization, choosing instead to have the Centers for Disease Control and Prevention create its own test. However, these initial tests were faulty and were slow to be rolled out, causing significant delays as the virus spread relatively undetected throughout the country.
In March and April, many sick individuals were unable to get tested to confirm or rule out whether they had been infected with the coronavirus. Tests were severely limited and generally only given to the sickest patients or those known to be in contact with an infected individual.
Public health experts have pointed to the shortage in testing as the main reason the outbreak grew dramatically in the U.S., as extremely low testing rates obscured the reality of the rapidly spreading pandemic. Now, even as testing has improved and been ramped up nationwide, many Americans are still struggling to access tests, and results generally take three to four days at a minimum to show results. Meanwhile, infected individuals may continue to spread the virus before they realize they should quarantine to prevent further infections.
The U.S. remains the country with the highest number of coronavirus infections and deaths due to the pandemic. As of Monday morning, the U.S. was home to roughly a quarter of all global confirmed cases and deaths—with more than 3.3 million cases and nearly 135,000 deaths, according to a tracker updated by The New York Times. The U.S. reported its highest single-day increase in new cases on Friday, with 68,241 new infections.