Trump Official Calls it 'Reasonable' to Mandate COVID Vaccines for Kids
Admiral Brett Giroir, a former Trump official, backs requiring children be vaccinated against COVID-19 but doesn't think it should be done until vaccines receive full approval from the Food and Drug Administration (FDA).
There's precedent for states requiring children be vaccinated against COVID-19 to attend classes and California became the first state to announce the requirement at the beginning of October. It's possible other states could follow suit, although barring unvaccinated children from schools is certain to face significant pushback from those who see it as an encroachment on personal freedom.
During an interview on SiriusXM's Doctor Radio's Doctor Radio Reports, Giroir said "given the outbreak, it's a reasonable thing" to require children be vaccinated against COVID-19. However, he said that mandate shouldn't come until the FDA approves the inoculation for children, noting that he has "issues" with mandating vaccines that are being administered under Emergency Use Authorizations.
"If they're not authorized, I do hesitate because we don't have the full data," Giroir said. "I think, if they're not authorized, it should be between a parent and a child and their community."
Giroir served as assistant secretary for health at the Health and Human Services (HHS) and was put on the White House's Coronavirus Task Force. He called himself "very pro-vaccine," something he's been his whole life, and told Doctor Radio Reports that vaccines will "get us out of this," noting that vaccines are beneficial even if a person has already recovered from COVID-19.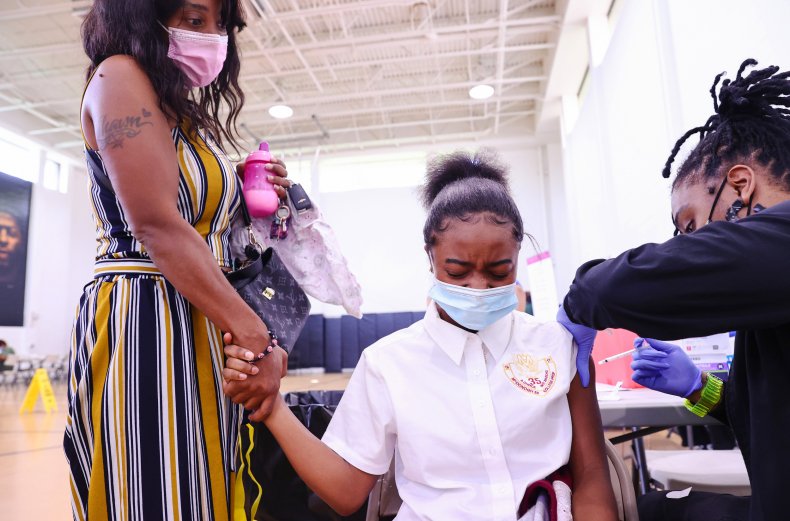 He said he was "hopeful" that officials could convince people who have not been vaccinated to get the shot, but it's proven to be a tall order. More than 186 million Americans are fully vaccinated against COVID-19, about 65 percent of the country's total population. With the vaccine being widely available for months, many of those who haven't gotten vaccinated haven't done so because they don't want to.
Vaccine hesitancy has plagued America's ability to control the pandemic and state, local and federal officials have started turning to mandates to persuade people to get inoculated. President Joe Biden announced in September that he was instructing the Department of Labor to require employees at companies with at least 100 workers be vaccinated or submit to weekly testing.
Teachers nationwide have already faced vaccine mandates to keep their jobs and scores of colleges and universities implemented the requirement for students, as well.
On Friday, California Governor Gavin Newsom announced the state would require all students to be vaccinated against COVID-19, just as they're required to have shots for measles, mumps and rubella. California's requirement won't go into effect until the vaccine receives full FDA approval, though.
The Pfizer vaccine was the first to receive full FDA approval, but it was only for those who are at least 16 years old. It's still available to individuals as young as 12 through an Emergency Use Authorization and it's unclear when that age group will receive full approval.