Trump's Immigration Official Says Plan to Detain Migrant Families Longer Solves Border Facility Overcrowding
President Donald Trump's top immigration official defended the administration's latest plan to detain migrant families indefinitely, arguing it will help curb illegal immigration and solve overcrowding in border facilities.
Ken Cuccinelli, the acting Director of the Citizenship and Immigration Services, appeared on CNN on Friday morning to discuss the latest immigration rule change. The new regulation replaces a court agreement that set a 20-day limit for holding children in detention.
CNN's Alisyn Camerota commented on the plan, saying "on one level it protects children, but it also exposes children to the overcrowding." She then showed Cuccinelli photos and video footage of crowded border facilities along the border.
"I know you don't want real answers. I know you don't want truth," Cuccinelli responded, adding that he wasn't going to "sit back and take that."
Cuccinelli argued that the plan is "a critical part of the solution" for overcrowding concerns and poor living conditions at border facilities.
"This solves the problem by demonstrating to families that are considering coming to the southern border illegally that they will be detained until their hearings can be held," he said.
Cuccinelli went on to say the administration hopes the regulation acts as a "deterrent" to illegal immigration because migrants now know they will be detained indefinitely rather than released into the United States during their court proceedings.
Earlier this week, Department of Homeland Security chief Kevin McAleenan announced the immigration rule changes in a press conference. McAleenan told reporters that the move was an effort to remove the incentive for immigrants to use children to gain entry into the U.S.
"No child should be a pawn in a scheme to manipulate our immigration system," he said.
The policy erases the guidelines set by the 1997 Flores Settlement Agreement, which required the government to keep migrant kids in the least restrictive setting possible. The court ruled that children could no longer be held indefinitely in detention centers and either had to be released to a family member or transferred to a licensed care facility. In more recent rulings overseeing the settlement, a federal judge banned the government from keeping migrant families with children in detention for more than 20 days.
President Trump said Wednesday that he is worried about the number of migrant children trying to cross the border and praised the new rule for keeping families together.
"I have the children on my mind. It bothers me very greatly," Trump told reporters.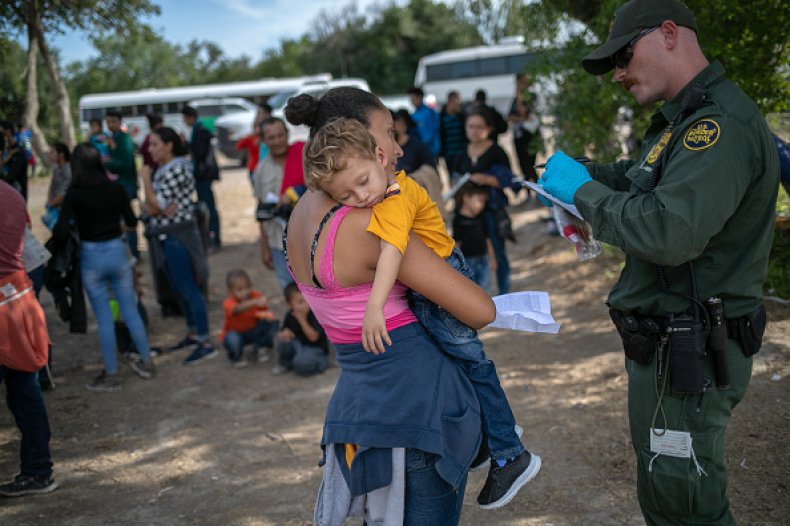 Now, under this new regulation, migrant family units will be held in custody together throughout their immigration court proceedings. The federal government will hold them in "family residential centers" which will provide healthcare, education for minors and resources for migrants to meet with lawyers and representatives.
McAleenan said the families are to remain in custody for an average of 50 days once the rule change is implemented. The Department of Homeland Security has already created three family residential centers, with a total of 2,500 to 3,000 beds.
Cuccinelli's claim that this new plan will help deter immigration by showing migrants they will be held in detention indefinitely is in direct contrast with Mcaleenan statement to reporters that the Trump administration has "no intent to hold families for a long period of time."
Still, Trump has praised the policy and told reporters that his administration will be adding more proposals to cut down on immigration to the U.S.
"I'm the one that kept the families together. With what we're doing now, we'll do even more of that, but it will make it almost impossible for people to come into our country illegally," Trump said.