Trump Official Resigns Over Executive Order 'Smokescreen' That Asks for 'Political Loyalty' From Advisers
Ronald Sanders, chairman of the Federal Salary Council (FSC), formally resigned from his position Monday, citing objections to an executive order issued by President Donald Trump last week. The order calls for the removal of firing protections usually afforded to certain federal employees.
In a letter confirming his departure, Sanders described the executive order, purportedly about holding federal employees more accountable, as a "smokescreen," veiling Trump's true intentions to expand control over federal workers through altered employment protections. He addressed the letter to John McEntee, director of the White House's presidential personnel office.
"There is some irony in this," Sanders wrote. "On its surface, the president's Executive Order purports to serve a legitimate and laudable purpose...that is, to hold career Federal employees 'more accountable' for their performance. That is something that I have spent most of my professional life—almost four decades in Federal service (over 20 as a member of the Senior Executive Service)—trying to do."
"However, it is clear that its stated purpose notwithstanding, the Executive Order is nothing more than a smokescreen for what is clearly an attempt to require the political loyalty of those who advise the President, or failing that, to enable their removal with little if any due process," Sanders continued.
The order he referenced, "Executive Order on Creating Schedule F," calls for a new federal worker classification. Employees placed under the designation will not qualify for the traditional federal protections governing hiring and firing processes, which, Trump argued, prevent agencies from adequately addressing "poor performance." The order requires agency leaders to identify employees within their respective departments who meet criteria for a Schedule F designation within 90 days of its passage—the eve of January's presidential inauguration. The reclassification process will target career employees who hold "confidential policy-determining, policy-making, or policy-advocating positions."
In his resignation letter, Sanders underscored the potential dangers of Trump's order in curating a federal staff whose ideals align with those of the president. He said it was against his "conscious" to remain part of an administration "that seeks to...replace apolitical expertise with political obeisance."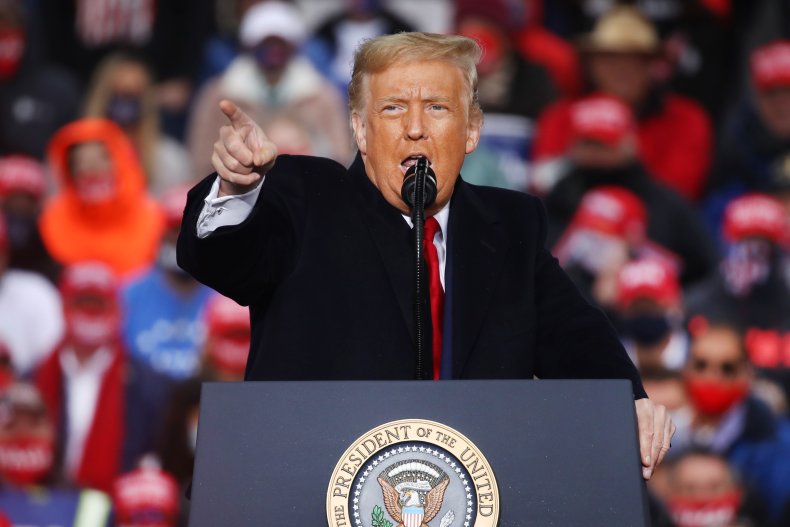 Before joining the Trump administration, Sanders was an associate director for human resources policy at the office of personnel management under former president George W. Bush. Earlier, he served as chief human capital officer for the office of the National Intelligence Director.
As head of the FSC, Sanders has acted as a chief adviser to the U.S. government on issues related to federal compensation. Alongside members of the council, he submitted annual recommendations to the President's Pay Agent. Trump appointed Sanders to the role in late 2017.
Newsweek reached out to the White House for comment but did not receive a reply in time for publication.