As the White House denied Dr. Anthony Fauci was being sidelined from the new coronavirus response, a Trump administration official made it clear he didn't value a contribution from the nation's top epidemiologist.
On Monday, Daniel Scavino, Jr., the White House's deputy chief of staff for communications, posted a political cartoon mocking Fauci on Facebook. Signed by political cartoonist Ben Garrison, the image of "Dr. Faucet" depicted Fauci as a sink faucet with "no NFL season!" "shut up and obey!" "schools stay closed this fall!" and "indefinite lockdown!" written in the water. It also portrayed Uncle Sam, representing the economy, drowning and Senator Rand Paul calling for Fauci to be shut off.
"Sorry, Dr. Faucet! At least you know if I'm going to disagree with a colleague, such as yourself, it's done publicly—and not cowardly, behind journalists with leaks. See you tomorrow!" Scavino wrote in the Facebook post.
Fauci, who has advised every president since Ronald Reagan, has long been rumored to be on thin ice with President Donald Trump. The White House consistently pushed back against speculation that Fauci was on the way out and on Monday, press secretary Kayleigh McEnany said the epidemiologist's recommendations were still reaching Trump, even if he wasn't meeting with the president directly.
"The point of the task force is to be a whole of government look at what's best for the country," McEnany told Fox News. "Dr. Fauci's one member of a team, and rest assured the information gets to the president through the task force."
Newsweek reached out to the White House for comment but did not receive a response in time for publication.
Scavino isn't the only administration official to question Fauci's take on how best to handle the new coronavirus outbreak. On Sunday, Assistant Secretary of Health Admiral Brett Giroir, who serves with Fauci on the Coronavirus Task Force, told NBC News' Meet the Press that he respects Fauci but he is not "100 percent right."
"He also doesn't necessarily…have the whole national interest in mind. He looks at it from a very narrow public health point of view," Giroir said.
The admiral added that he feels "absolutely free" to speak openly with Vice President Mike Pence, the task force's head, during their meetings. "Nobody feels like anything is held back," Giroir said.
McEnany told Fox News that Giroir "hit the nail on the head" by making the point that Fauci represents one view of the administration. While he looks at the pandemic and makes recommendations from a public health standpoint, McEnany said other members look at the consequences of remaining closed.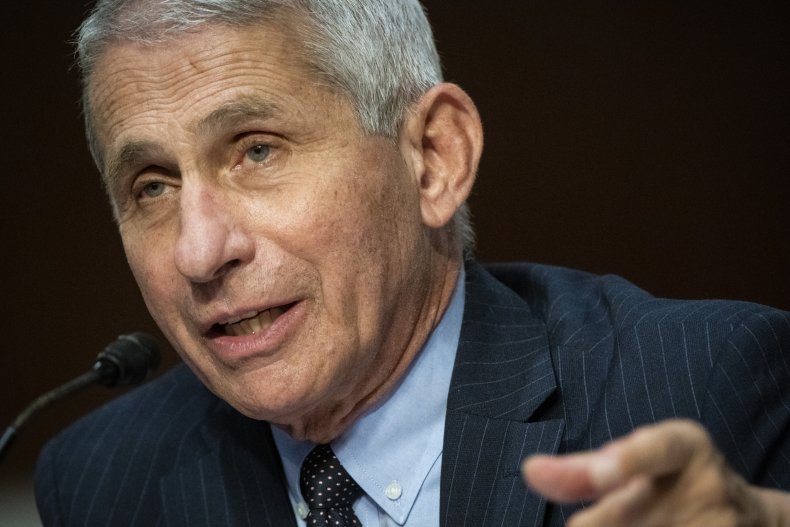 Peter Navarro, a top trade adviser to Trump, took a more blunt approach to Fauci. He told The Washington Post that Fauci has a "good bedside manner with the public" but was "wrong about everything I have ever interacted with him on." When asked if he listens to Fauci's advice, Navarro said he does so "with caution."
As new cases in the United States continue to rise at alarming rates, Fauci criticized parts of the country that reopened before clearing the gating criteria put forth by the White House's guidelines. He warned during a Senate committee hearing that America could see daily increases of 100,000 cases per day and on a July 8 Wall Street Journal podcast said that states with serious problems should "seriously look at shutting down."
Contrary to Trump's push for states to reopen and get the economy back up and running, it's not the first time that Fauci has sent a message that differs from the president's. It's sparked discussions about tension between the two officials and speculation that Fauci wouldn't survive long in an administration built on loyalty. However, Fauci has publicly maintained that he and the president have a fine relationship and told a Senate Committee in May that Trump "respects" his advice and opinion.