Here Are All Trump Officials Facing Subpoena Deadlines About Ukraine And What Will Happen if They Don't Comply
Several top officials from the Trump administration face subpoena deadlines this week for material relating to the president's dealings with Ukraine, as House Democrats continue full steam ahead with their impeachment inquiry.
Vice President Mike Pence, Defense Secretary Mark Esper and others have been asked to turn over documents and could face fines or even jail time if they do not comply with lawmakers' requests.
Esper, along with acting Director of the Office of Management and Budget Russ Vought, was subpoenaed earlier this month as part of the ongoing impeachment inquiry. The two officials have until Tuesday to hand over the requested information.
In their letters to Esper and Vought, House Democrats said they were investigating whether President Donald Trump jeopardized national security by trying to pressure Ukrainian President Volodymyr Zelensky to investigate former Vice President Joe Biden. They are also looking at material related to why the White House decided to delay nearly $400 million in military aid to Ukraine.
Energy Secretary Rick Perry and acting White House Chief of Staff Mick Mulvaney also face a subpoena deadline for documents dealing with the Ukraine matter. Both officials have until Friday to turn over the material.
House Democrats have also requested records from Pence in order to better understand Trump's actions. Lawmakers asked for a lengthy list of materials detailing the president's contact with Ukraine, to be produced by Tuesday. After receiving the request, Pence's office quickly signaled that the vice president may not cooperate.
It's unclear whether these officials will comply with the requests. White House lawyers sent a letter to congressional Democrats last week notifying them that Trump and members of his administration would not be cooperating in the impeachment inquiry. The attorneys argued that the probe was an illegitimate effort to overturn the results of the 2016 election.
Other officials and agencies that have been issued subpoenas as part of the impeachment inquiry include Secretary of State Mike Pompeo, Trump's personal attorney Rudy Giuliani and the Pentagon.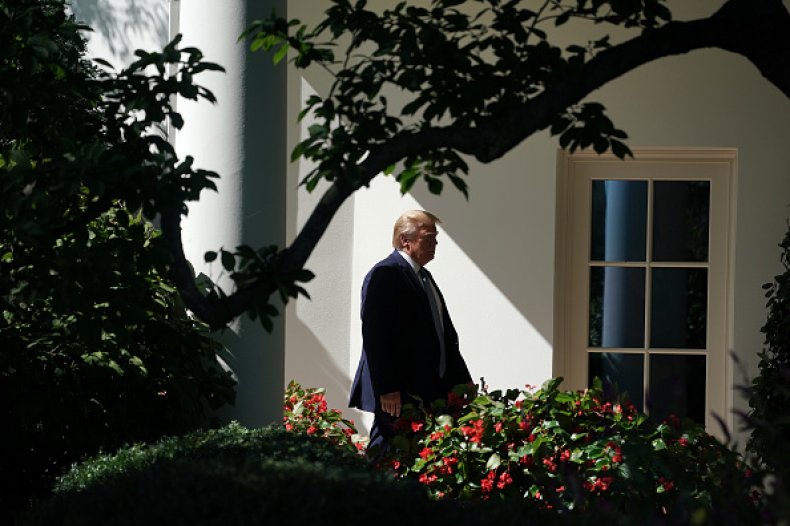 If an official does not comply with a request, Congress can respond with a number of actions. Lawmakers could hold the person in contempt and ask for the Justice Department to bring a case against him or her. If the person is found guilty, the maximum punishment for a federal contempt charge is a $100,000 fine and one year in jail. House Democrats could also file a civil lawsuit against the official, in which they would ask a court to enforce the subpoena.
U.S. Representative Jim Himes, a member of the House Intelligence Committee, told CNN last week that officials who choose to ignore subpoenas and other requests do so at their "own peril."
"You know, a subpoena is a very serious document. It literally means under penalty if you don't show up. There is a penalty—jailing and fines and that sort of thing. So subpoenas will be received by all of the people that the Congress wants to talk to," Himes said.
While they are not members of the Trump administration, Lev Parnas and Igor Fruman, two Giuliani associates, face a Wednesday subpoena deadline. The men were arrested trying to flee the country last week and charged with campaign finance violations.
The subpoenas were issued the same day that Parnas and Fruman were indicted by federal prosecutors. The foreign-born businessmen had been working with Giuliani to dig up dirt on Biden and his son Hunter in regard to their business dealings in Ukraine.