Ivanka Trump, Jared Kushner and Every Trump Administration Official Accused of Using Personal Email for Work
House Oversight Committee Chairman Elijah Cummings on Monday expanded an investigation into personal email use by Trump administration members to include Education Secretary Betsy DeVos, bringing the number of officials under scrutiny to eight.
President Donald Trump has brushed aside accusations of his officials using their personal emails, while never retracting his blistering criticism of his 2016 election opponent Hillary Clinton who used a private email server while she was secretary of state. Trump criticized Clinton's private email use as an effort to hide illicit activity, but has not called out any wrongdoing by his own team.
Here are the Trump administration members who are being probed for private email use:
Betsy DeVos
DeVos was added to House Democrats' personal email probe after "disturbing new revelations" about her personal email use from the Education Department's inspector general in May, Cummings wrote in a letter to her.
According to the new records, DeVos "withheld from the Committee information it has been seeking on a bipartisan basis over the past two years," Cummings wrote, and requested the documents by July 29.
However, Education Department spokeswoman Liz Hill told Politico that Cummings' letter was "political grandstanding" and that "the [inspector general] has already done a thorough report on this issue. There is nothing to see here."
Ivanka Trump
The first daughter and senior White House adviser used a personal account to send hundreds of government business emails to Cabinet members, White House aides and her assistants, people familiar with her emails told The Washington Post in November 2018.
"While transitioning into government, after she was given an official account but until the White House provided her the same guidance they had given others who started before she did, Ms. Trump sometimes used her personal account, almost always for logistics and scheduling concerning her family," Peter Mirijanian, a spokesman for Ivanka Trump's attorney Abbe Lowell, said in a statement.
Cummings in a July 1 letter to White House counsel Pat Cipollone requested all communications by White House officials, including Ivanka Trump, who sent or received emails on government business through their personal accounts but did not forward them to their work accounts within 20 days as required by the Presidential Records Act. The chairman suggested that his requests in December 2018 and March 2019 were ignored.
Jared Kushner
Ivanka Trump's husband and fellow senior White House adviser used either his personal email accounts or the messaging app WhatsApp for official communications, according to information previously obtained by the House Oversight Committee.
A lawyer for Kushner told The Wall Street Journal in March that Kushner "took images of his communications" on WhatsApp and forwarded them to his work accounts.
Kushner was among White House officials subject to Cummings' July 1 request for information by July 10.
Steve Bannon
The president's former chief strategist used his personal email account in 2017 in communications around an effort to send American nuclear technology to Saudi Arabia "in coordination with" the president's longtime friend and inaugural committee head Tom Barrack," Cummings told The Journal in March.
Bannon has admitted that he regularly used a Blackberry and his private email for work-related correspondence with people including outside adviser Erik Prince, and that he tried to preserve the communications. Bannon was also among officials subject to Cummings' July 1 request.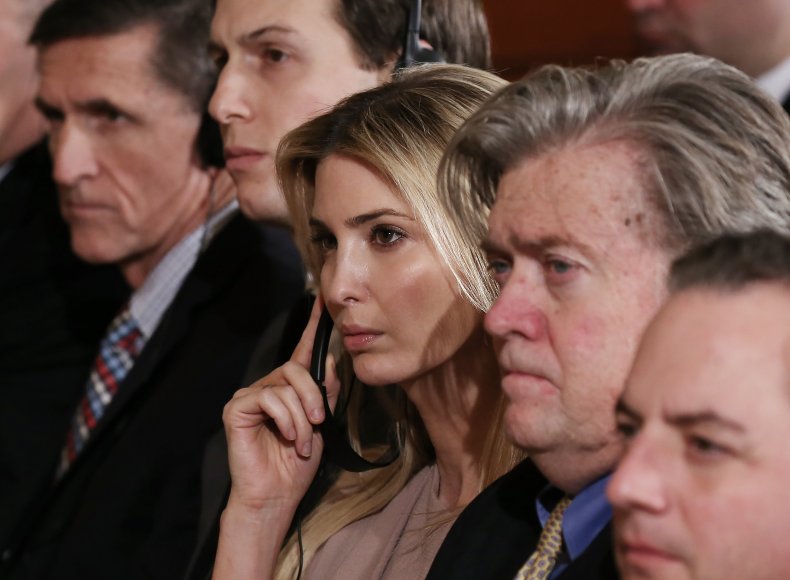 K.T. McFarland
The deputy national security adviser also used her personal email account in the 2017 effort to send U.S. nuclear technology to Saudi Arabia, according to Cummings, and is also subject to Cummings' July 1 information request.
Stephen Miller
The former White House adviser sent or received at least several emails on their private accounts, The New York Times reported in September 2017 according to current and former administration officials.
Reince Priebus
The former chief of staff occasionally used personal email addresses for government business, according to The Times.
Gary Cohn
The former National Economic Council director sent or received a few or more emails on his personal account, The Times reported.