10 Trump Officials Accused of Violating Ethics Law By Campaigning For President Using Government Twitter Account
An ethics watchdog group filed complaints Thursday against 10 Trump administration officials for allegedly violating an anti-corruption campaign law that prohibits government employees from engaging in politics.
The nonprofit Citizens for Responsibility and Ethics in Washington (CREW) asked the Office of Special Counsel (OSC)—not to be confused with special counsel Robert Mueller—to investigate allegations that government employees, including press secretary Sarah Huckabee Sanders, violated the Hatch Act. The 1939 law bars government employees from engaging in campaigns to ensure federal employees are not influenced by partisan political purposes within their official government role.
Because the president is officially running for re-election, that means, according to the OSC, "while on duty or in the workplace, employees may not: wear, display, or distribute items with the slogan 'Make America Great Again' or any other materials from President Trump's 2016 or 2020 campaigns; use hashtags such as #MAGA or #ResistTrump in social media posts or other forums; or display non-official pictures of President Trump."
In one example, Department of the Interior Secretary Ryan Zinke has been investigated for potentially violating that law after he tweeted a photo of himself wearing "Make America Great Again" socks.
Jordan Libowitz, communications director for CREW, told Newsweek Thursday that what government employees and administration officials "do on their own time from their personal accounts is totally fine. But government positions should not be used to push the election of a candidate."
He added, "The whole idea behind the Hatch Act is that democracy is free and open, therefore government should not be involved directly in the political process."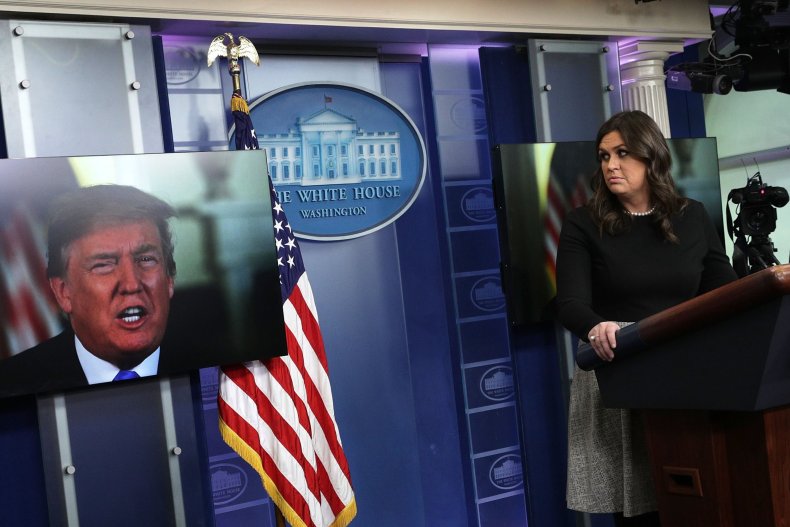 It's not the first time CREW has filed complaints against administration officials for violating the Hatch Act. Following complaints by CREW earlier this year, the special counsel's office said in March that counselor to the president Kellyanne Conway and the president's son-in-law, Jared Kushner, both violated the law.
"A couple weeks ago, we started looking around for people who used the 'Make America Great Again' slogan or 'MAGA' since there has been an explicit prohibition on using those on government or official accounts," Libowitz said. "We found 10 officials ranging from mid-level all the way up to Sarah Huckabee Sanders and Mick Mulvaney who had violated this provision."
The watchdog group laid out its specific case for each of the 10 officials. They are Sarah Huckabee Sanders; Mick Mulvaney, Trump's Office of Budget and Management director; Alyssa Farah, press secretary for Vice President Mike Pence; Helen Aguirre Ferré, Trump's director of media affairs; Hogan Gidley, Trump's deputy press secretary; Jacob Wood, a spokesperson for the Office of Budget and Management director; Jessica Ditto, White House deputy director of communications; Lindsay Walters, White House deputy press secretary; Madeleine Westerhout, Trump's personal secretary; and Raj Shah, Trump's principal deputy press secretary.
"It's become pretty clear that a slap on the wrist doesn't do much for this administration. They don't seem to be caring about ethics laws," Libowitz said. He did not say what punishment should be taken against the officials if they're found to be violating the law, just that the OSC should take "any appropriate action it finds necessary."
The White House, including press secretary Sanders, did not respond Thursday to Newsweek's request for comment.