A man who was protesting against President Donald Trump outside the Cincinnati arena where he was holding a rally was punched in the face multiple times. Video of the incident has been shared widely on social media.
Mike Alter, 61, was outside the U.S. Bank Arena as part of a peaceful protest with a group of others who shouted anti-Trump chants on Thursday night. But things took a violent turn when 29-year-old Dallas Frazier emerged from the pickup truck in which he was a passenger and confronted Alter, before punching him in the head.
Alter told local news outlet WCPO that Frazier had started shouting at the protesters from the passenger seat of his vehicle. "These guys pulled up in the pickup truck, everyone was yelling back and forth at them," Alter said.
Police documents stated that Frazier, from Georgetown, Kentucky, got out of the car, stated "you want some?" and then struck the victim multiple times in the face," according to WCPO.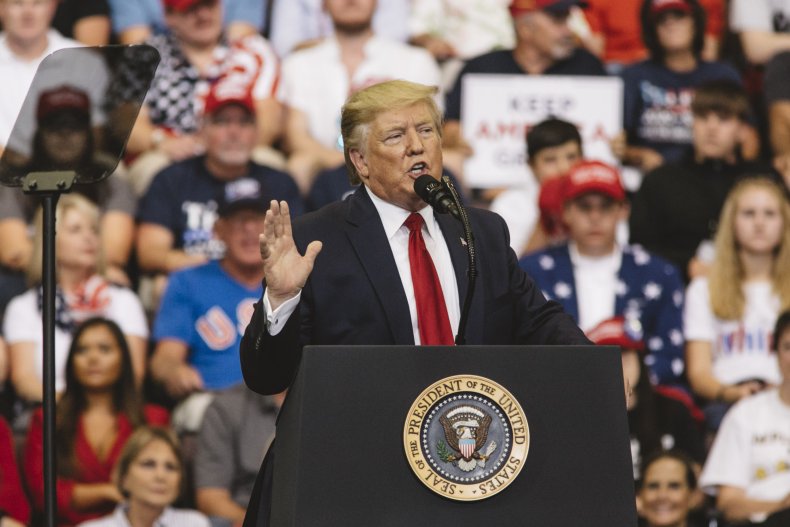 This account appears to be backed up by video of the incident posted on Facebook by fellow protester, Scott Fantozi. The footage shows Frazier looking like he was ready to fight and Alter taking off his hat and gesturing to him.
Alter said: "I was more questioning him…like, really you want to fight?"
Frazier struck Alter three times and continued to swing at him while he was pushed away and restrained by police. While he was being led away by officers, the crowd chanted "lock him up!"
Alter added: "What the hell? He started just whaling on my head. I didn't go down, for what that's worth."
Police said that Frazier was the only person arrested in relation to the Trump rally and he will face an assault charge in Hamilton County court.
At a rally in Iowa, in 2016, Trump infamously told his supporters he would pay the legal fees of any of his fans who attacked anti-Trump protesters.
"If you see somebody getting ready to throw a tomato, knock the crap out of them, would you? Seriously, OK? Just knock the hell... I promise you I will pay for the legal fees. I promise, I promise," Trump said.
Meanwhile at Thursday's rally, Trump tore into the Democrats and attacked the four liberal congresswomen of color known as The Squad, without mentioning by name Ilhan Omar, Alexandria Ocasio-Cortez, Rashida Tlaib and Ayanna Pressley.
He largely avoided the racial controversy that recently dominated headlines following criticism that he did not do enough to stop chants of "send her back" about Somali-born Omar at last month's rally, the Los Angeles Times reported.
"The Democrat party is now being led by four left-wing extremists who reject everything that we hold dear," Trump said to jeers from the audience. "No one has paid a higher price for the far-left destructive agenda than Americans living in our nation's inner cities," Trump added.
"We send billions and billions and billions for years and years, and it's stolen money, and it's wasted money," he told the cheering audience at the arena on the banks of the Ohio River.