Trump Once Said Oprah Winfrey 'Knows How to Win,' Wanted Her As His Running Mate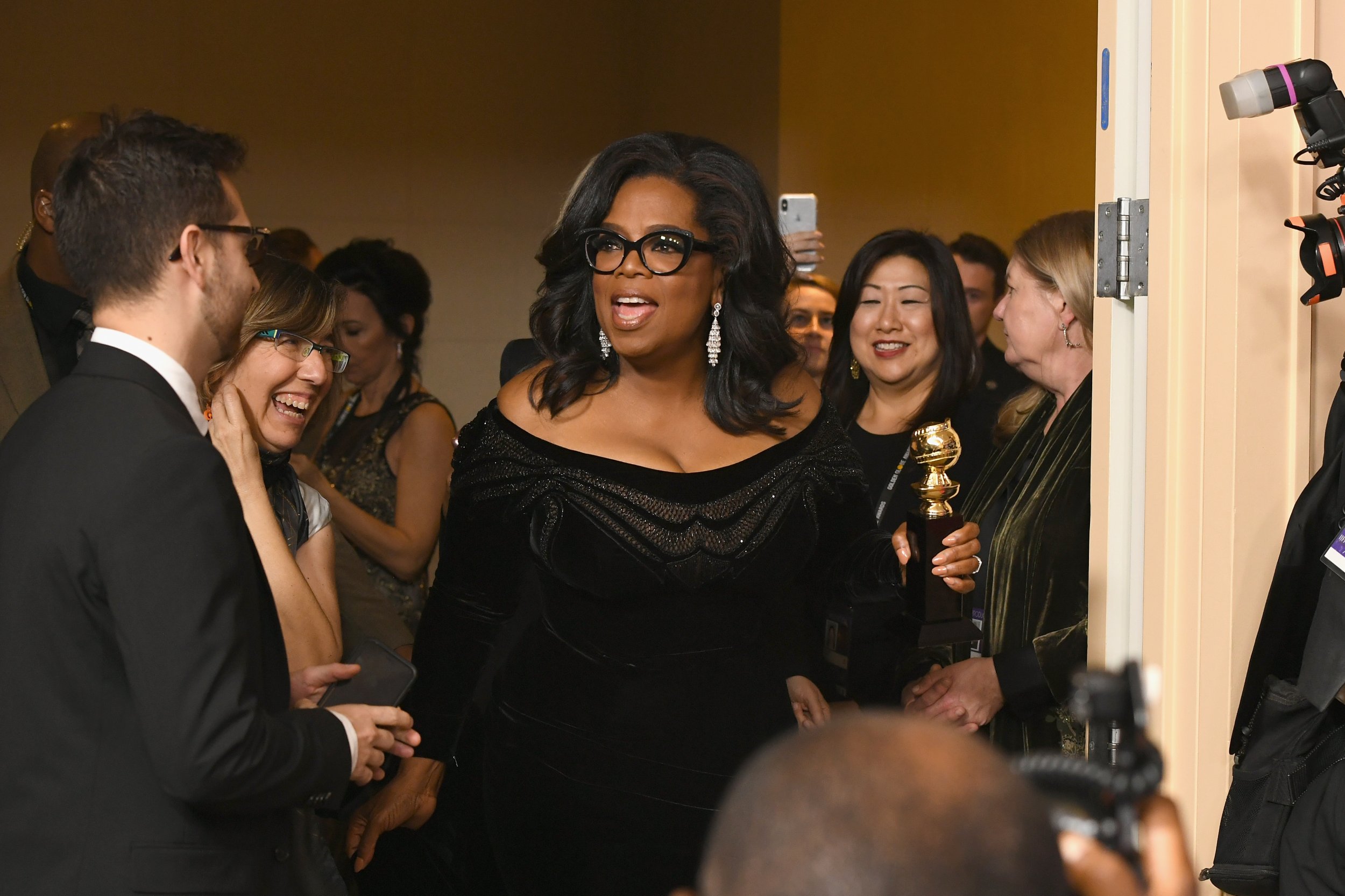 President Donald Trump has said that he'd want Oprah Winfrey as his running mate and that she "knows how to win," in statements that resurfaced on Sunday and Monday following Winfrey's powerful Golden Globes speech that had large swathes of the country chanting: "Oprah 2020."
"Oprah would always be my first choice," Trump told talk-show host Larry King on CNN's "Larry King Live" in 1999.
When King asked, "Do you have a vice presidential candidate in mind?" Trump responded: "Well, I really haven't gotten quite there yet. Oprah, I love Oprah. Oprah would always be my first choice. Oprah, your competitor, right? She's really a great woman, though, she is a terrific woman. She's somebody that's very special. I think, if she'd do it, she'd be fantastic. She's popular, she's brilliant, she's a wonderful woman."
Trump's comments suggest that, along with much of the country over the past 30 years, the president has not been immune to Oprah's magic. And it's not the only time he has voiced his love for her.
In 2012, not long after Oprah had debuted her television network, OWN (Oprah Winfrey Network), Trump tweeted, "Oprah will end up doing just fine with her network--she knows how to win."
Even when he had criticisms, Trump still admitted he "adored" Winfrey.
"By the way, where is @Oprah?" he tweeted in 2012. "4 years ago she strongly supported Obama--now she is silent. Anyway, who cares, I adore Oprah."
Over the years, the president has tweeted about the talk-show queen over a dozen times, posting some of her inspirational quotes, praise for her interviews and even her firing decisions and just straight-up reminders that she is "terrific!"
And decades before his presidency ever seemed likely, Trump even alluded to that possibility on Winfrey's show.
"People have talked to you about whether or not you want to run. Would you ever?" Winfrey asked in 1988.
"Probably not," Trump said at first.
But he tacked on that he wouldn't rule it out, saying, "I do get tired of seeing what's happening with this country, and if it got so bad, I would never want to rule it out totally, because I really am tired of seeing what's happening with this country, how we're really making other people live like kings, and we're not."
Oprah later noted, "You've said, though, that if you did run for president, you believe you'd win," to which Trump responded: "Well, I don't know. I think I'd win. I tell you what, I wouldn't go in to lose. I've never gone in to lose in my life. If I did decide to do it, I think I'd be inclined, I would say that I would have a hell of a chance of winning...I think people are tired of seeing the United States ripped off."
The resurfacing of old videos and tweets came after Oprah gave a widely acclaimed, powerful speech at the Golden Globes on Sunday night, touching on her upbringing, on harassment of women in Hollywood, and ending the nine-minute speech with a note of empowerment, for all of the little girls watching the awards show at home, like she did, in Milwaukee, all those years ago.
"I want all the girls watching here, now, to know that a new day is on the horizon!" Oprah said. "And when that new day finally dawns, it will be because of a lot of magnificent women, many of whom are right here in this room tonight, and some pretty phenomenal men, fighting hard to make sure that they become the leaders who take us to the time when nobody ever has to say 'Me too' again."