Trump Operation Warp Speed Chief 'Confident' Most Americans Will Have COVID Vaccine by May
The chief scientific officer of President Donald Trump's Operation Warp Speed initiative has expressed confidence that some 70 to 80 percent of Americans will be vaccinated against COVID-19 by May next year.
Operation Warp Speed is a public-private partnership that the Trump administration launched in the spring with pharmaceutical companies to facilitate and rapidly accelerate the development of a COVID-19 vaccine. Although vaccines from Pfizer and Moderna appear set to receive Food and Drug Administration approval this month, concerns linger about how they will be distributed and whether there will be enough supplies manufactured for the rapid rollout touted by Trump administration officials.
During an interview with Fox News on Tuesday, Operation Warp Speed's Dr. Moncef Slaoui insisted that everything appears to be on track to have the vast majority of Americans vaccinated by the coming spring.
"Yes, that's absolutely possible. That's our plans, and we feel very confident that we will be delivering on them," the chief scientific officer said. "Probably by the time 70 to 80 percent of people are immunized we will be somewhere in the month of May."
Slaoui pointed out that several other vaccines, besides those from Moderna and Pfizer, are in phase 3 trials. He suggested that some of these would likely receive approval in January or February, adding significantly to the available supply of vaccines to Americans. "That's why we will feel confident that we will be able to immunize the U.S. population," he said.
Slaoui's remarks came after The New York Times reported that the U.S. government repeatedly turned down the opportunity to buy more doses of Pfizer's vaccine, which will likely be the first to receive authorization in the U.S. Although the U.S. ordered 100 million doses—enough to immunize 50 million Americans—the government turned down offers to purchase more. Now, millions of doses have already been ordered by other countries, and Pfizer may not be able to manufacture additional supplies for the U.S. until June.
However, Slaoui said he is more concerned about the "hesitancy" within the American public about the vaccine than a lack of supplies. Some national surveys have shown that 40 to 50 percent of Americans are highly skeptical of COVID-19 vaccines and may wait to get vaccinated—or plan to forgo vaccination altogether.
"It's very concerning," Slaoui said. He asserted that development of the vaccine was sped up "not by cutting any corner" and explained that scientists "took advantage of technological advances that happened over the last 10 years." The previous record for a vaccine's development was about four years.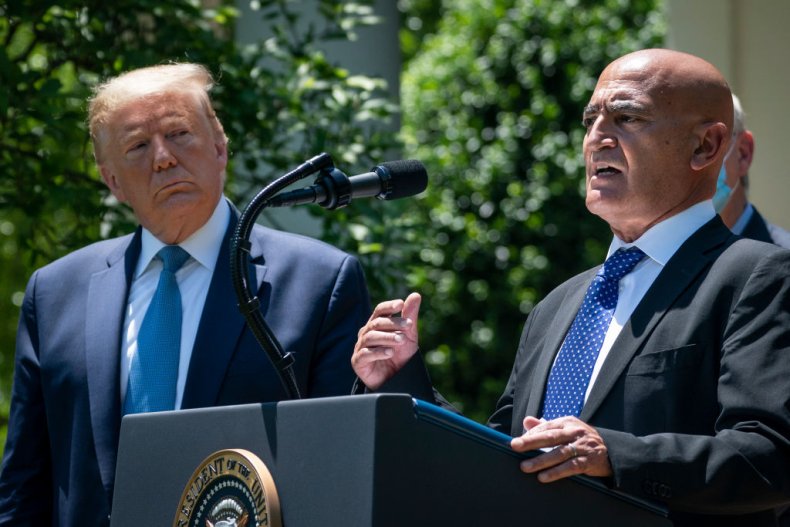 Former Presidents Barack Obama, George W. Bush and Bill Clinton said last week that they are willing to get the vaccine in front of cameras to boost public confidence in its efficacy and safety. Ivanka Trump, the president's daughter and close adviser, said she would do the same.
Newsweek reached out to the White House for comment but did not hear back in time for publication.