Trump GOP Opponent Joe Walsh Fundraises Off President's Sharpie-Map Controversy: 'DON'T LIE'
A former Republican congressman running against President Donald Trump is using the commander in chief's recent controversial decision to alter the course of a days-old Hurricane Dorian map with sharpie to fundraise.
Joe Walsh, a one-term Illinois representative swept into power in 2010 during the Tea Party wave, will give supporters a Sharpie marker with the words "DON'T LIE" imprinted on the side for donating $25 or more in his bid to unseat Trump.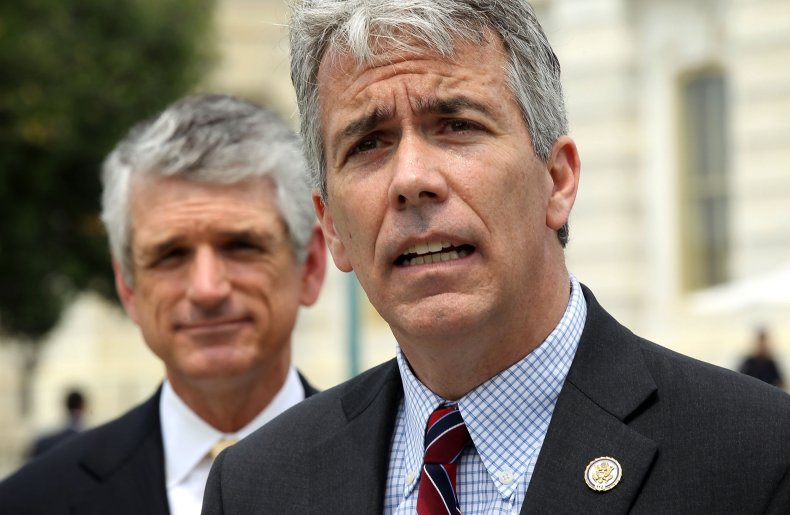 "Since the guy in the White House is a pathological liar, we customized his favorite marker to give him some advice: 'DON'T LIE,'" Walsh wrote on Twitter. "Chip in $25 or more, and we'll send you your very own 'DON'T LIE' sharpie."
Bill Weld's campaign, the former Massachusetts governor who's also launched a primary bid against, also sought to profit from the debacle by sending out a fundraising email Thursday, according to The Hill.
"Unlike @realDonaldTrump," he wrote in a tweet, "if elected I will NEVER redraw a National Weather Service map to cover up my own dumb mistake."
Even Trump's own re-election campaign is trying to make some money by selling what it calls $15 "fine point markers" that will "set the record straight."
Trump has doubled down time and again since making the inaccurate claim on Sunday that Alabama was among the states that would "most likely be hit (much) harder than anticipated" by Dorian, despite the hurricane's projected path at the time having changed to show it would likely skirt up the east coast of Florida and steer well clear of Alabama, according to the National Hurricane Center's archives.
Alabama's National Weather Service quickly corrected Trump, informing residents on its Twitter: "Alabama will NOT see any impacts from #Dorian. We repeat, no impacts from Hurricane #Dorian will be felt across Alabama. The system will remain too far east."
With cameras and reporters gathered in the Oval Office on Thursday, Trump, along with Acting Homeland Security Secretary Kevin McAleenan, unveiled a week-old forecast from the National Oceanic and Atmospheric Administration that included an altered hurricane track made by a black marker or Sharpie to include a small portion of Alabama.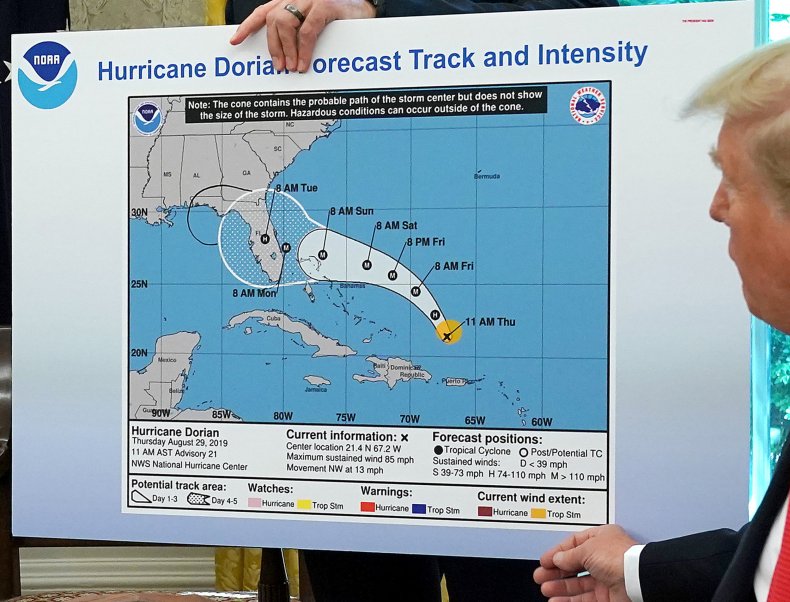 "You see, it was going to hit not only Florida, but Georgia. It could have — it was going toward the Gulf. That was what we — what was originally projected," the president told reporters. "And it took a right turn and ultimately — hopefully, we're going to be lucky. It depends on what happens with South Carolina and North Carolina."
Trump continued to make his claim on Thursday in a series of tweets, in addition to reportedly summoning a Fox News reporter into the Oval Office to re-litigate his case, according to an email reviewed by CNN.
Later that day, the White House released a statement from DHS and Counterterrorism Advisor Rear Admiral Peter Brown, in which Brown explained Trump's remarks were based on forecasts he showed the president just prior to his initial Alabama tweet and noted the track "changed substantially over time."
"I showed the President the official National Hurricane Center forecast, which included the 'cone' that projects the potential path of the eye of the storm," Brown stated.
Lamenting over the lack of an apology, Trump again tweeted Friday, saying: "This nonsense has never happened to another President. Four days of corrupt reporting, still without an apology."