Trump's Opponents Trying to 'Destroy' President Because He Poses 'an Existential Threat,' Treasury Official Says
Treasury Department Assistant Secretary for Public Affairs Monica Crowley argued Thursday that President Donald Trump's opponents are trying to "destroy" him because the president "poses such an existential threat."
Crowley, a former Fox News contributor, made the remark during an interview with Fox Business show Varney & Co. During the segment, host Stuart Varney asked her how the recently launched impeachment inquiry will impact the economy.
"I think the markets have factored in this idea that the president's opponents will stop at nothing to try to undermine and ultimately destroy him because he poses such an existential threat," Crowley told Varney. "So we are seeing some market resilience with this latest round [of investigations]," she added.
The Treasury Department official argued that "Democrats are playing a very dangerous game." She said that the impeachment inquiry has "serious economic and national security implications," cautioning that the probe could impact the market.
Trump himself has argued that the stock market "would crash" if Democrats push forward with their impeachment investigation.
"If they actually did this the markets would crash. Do you think it was luck that got us to the best Stock Market and Economy in our history," Trump tweeted on Thursday. "It wasn't!"
Despite Trump's repeated claims, the current state of the economy is not the greatest in U.S. history, although it does remain strong.
He made the comment as he retweeted Fox Business anchor Maria Bartiromo's post, which read: "Stocks hit session lows after Pelosi calls for impeachment inquiry." The post also included a link to a Fox Business report.
Speaker of the House Nancy Pelosi, the top Democrat in Congress, announced the launch of a formal impeachment inquiry into Trump on Tuesday. The decision came after revelations reported by an unidentified whistleblower about Trump pressuring Ukraine president Volodymyr Zelensky to open an investigation into unsubstantiated claims regarding the business dealings of Hunter Biden, the son of Democratic presidential candidate and former Vice President Joe Biden. According to a summary transcript of a July 25 call between Trump and Zelensky, which was publicly released by the White House on Wednesday, the president repeatedly urged his Ukrainian counterpart to open the probe and cooperate with his personal lawyer Rudy Giuliani.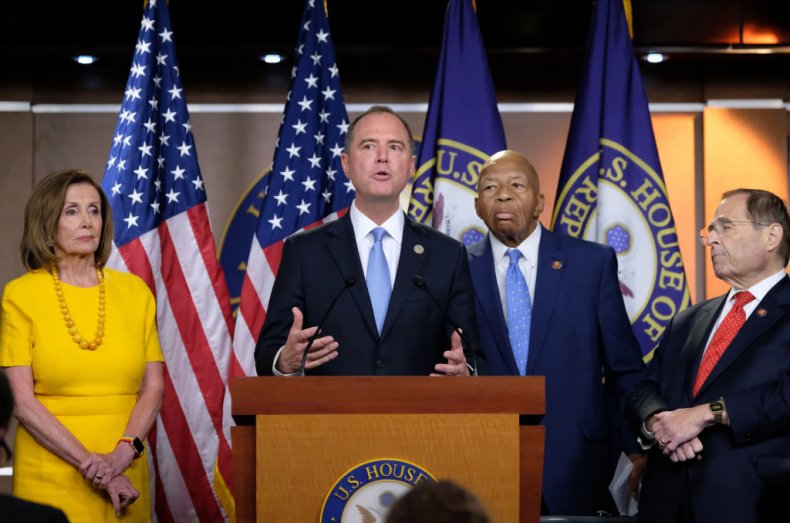 Prior to that conversation, Trump had ordered that about $391 million in military aid to Ukraine be suspended. Republican and Democratic lawmakers were concerned by the decision, as supporting Ukraine in its ongoing conflict against Russian-backed separatist rebels enjoys strong bipartisan support from lawmakers. It has not been established that the aid was withheld as leverage to encourage Ukraine to open the probe into Biden, but Ukrainian officials have said they were given the impression that Trump's willingness to support their new government would be impacted by whether or not they opened an investigation. The aid was eventually released and sent to Ukraine at the urging of members of Congress.
While Trump and his supporters have insisted that the latest allegations are "partisan" and "a witch hunt," several prominent Republicans have called the scandal "concerning" and "troubling." Trump's acting Director of National Intelligence Joseph Maguire also insisted in sworn testimony before the House Intelligence Committee on Thursday that the whistleblower "did the right thing" and "followed the law every step of the way."