Trump Orders U.S. Marshals to Protect Statues From 'Gangs of Wise Guys'
President Donald Trump has lashed out at "roving gangs of wise guys" pulling down statues, as it was revealed that U.S. marshals would be deployed to protect monuments from protesters.
The federal law enforcement agents are expected to be made available to protect statues as soon as today, it was reported on Wednesday night, with the assignment appearing to come from Attorney General William Barr.
In an internal email obtained by The Washington Post, Marshals Service Assistant Director Andrew C. Smith said: "This is a challenging assignment due to the breadth of possible targets for criminal activity."
He also told officers that the Marshals Service had been tasked with "immediately" preparing to help with the protection of statues and monuments nationwide.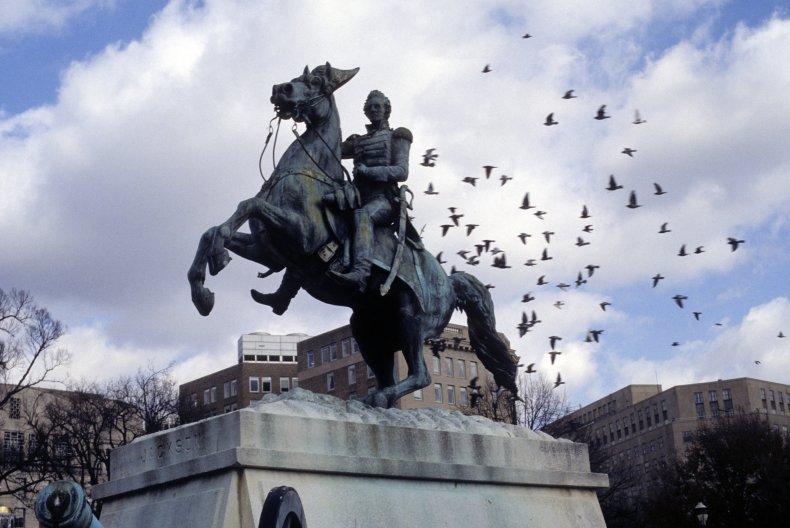 Details of the plans were revealed as Trump took aim at protesters for "indiscriminately ripping down" various statues across the country over the last week.
Posting on social media last night, the president also labeled the demonstrators "anarchists & looters," and said some of those taking down monuments perceived as problematic had "no idea" what they were doing.
"Very sad to see States allowing roving gangs of wise guys, anarchists & looters, many of them having no idea what they are doing, indiscriminately ripping down our statues and monuments to the past," Trump said.
"Some are great works of art, but all represent our History & Heritage, both the good and the bad. It is important for us to understand and remember, even in turbulent and difficult times, and learn from them. Knowledge comes from the most unusual of places!"
The president is expected to sign an executive order aimed at punishing those who vandalize statues with prison sentences of up to 10 years. Fox News reported that the order could be signed off by the end of this week.
Newsweek has contacted the White House for further comment. This article will be updated with any response.
Several statues have been vandalized or torn down in major cities across the U.S. over the past week. In San Francisco, a statue commemorating the Civil War Union leader and former President Ulysses S. Grant was torn down and vandalized.
A further two statues were taken down in Wisconsin on Tuesday night as protesters in Madison demonstrated against the arrest of a Black activist earlier in the day.
One of the statues was dedicated to the Union Civil War Colonel Hans Christian Heg, an opponent of slavery.
Protesters in Washington, D.C. also targeted a statue of Andrew Jackson earlier this week, tying ropes around the monument in Lafayette Square. But police officers were quickly on the scene and prevented the attempt to pull the statue down.