Deutsche Bank executives were reportedly so worried the Trump Organization would default on hundreds of millions of dollars in loans with Donald Trump as president, they considered restructuring the loans and chose not to do additional business with Trump for the remainder of his presidency.
The concern from executives was not the creditworthiness of Trump or his company, but rather about Deutsche's reputation and a potential public relations fiasco if they were ever faced with seizing assets of a sitting president, according to people familiar with the matter who spoke with Bloomberg.
After Trump won the 2016 election, the bank considered extending repayment dates for $340 million of loans originally due in 2023 and 2024 until after a second term, which would be in 2025. However, the bank did not extend the loans and put a halt to further business with the Trump Organization so long as Trump remains in office.
The White House did not respond to Bloomberg's request for comment, and it referred Newsweek to the Trump Organization, which could not be reached for comment. Eric Trump, Trump's son and executive vice president at the Trump Organization, told Bloomberg in an email that the story's claims were "complete nonsense."
"We are one of the most under-leveraged real estate companies in the country," Eric Trump said. "Virtually all of our assets are owned free and clear, and the very few that do have mortgages are a small fraction relative to the value of the asset. These are traditional loans, no different than any other real estate developer would carry as part of a comparable portfolio."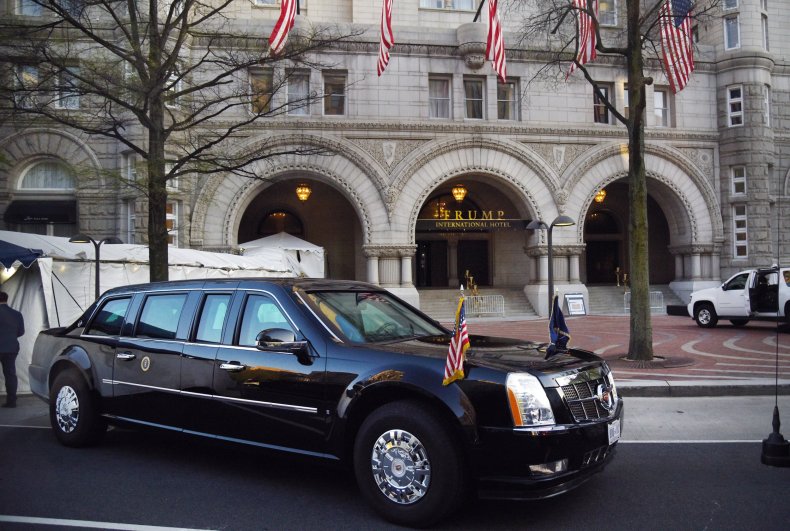 The Trump Organization borrowed hundreds of millions of dollars from Deutsche before Trump took office. And during his 2016 campaign, the bank reportedly rejected another loan request from the organization. The Trump Organization currently owes Deutsche Bank $125 million for the Trump National Doral Miami resort, which is due in 2023, according Bloomberg's review of records and mortgage documents. Another $170 million is reportedly owed to Deutsche for the Trump International Hotel in Washington, D.C., and an unspecified amount for the Trump Organization's Chicago hotel.
As part of their newfound investigative power with the House majority, Democrats said last fall they planned to probe Trump's past relationship with Deutsche Bank.
House Intelligence Chairman Adam Schiff, who at the time was the ranking member, told NBC's Meet the Press the "concern about Deutsche Bank is they have a history of laundering Russian money…. And this apparently is the one bank that was willing to do business with the Trump Organization. Now, is that a coincidence?"