Trump Organization to Keep Running Public NYC Golf Course in Blow to City
The Trump Organization will be allowed to continue operating the Ferry Point golf course in the Bronx, a judge ruled Friday, marking a victory for the company and a loss for New York City.
The city alleged the organization violated a contract provision that mandated it to "operate a course capable of attracting professional tournament-quality events," Bloomberg reported. New York City canceled contracts with the company in February 2021. The Trump Organization sued the city in June and was granted a victory in the case Friday.
The judge's ruling is the newest development in a case that has been in the works ever since the U.S. Capitol attack on January 6, 2021, when a mob of former President Donald Trump's supporters stormed the building in an effort to halt the certification of President Joe Biden's election victory. NYC canceled the contract weeks after the attack, saying that the riot made the Trump-owned company "synonymous with an insurrection against the federal government."
Because of this, the city said that the golf course would not be able to pull in "professional tournament-quality events" in a breach of the contract provision. The contract set up the Trump Organization to operate the golf course for 20 years, according to CNBC.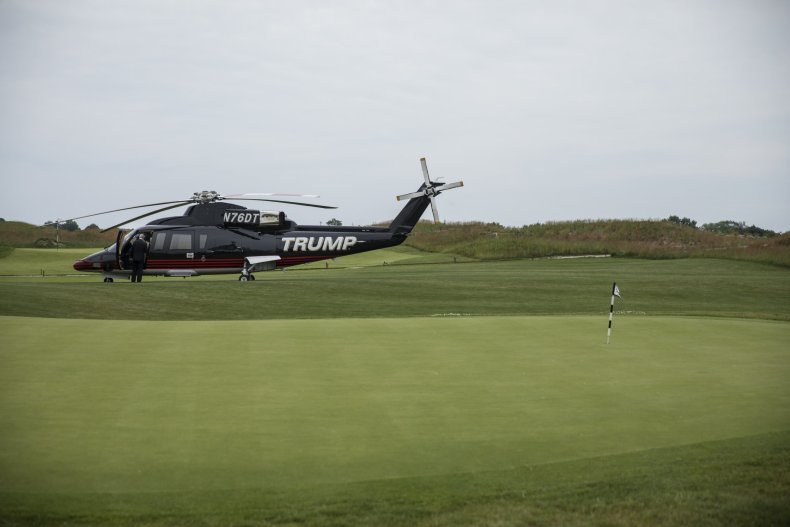 The city also canceled Trump Organization contracts to run a carousel and two ice rinks in Central Park.
The Trump Organization's lawsuit came after an appeal for the cancellation decision was denied. Lawyers for the company argued that it was not mandated to draw in or host tournament-quality events under the contract, CNBC reported.
Manhattan Supreme Court Judge Debra James sided with the Trump Organization in her ruling Friday, saying that "there is no ambiguity in the obligation in the Agreement that petitioner is required to 'operat[e] a first class, tournament quality daily fee golf course.'"
Eric Trump, one of the former president's children, celebrated the decision on Twitter.
"Breaking: Total Victory at @TrumpFerryPoint! @BilldeBlasio is a disgrace to New York and his challenge to our contract was nothing more than political theatre (that costs NY tremendous money and time). Our team is proud to continue to operate the greatest Golf Course in New York!" he tweeted, referencing the former New York City mayor.
Eric Adams took on Bill de Blasio's role at the beginning of the year.
A New York City Law Department spokesperson told Newsweek in a statement that anyone holding a New York City concession "is held to a high standard."
"We are disappointed in the Court's decision, and we are reviewing our legal options," the statement read.
Newsweek reached out to the Trump Organization for comment.
Update 4/8/22, 6 p.m. ET: This story was updated with comments from the New York City Law Department.