On Tuesday, President Donald Trump fired Christopher Krebs, the director of the Cybersecurity and Infrastructure Security Agency (CISA) after Krebs disputed Trump's allegations of widespread election fraud.
Trump has thus far declined to concede the election to President-elect Joe Biden, claiming that it had been rigged by the Democrats. Trump's re-election campaign had filed lawsuits alleging election manipulation and a lack of Republican access to ballot counting areas.
On Twitter, Trump has propagated a theory that some voting machines were programmed to flip votes he should have received over to the Biden column. Krebs's agency refuted Trump's allegations. On Thursday, CISA released a statement claiming that the 2020 presidential election was "the most secure in American history."
"The recent statement by Chris Krebs on the security of the 2020 Election was highly inaccurate," Trump tweeted Tuesday, "in that there were massive improprieties and fraud - including dead people voting, Poll Watchers not allowed into polling locations, 'glitches' in the voting machines which changed... votes from Trump to Biden, late voting, and many more."
"Therefore, effective immediately, Chris Krebs has been terminated as Director of the Cybersecurity and Infrastructure Security Agency," Trump added.
Newsweek reached out to CISA for comment.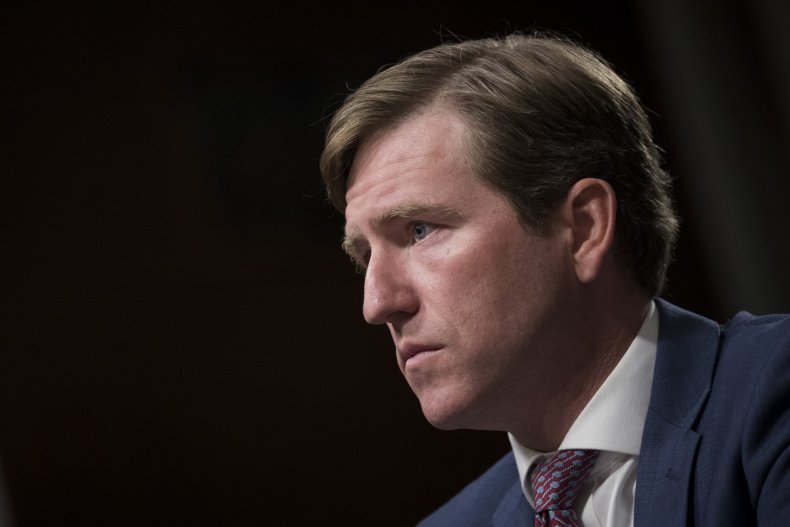 Krebs acknowledged his firing on Tuesday by noting in his Twitter bio that he was now CISA's former director. "Honored to serve," Krebs tweeted. "We did it right. Defend Today, Secure Tomrorow. #Protect2020"
Trump's allegations that voting machines were somehow rigged to funnel votes to Biden were dismissed by the CISA joint statement.
"There is no evidence that any voting system deleted or lost votes, changed votes, or was in any way compromised," the statement read.
Krebs refuted any theories that foreign entities had been able to tamper with the U.S. electoral process.
"After millions of Americans voted," Krebs wrote in November, "we have no evidence any foreign adversary was capable of preventing Americans from voting or changing vote tallies."
Krebs also used a web page called Rumor Control on the CISA site to debunk allegations that the election had been insecurely conducted. According to November reporting from Reuters, some members of the Trump administration asked CISA to remove or edit information found on the Rumor Control site that went against the Trump election fraud narrative. CISA declined and the information remained online.
In an October video hosted on the page, Krebs encouraged Americans to "have confidence" in the election process.
"Don't overreact to claims that exaggerate the importance of insignificant events," Krebs said.
House Intelligence Chairman Adam Schiff criticized Krebs's firing on Tuesday. "Director Krebs worked diligently to safeguard our elections from interference and misinformation," Schiff tweeted. "He protected our democracy. And spoke truth to power. That's why Trump retaliated and fired him. It's pathetic and predictable from a president who views truth as his enemy."