Trump Confirms He Stayed Overnight in Moscow During Infamous Miss Universe Pageant, Denies Telling Comey Otherwise
President Donald Trump admitted to staying overnight in Moscow during a 2013 visit, the week after a book and memos by former FBI chief James Comey said he previously denied doing so.
"I never said I left immediately," the president told Fox & Friends on Thursday. "I went to Russia for a day or so, for a day or two, because I owned the Miss Universe pageant, so I went there to watch it because it was near Moscow."
Trump visited Moscow in 2013 for the Miss Universe pageant, which he owned at the time. The trip became the subject of allegations in a controversial dossier compiled by Christopher Steele, a former British spy, which the FBI reviewed. The dossier contains unverified allegations about an apparent episode involving Trump and prostitutes in a Ritz-Carlton hotel room. Russian surveillance might have recorded the alleged episode, according to the dossier.
Related: Trump Once Spoke with Newsweek in Moscow
In his new book A Higher Loyalty: Truth, Lies and Leadership, former FBI Director James Comey writes that he and Trump discussed the dossier allegations, and that on at least two occasions, Trump told him he hadn't stayed overnight in the city during that trip. Comey said the same thing about those conversations in memos he wrote following meetings with Trump. The Department of Justice released those memos to Congress last week. News outlets published the memos following their release to lawmakers.
During a private dinner between Trump and Comey, the president said he "had spoken to people who had been on…the trip with him and they had reminded him that he didn't stay overnight in Russia for that," Comey writes in the book. Later, in the Oval Office, Trump apparently said "that he hadn't stayed overnight in Russia during the Miss Universe trip," according to the book.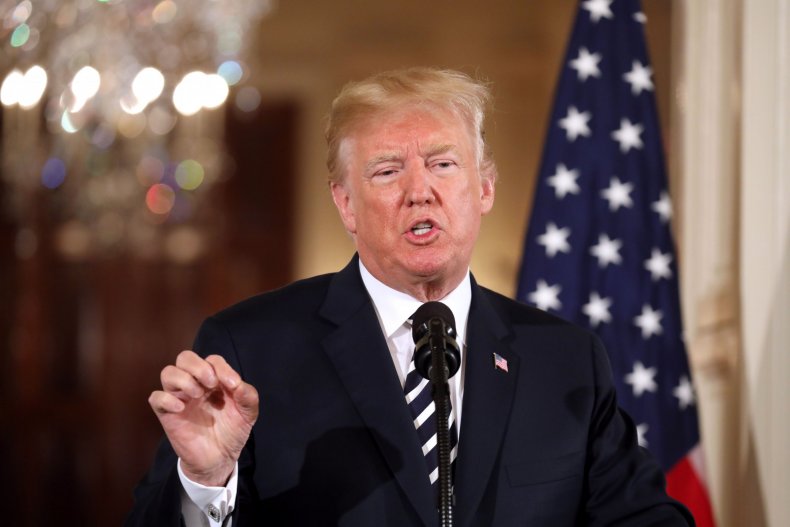 Since Comey's book came out last week, information had surfaced contradicting Trump's apparent comments to the former FBI chief, including flight records obtained by Politico, congressional testimony by Trump's bodyguard, photographs and social media posts, Politico reported Monday. The host of that year's Miss Universe event, Thomas Ryan, also said Trump was in Moscow for at least one full night and at least part of an additional night, The Daily Beast reported Tuesday.
"So I go there to Russia. Now 'I didn't go there'—everybody knows, the logs are there, the planes are there, and he said I didn't stay there at night," Trump said on television Thursday. "Of course I stayed there. I stayed there a very short period of time, but of course I stayed. Well his memos said, 'I left immediately'—I never said that."
Since the April 17 release of his book, Comey has embarked on a book tour and made numerous media appearances. The book sold 600,000 copies in its first week, his publisher, Flatiron Books, told news outlets.